Kings Square, Bermuda
Kings square is the main town center of St. George's, and is also known as the Town Square. This is an open space  and venue of many annual events and ceremonies. The square was created only in 19th century by filling up a marshy part of St. George's harbor. 
Kings Square, St George, Bermuda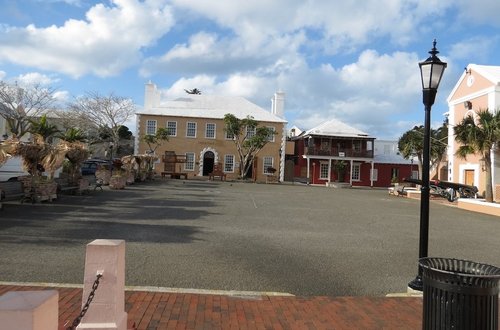 Photo: Malcom Manners, flickr, cc by 2.0 
The
Visitors Information Center
is located at the square near the Town Hall. You can collect maps and get information about the historic town of St. George, as well buy tickets for local tours. Update: The Visitors Service Center has been moved to 25 York Street. 
One of the prominent buildings at Kings Square is the
Bank of Butterfield
, which is the oldest bank in Bermuda. This building was built in 1776 and used as a mess by the troops during the American Revolution. It subsequently became a hotel and was later bought out by the bank in 1950s. They have restored the building to its original design of 1776. 
Just outside the building, you will see replica of the Stocks and Pillory. These were used during the British colonial days of 18th century for punishing those who committed petty crimes like drunkenness. 
Stocks at Kings Square 
Photo: JERRYE AND ROY KLOTZ MD, cc by-sa 3.0 
You will see the holes on the boards through which the head and the limbs were inserted and kept locked for days. Passers by pelted the punished with everything they could get hold of including rotten vegetables and fruits and even dead rats. Today it's a favorite place for tourists for taking photographs with their heads and hands inserted through the holes. You will also see whipping posts. 
Kings Square (St. George) Imagery 
Rotate the image for 360° view 
At the eastern side of Kings square is the
Town Hall
which dates from 1782. It has wonderful cedar floors and ceilings. Here you can know about the past Mayors of the town of St. George and see their portraits. The civic government still meets here. 
At the north-west corner of Kings Square is the
Bermuda National Trust Museum
. The museum has exhibits and artifacts tracing the history of Bermuda including its role in American Civil War. It also has a model of George Somers's ship Sea Venture which wrecked near St. George in 1609 resulting in first settlement in the island. 
At the waterfront there is a replica Ducking Stool which is used to reenact the colonial history by ducking a woman into the water who plays the role of a nagging wench. This was a way of punishment used in the early days particularly for nagging and gossiping women. You will see this strange and funny demonstration overseen by the Town Crier in his colonial costume and attended by many tourists. It is staged at 12:30pm on Monday to Thursday and Saturday during May to October, and on Wednesday and Saturday at noon time in the other months. This show is free to all. Update: Ducking wench reenactment has been discontinued. 
St. George Market Nights
take place at the King's Square. This is a weekly festive celebration with craft vendors, Gombey dancers and many other entities. It's a great tourist and local attraction and takes place every Tuesday (May - September) from 7pm to 9:30pm. X No longer held. 
The traditional
Peppercorn Ceremony
is also held at Kings Square in late April. This elaborate ceremony started when the capital of Bermuda moved from St. George to Hamilton City and the old statehouse was handed over to the freemasons for a rent of just one peppercorn. 
From King's Square a small bridge leads to
Ordnance Island
used as a cruise dock. The island was so named for the guns once stored there. This place was also used to hang prisoners in early days. There are two attractions at Ordnance Island, full size replica of the ship
Deliverance
that was used by Somers and his men to complete their journey to Jamestown in 1610, and the Somers's own statue. 
Getting around
Many attractions are within short distances from Kings square. You can simply walk around and visit the historic sites. There is a minibus service from the square to Tobacco Bay Beach during the summers. 
How to reach King's Square, St. George
Buses 1, 3, 10, 11 operate between Hamilton City and St. George's Town. The ferry terminal is a short walking distance from Kings Square. The Orange route ferry operates between Royal Naval Dockyard's ferry dock and St. George during summer. 
Related Articles
1) Check out
St George's Town
to know about the historical Town of St. George, its attractions, activities, restaurants, hotels and more. 
2) Check out
St. George's Parish
to know about the parish where the town of St. George is located and all its attractions and activities. 
Visitors' Reviews and Comments
Review and share your experience.