Bermuda Peppercorn Ceremony
The peppercorn Ceremony in Bermuda has a strange history and is now a traditional event held at the
King's Square
in St. George in late April. This event started in 1816 after Bermuda's capital was moved from St. George to Hamilton City in 1815. This is when the
Old State House
in St George where the parliamentary sessions used to be held, was handed over to Freemasons for a rent of only one Peppercorn. The old state house was built in 1620 and is the oldest stone building of the island. Since then the occasion is celebrated with a lot of pomp and grandeur. 
So what happens during the Bermuda Peppercorn Ceremony? It's a grand event complete with 45 minutes of parade with full costumes. It starts with Bermuda Regiment gathering on King's Square for the pageantry. 
Bermuda's premier, St. George's mayor and other dignitaries arrive and join the occasion along with a large number of spectators. This is accompanied by town crier's bellowing and bell ringing. 
Bermuda Peppercorn Ceremony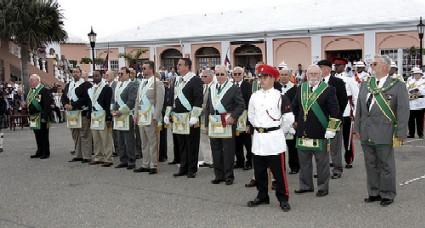 The Governor and his wife arrive in a horse-drawn carriage and their grand entrance is marked by a 17-gun salute. His excellency then receives the military guard of honor while the Bermuda Regimental Band and Corps of Drums play. Finally the symbolic peppercorn is presented on a velvet cushion laid out on a silver platter. 
If you are visiting the island in late April, don't miss this traditional event. You will get a great flavor of Bermuda's customs and traditions. Many who arrive at the occasion, combine the day with a
walking tour of St. George
or take a
horse drawn carriage
to go about this world heritage town. 
Schedule 2019
Takes place on April 24 (10.30am - 2pm) at King's Square, St. George's. 
A special package is offered for visitors that comprises of: 
VIP seating for viewing the Royal Bermuda Regiment and Regiment Band 
Join the exclusive garden party featuring local live entertainment 
Light refreshments 
Interact with Bermuda Freemasons and local dignitaries 
You can buy this special (VIP) package online at ptix.bm/peppercorn 
For any queries, contact Bermuda Tourism Authority: (441) 296 9200. 
Update April 2015: The peppercorn ceremony was held at Kings Square on April 22, 2015 at 11am. As per the tradition, the governor traveled in a horse carriage and received the symbolic peppercorn. 
Update April 2013: This year the Peppercorn Ceremony was held on April 24. Despite cloudy day and some threats of rain, it did not dampen the mood of the islanders. Hundreds came to Kings Square at St. George to attend the ceremony. Many school students lined up on one side to watch the pomp and pageantry. Governor George Fergusson arrived in a horse carriage and inspected the band and troops of Bermuda Regiment. He was then presented the peppercorn rent by the Officers and Members of Lodge St George on a velvet cushion after they paraded on the square. This year over 100 Freemasons flew in from US, UK and Canada to join the event and the parade. 
Related Articles
1) Check out
Bermuda Events
for all the main events and festivals in Bermuda