Bermuda Horse Drawn Carriages & Rides
There is nothing more romantic than taking a short ride or a tour on a horse drawn carriage in Bermuda. During the summer months (May through October), you will find those beautiful horse carriages on Front Street in Hamilton City, at the Royal Naval Dockyard Area in the western end of the island, and even at Kings Square and the narrow roads of St George's town at the eastern end. 
Horse Carriage in Bermuda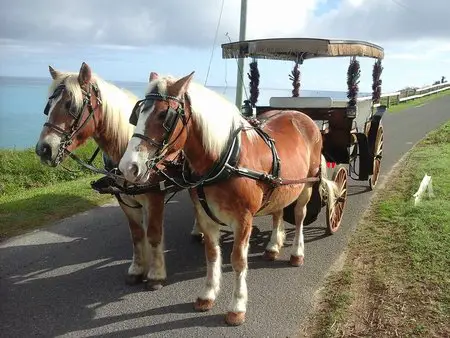 Photo: Bronco Stables, Bermuda 
Here are our favorite places to take a horse carriage rides in Bermuda: 
1) Complete a full circuit in a circular route west of the City of Hamilton;  
2) A ride through the narrow lanes of the historical Town of St. George which is now a world heritage site. You will feel like having gone back to the 17th century. The ride or the tour can extend through historic sites followed by scenic trails passing by lovely gardens, glass beaches, historic forts with beautiful view of the ocean, old houses, etc. 
3) Take a ride through the Royal Naval Dockyard while watching many of the tourist attractions here including historic buildings, forts and nearby parks and bays; 
4) Or take the great scenic route along the south shore road and watch the spectacular south shore beaches. 
A single horse drawn carriage can usually accommodate up to 4 persons. There are also carriages pulled by two horses. The rate is about $50 for 30 minutes tour and $100 for 1 hour tour. You can extend the time in multiple of half hour.  
For more information or to reserve a horse drawn carriage for sightseeing or special occasion like a wedding, you can contact the following operators: 
Bronco's Stables Horse and Carriage Tours, St George
30 minutes or 1 hour tours are offered in St George's. The tours start from Kings Square. Other than passing through streets and historic sites, the horse carriage tour goes by the beautiful
Somers Garden
where the heart of Admiral Sir Somers (the founder of Bermuda) was buried.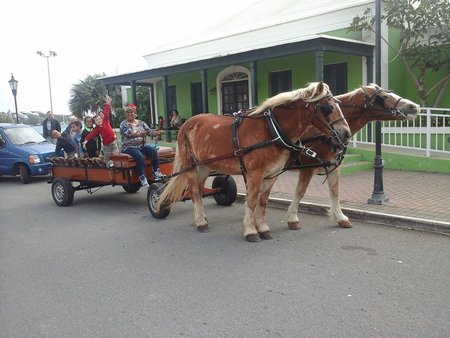 Photo: Bronco Stables, Bermuda 
The carriage route further extends through the historic
Gates Fort
from where you get spectacular view of Town Cut (the channel through which the cruise ships enter St George's harbor), Building Bay Beach where you can collect colorful sea glasses, old homes with limestone roofs, the
Unfinished Church
, working dairy farm, and more. 
Contacts 
Address: 35 Barry Road, St George's Parish, Bermuda 
Marquis Ranch
They offer horse carriage tours mainly at the western end and from the dockyard area when the cruise ships are in port. They have half-hour and a one-hour carriage ride. The half-hour tour takes you around the Royal Naval Dockyard complex and shows the historical buildings and heritage. The one-hour tour additionally takes you to the surrounding areas in Ireland Island through residential areas and local vegetation so that you get a flavor of the island life.  
Other than historic buildings in the dockyard like old
Casemates Prison
, Commissioners House etc., you will also see
Black Bay
, Parsons Bay,
Royal Naval Cemetery
, Lagoon Park and many other attractions in the nearby areas. You will also go by areas where movies like
The Deep
and the
Bermuda Depths
were filmed. 
From the cruise ship, you will usually need to walk for about 1/4 of a mile to the carriage area. Marquis Ranch also offers carriages for special occasions like weddings. They have wide variety of horses as well as carriages. 
Contacts 
Phone: 441/505-5575 or 441/505-5576  
Postal Address: P.O. Box MA 86 Sandys MA BX 
Shilo Carriages
Operating for over 40 years, they offer carriage tours mainly in Hamilton City and take you to residential areas where some of the richest in Bermuda live. Single horse carriages carry up to 4 people. Double horse carriages take up to 8 persons. Booking is done on an hourly rate. There is also a special Champagne ride offered for couples. They also offer pick ups from the hotels. 
Contacts 
Mrs. Dee Charles 
37 South Court Avenue, Paget, Bermuda. 
Other Horse Carriages at Kings Square, St George
During the summer, several horse carriage owners will bring their horses and carriages to the town square in St George and offer tours. They will take you to forts and beaches, let you collect sea glasses and stop wherever you want to take pictures. Some of such operators include Max n Maggie, Lewis with his couple of horses etc. 
During summer, Horse carriage operators wait along with their horse carriages on Front street in Hamilton City. You can find them near the Flag Pole on waterfront under the shades. You can simply land up and take the rides. 

By Raj Bhattacharya 
Raj, a seasoned travel writer and Bermuda destination expert, has extensive global travel experience. This website reflects his profound insights, garnered over nearly two decades of dedicated findings and research on the island. Raj has assisted countless Bermuda-bound visitors by providing direct, personalized responses to their queries and imparting his wealth of knowledge through this platform. This site serves as an indispensable guide for those seeking informed and reliable insights into Bermuda's treasures. 
Related Articles
Visitors' Reviews and Comments
Mryann (June 2017) 
We took a carriage ride in St Georges Bermuda with Crystal (Bronco Stables) -- it was awesome, She took us all around the town to places we never would have seen, She was very informative and enjoyable! I highly recommend taking this ride! 
Katherine (September 2015) 
Will be in Bermuda via cruise ship in a month. Wanted to clarify as to whether we could take a horse carriage from Dockyard area. Don't want to book via ship ahead of time. Can we just do a "walk up" and book? 
Raj (bermuda-attractions.com) September 2015 
There is no guarantee that you will find a horse carriage on the spot. Why don't you book one directly in advance. 
Nancy Evanina (July 2014) 
Raj, Just returned from Bermuda, wanted to give you an update regarding carriage rides. We went to Hamilton only to find out that they don't allow the horse and carriage rides anymore. Went to the Dockyard to find out we could only book one through the ship we were on. When we went to do that we found out it wasn't a carriage at all but a covered wagon pulled by horses. Needless to say we didn't go for that as it would have cost $100.00 to be bounced around in a wooden wagon. So disappointed in the trip.. Wanted to go to Snorkel beach on Friday and found out it was closed for a private party. 
Raj (bermuda-attractions.com) July 2014 
Hi Nancy, Thanks for the updates. After receiving your note, I wrote to Marquis Ranch - a well known horse and carriage ride center in Bermuda. This is what they wrote back to me (seems like you might have been misinformed)... "Good day Raj, Yes we still do horse and carriage rides in Dockyard. There is also a carriage operator in St George. Horse and carriage are allowed in Hamilton, we do from time to time through Meyer Tours when they have arranged tours with a ship berthed there. However currently there is no regular carriage operator that operates in Hamilton... Sue, Marquis"