Royal Naval Cemetery Bermuda
Located in Sandys and close to the Royal Naval Dockyard, the land around the cemetery was purchased by the British Royal Navy in 1809. The cemetery was first consecrated in 1812 when the Dockyard was still under construction. Although the cemetery was open to all for burial those days, the convicts were not allowed a grave in this cemetery. 
During the mid-19th century, the epidemic of Yellow Fever claimed many lives in Bermuda. Many Royal Navy persons who died of the disease were buried here. There are headstones with names and details inscribed on them. All the graves here are underground. Out of the many old headstones that you will see, there is one that of an admiral. 
Royal Naval Cemetery, Bermuda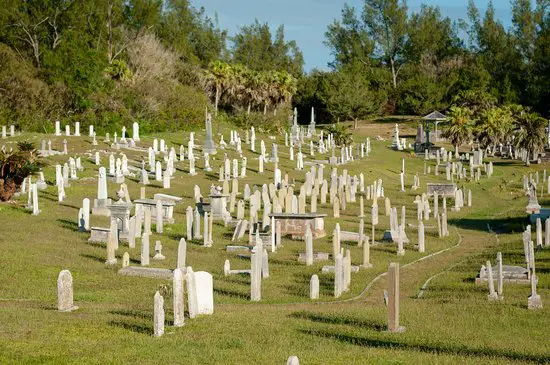 Royal Naval Cemetery is also known as The Glade. During the second world war, many British Royal Navy personnel died while fighting the battle in the mid Atlantic with German battleships and U-boats. As you continue along the main road out of the dockyard (Malabar road), the graveyard will be on your left. You will see graves of many Royal Navy seamen who lost their lives in those battles. There are 34 burials from World War-I and 39 from World War-II. As you stroll around this quiet picturesque cemetery, you will find many other headstones of young servicemen in Bermuda. 
Admission to the cemetery is free. The property is now managed by Bermuda National Trust. 
Location and Contacts
Royal Naval Cemetery is located near the northern side of Lagoon Park and on Malabar Road, Ireland Island South, Sandys. It is about 25 minutes walk from the Royal Naval Dockyard, and a short bus or scooter ride. Bus routes: #7 and 8 (operating between Hamilton and Dockyard). Phone: (441) 236-6483 

By Raj Bhattacharya 
Raj, a seasoned travel writer and Bermuda destination expert, has extensive global travel experience. This website reflects his profound insights, garnered over nearly two decades of dedicated findings and research on the island. Raj has assisted countless Bermuda-bound visitors by providing direct, personalized responses to their queries and imparting his wealth of knowledge through this platform. This site serves as an indispensable guide for those seeking informed and reliable insights into Bermuda's treasures. 
Related Articles
1) Check out
Sandys Bermuda
to know about the places of interest in the Parish. 
Visitors' Reviews and Comments
Euell Nielsen (March 2015) 
While visiting my family in Bermuda last year, we stumbled upon the Royal Naval Cemetery. Normally cemeteries are a sad dismal place anyway, but American cemeteries do not have such information listed on our headstones. I have never seen so many children's graves in my life. Those tiny graves touched me so deeply, as well as reading about mothers who died giving birth and those who died days apart from their children. I found myself sobbing. It was a very sad but beautiful place to visit. 
Grahame Vass (August 2014) 
Good day, We are staying at the Grotto Bay Resort from 22nd April 2015 for a week and would like to visit my Great, Great Grandfathers grave in the Royal Naval Graveyard in Sandys Parish. Please can you advise the best/quickest way to get there and back. Bus to Hamilton City and a bus to the Sandys Parish or bus to St George and a ferry to the dockyard? Or maybe another way? Any advice at all would help greatly. (Grave is near 
the Gazebo). Thanking you and best regards from the UK 
Raj (bermuda-attractions.com) August 2014 
Hi, take a bus to Hamilton (#10, 11, 1 or 3... about 35 minutes) and then take the blue route ferry to dockyard (20 minutes). The ferry from St George has limited runs and it does not operate on weekends. From the dockyard, the Royal Naval Cemetery is about 25 minutes walk. Alternatively take Bus #7 or 8 from dockyard.