Gates Fort Bermuda
Located at the end of the Cut Road in St. George Bermuda, Gates Fort was built around 1612. It sits right on the edge of
Town Cut
, a channel that was created for ships to enter the
St. George Harbor
. Gates fort with its great vantage point overlooking the Town Cut, was built to stop any suspect or enemy boats to enter the St. George Harbor from the open sea. It was named after Thomas Gates, the Governor elect of Jamestown Virginia. 
In 1609, Thomas Gates was also in the same ship
Sea Venture
along with Somers and his men, that got wrecked near St. George. He governed Bermuda between 1609 to 1610, and later became the Governor of Jamestown, Virginia. 
Gates Fort was also known as the Town Cut Fort and Danvers Fort, and subsequently was called the Town Cut Battery. In 1790s, Captain Andrew Durnford rebuilt this fort and mounted four cannons there. There is a guardhouse right at the entrance of the fort. In 1800s, the soldiers used the Keep, that is the main fort building as their barracks and the guardhouse as the kitchen. From 1870 to 1922, this small fort was used by a local family as their residence. Later it was returned to the Government. 
Gates Fort Bermuda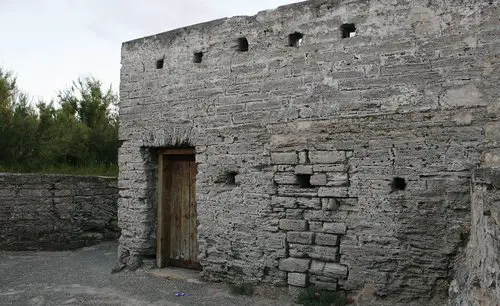 Photo: David, flickr, cc by 2.0 
As you walk into Gates Fort, you will still find two George III guns mounted. As you go to the top of the fort, you will see the great advantage the British soldiers had defending the entrance of the harbor. You will stand in the same place where they once stood in 17th century. The feeling is awesome. 
The Town Cut channel is just next to it, and the view of the harbor and the channel leading to the open sea is marvelous. This is also a great location to watch how the cruise ships navigate through the narrow channel into the harbor. 
Open Hours
Daily from 10am to 4:30pm 
Admission is free. 
How to reach Gates Fort
Gates Fort is in St. George's and a mile south of
St. Catherine Fort
. It's located at the end of the Cut Road that goes along the coast line.  
Whenever we visit St. Catherine's Fort, we love to take the scenic Barrack Road and walk down to the end of Cut Road. Gates fort is a mile east of St. George's Town and is on bus route #3. 
Road Map 

By Raj Bhattacharya 
Raj, a seasoned travel writer and Bermuda destination expert, has extensive global travel experience. This website reflects his profound insights, garnered over nearly two decades of dedicated findings and research on the island. Raj has assisted countless Bermuda-bound visitors by providing direct, personalized responses to their queries and imparting his wealth of knowledge through this platform. This site serves as an indispensable guide for those seeking informed and reliable insights into Bermuda's treasures. 
Related Articles
1) Check out
Bermuda Forts
to know about the historic forts in Bermuda. 
3) Check out
St. George's
to find out other great attractions in the parish. 
Visitors' Reviews and Comments
Review and share your experience.