Mama Angie's Coffee Shop, Bermuda
$, Bermudian (Breakfast and Lunch) 
One of the best ways to savor the island's tastes is to dine where the locals do. Mama Angie's coffee shop is one such place which is quite popular amongst the local population, where you can sample some of the island's authentic fare. It is located in the Hall Building on York Street in St. George (right at the corner of King Street). Its location is quite convenient for a quick stopover at lunchtime while getting around this historic town. 
It is very close to some of the main attractions here like the St. Peter's Church, St. George Historical Society Museum, Bermuda Heritage Museum, Somer's Garden etc. It is also a short walk from the Cruise ship terminal. You might actually accidentally stumble upon it while taking a walking tour of the town! Moreover since this place is quite popular, any of the local residents can point it out to you. 
Mama Angie's in Hall Building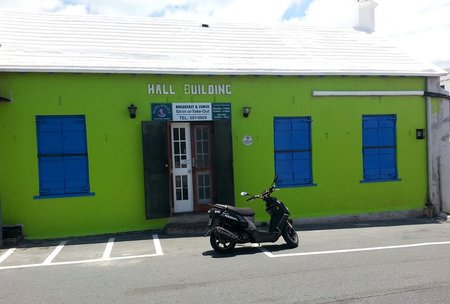 Photo: Mama Angie's 
This is quite a small, spartan and unassuming place with very few tables for dining-in. So a good number of people use their takeaway option and pick up their orders "to go". It is also a good idea to take your order and walk over to the nearby Ordinance island where you can seat yourself on one of the benches overlooking the water. It gives the feel of a little neighbourhood joint where most people know each other. The owner Wesley and his wife mostly do the cooking and run the place. They open quite early and are available for breakfast and lunch. 
You can drop by for a hearty and warm well made "mama" style breakfast of pancakes, omelettes, French Toast and bacon. You can try their homemade sandwiches and burgers with fried egg or even Mama Angie's carrot cake. The salt cod with tomato sauce together with egg, banana and other delicacies is quite a unique option for breakfast. The portion size is quite big and wholesome. You might also find yourself drawn into the breakfast table conversations with the owners and the locals dining here or might even spot the cook do a jig to the music ! It gives a very homely and welcoming feel to your dining experience here. 
Their traditional Codfish Sunday breakfast was something to look forward to. However, since they now remain closed on Sundays, Mama Angie makes it a point to serve the Sunday breakfast on Friday mornings. You can also buy a local newspaper here if you need one while waiting for your breakfast. 
This is one of the better places in town for the freshest fish. Although the menu is small, the food here is great. It is best known for its fish sandwich which is quite delicious and is fried in a crunchy, light and non greasy batter. Try it with the pepper vinaigrette and you will know it has an edge over the sandwiches you have elsewhere in the town. The prices for the fish sandwich is also quite reasonable compared to the large portions and the island standards. It is $15 for sandwich on bread and $10.50 for one on bun. Both come with fries. In fact, prices here come as close to the US prices as you can get. 
Their fish cake is another good choice which comes well balanced with seasonings and chunks of fresh fish. Fries and coleslaw as a side goes wonderfully well with it. You can also find the specials of the day mentioned on a whiteboard outside. They now accept credit cards too. 
Day's specials on whiteboard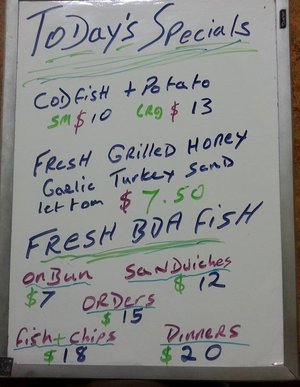 This is a rather unpretentious, no frills, quaint and laid back place where they serve with a smile. Apart from great home-style food, you can sit  and interact with the owners or the locals who keep streaming in, mostly to pick up their orders. You get a slice of Bermudian culture in this tiny room where you can make memories that will last you a lifetime. 
Open Hours and Contacts
8am - 2.45pm from Monday through Saturday 
Address: 48 York Street, St. George. Phone:  +1 441-297-0959 
Road Map 
Related Articles
Visitors' Reviews and Comments