Bank of Butterfield, Bermuda
Bank of Butterfield is one of the oldest banks in Bermuda and has been founded in 1758. Although it has been established and based in Bermuda, Butterfield Bank also has operations in few other countries including Bahamas, Barbados, Canada, Cayman Islands, Guernsey, Switzerland and the UK. 
The bank has several portfolio of services including Personal Banking, Business and Corporate Banking, Institutional Banking and Wealth Management. 
Under Personal Banking it offers services like Everyday Banking, Savings accounts, Borrowing, Credit Cards, Insurance, Investment Center, Trust and Estate Services etc. 
Bank of Butterfield, Bermuda (St. George's Branch)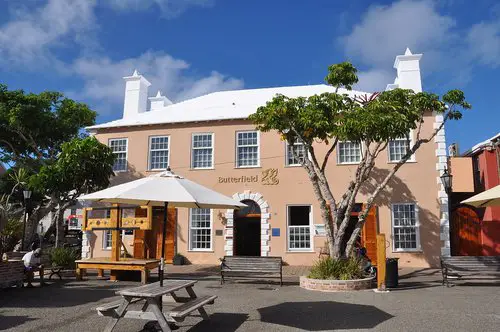 Photo: James Willamor, flickr, cc by-sa 2.0 
Under Business and Corporate Banking, it offers Commercial Credit, Account Services, Corporate Trust, Merchant Services, Treasury, Custody etc. Under Institutional services, it provides Corporate Trust, Custody, Captive Insurance Support etc. In Wealth management the bank services includes Private Banking, Butterfield Trust, Asset Management etc. 
This was the first bank in Bermuda which introduced Chip and PIN technology in 2013 to all its Premium Reward Cards. From October 21, 2015 onwards, the bank has extended this technology to all its credit cards. So all customers would have a chip embedded on the cards and a PIN to be used to authorize all transactions both at ATMs and Point-Of-Sales. 
History of Butterfiled Building at St. Georges
Here is a brief timeline history of the Butterfield bank's building located at the King's Square in St. Georges (picture above) 
Original building was constructed in 1776 and was known as The Stiles House. It was used as a mess by the British troops during American Revolutionary War. 
In 1812, it became George Hotel 
Around 1851, this hotel was known as the St George's Hotel and had a nice wooden balcony added. In 1870s, its name was changed to Kennellys hotel. 
In the 1930's, it was renamed as the Somers Inn hotel. 
In 1940, The Bank of Butterfield started a branch operation in the lower floor.  
In 1954, the bank bought out the entire building and restored it to its original design and architecture of 1776. 
Update November 2015: The Bank of Butterfield has been named as the best private bank in Bermuda for 2015 by US-based Global Finance and UK-based Financial Times publications Professional Wealth Management and The Banker. 
Location and Contacts
The bank of Butterfield has branches and operations in several convenient places in Bermuda. 
Head Office is located at Hamilton City/ Reid Street 
65 Front Street, Hamilton HM 12 
Phone: (441)298-4691 
St. George's Banking Center 
1 King's Square, St. George's, GE05 
Phone: (441)297-1277  
Somerset Banking Center 
45 Mangrove Bay Road, Sandy's, MA01 
Open Hours
Reid Street: 
Monday - Friday, 9:00 a.m. to 4:00 p.m. 
Saturday, 10:00 a.m. to 3:00 p.m. 
Somerset and St. George's: 
Monday - Friday, 9:00 a.m. to 4:00 p.m. 
Related Articles