The Wharf
Formerly Tavern By The Sea
$$, International 
This is a waterfront restaurant located in St. George at the eastern end of Bermuda and overlooks the beautiful
St. George's harbor
. The Wharf is the new look of the erstwhile restaurant 'Tavern by the sea' as it went through upgrades and change in partnership arrangements in August 2016. 
The outside terrace can accommodate over 250 diners. If you dine at the terrace and a cruise ship is docked at the Somers Wharf, you can see it clearly from here. There is also an inside dining which is a bit formal, but great if you are looking for air-conditioning. It has a good view too. 
You will see many yachters frequenting the bar for a dark n' stormy drink or the rum swizzle. The ginger beer is also a favorite with the locals. The dark wood paneled bar which is open till late night during the summer time, gets quite crowded particularly on the weekends. There is a live entertainment that starts at 10pm every night. 
The food here is mainly Bermudian and British fare, although they also have Indian, Italian and German dishes in the menu. They have a large variety of fresh local fish sourced daily including wahoo and rock fish. Bermuda lobster and guinea chicks are also sourced daily in season.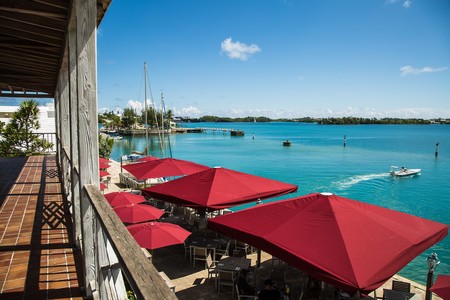 Photo: The Wharf, Bermuda 
The restaurant boasts of the Chef's Lobster Thermidor that comes with diced lobster meat in a mushroom brandy cream sauce served in a half shell topped with Hollandaise sauce and baked golden brown. There is also a three course lobster meal offered by the restaurant. 
In starters, try out the avocado or the shrimp salad. They also serve homemade soups, sandwiches, calamari and garlic mussels. Fresh pan fried rockfish is also a good choice. 
In Italian, you can also go for the pizzas or a pasta dish. Other favorites here include the Shepherds Pie (minced angus beef with carrots and onion), Fish n' Chips, Bratwurst (German sausage served with sauerkraut and mashed potatoes), and Wiener Schnitzel (Pork scaloppini served with French fries). 
The Wharf, St. George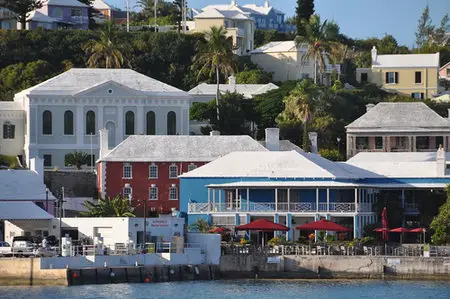 Photo: James Willamor, flickr, cc by-sa 2.0 
Out of the Indian dishes, try out chicken tikka masala (earthen oven grilled boneless chicken, my favorite) or the curried Shrimp. Some of the other popular items include fried chicken, grilled veal or pork chop, stewed oxtail, prime rib of beef etc. 
The bar has a good stock of draft and bottled beer, wines and spirits, frozen drinks as well as non-alcoholic refreshments.  
The restaurant accepts credit cards. Dress code is smart casual. Reservation is recommended but not required. 
Open Hours
Daily 11:30am-10pm;  
Bar 11:30am-midnight (Fri-Sat until 3am in the summer) 
Open all seven days including public holidays (except Christmas day). 
Location and Contacts
14 Water Street St. George's, Bermuda 
You can reach St George by bus #1, 3, 10, 11 (all these routes operate between Hamilton and St George). From dockyard you can alternatively take the Orange route ferry for St George (operates only through summer schedule though). From Kings Square (in St George), the restaurant is at a short walking distance. Check out
St. George Dining Map
to see the location of this restaurant. 

By Raj Bhattacharya 
Raj, a seasoned travel writer and Bermuda destination expert, has extensive global travel experience. This website reflects his profound insights, garnered over nearly two decades of dedicated findings and research on the island. Raj has assisted countless Bermuda-bound visitors by providing direct, personalized responses to their queries and imparting his wealth of knowledge through this platform. This site serves as an indispensable guide for those seeking informed and reliable insights into Bermuda's treasures. 
Related Articles
Visitors' Reviews and Comments
Garnet McGrath (June 2011) 
My husband and I have been frequenting Tavern By the Sea since it opened. We love it. You will see many locals there also. It is one of our first stops when we arrive in Bermuda. To be honest I have never had anything from the casual menu that I did not like. Sitting by the Harbor, sipping a cold Schneider Weise is absolute pleasure. The staff are very accommodating. The owner, Gunter, works amazingly hard and the place reflects his outgoing personality and dedication.