Bermuda Botanical Gardens
The Bermuda Botanical Garden was inaugurated in 1898. The 35-acre landscaped park located in
Paget parish
, numerous flowers, shrubs, trees and plantations including a vast collection of subtropical fruit trees, hibiscus, an aviary and Banyan trees. The Garden has large glass houses with cacti and orchids along with formal gardens and lawns. There is also an aromatic garden designed for blind visitors. There is a Visitor Center in the garden area. 
A free walking tour of the Botanical Gardens is offered on Tuesdays, Wednesdays and Fridays starting at 10:30am, if the weather permits. The walking tour starts from the Visitors Center and lasts for 90 minutes. The Botanical Garden is part of Bermuda National Parks and is maintained by the government's Parks Department. The garden has several sections. 
Towards the North Gate of the garden (i.e. Berry Hill Road), you will see cactus hillside that includes aloes and agaves with sword-shaped leaves. You will also find
Bermuda cedars
here and a
Blue Garden
having a beautiful blue foliage. 
Bermuda Cedar at Botanical Gardens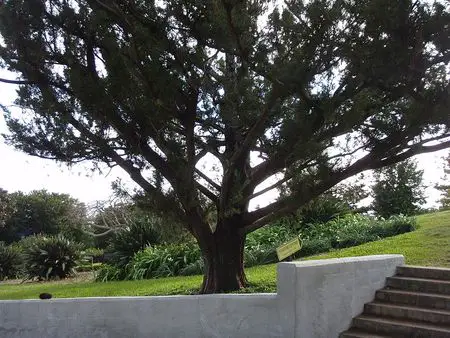 Source: Wikimedia Commons 
The
Camden House
is located at the Bermuda Botanical Gardens. It is designated as the official residence of Bermuda's Premiere and is an impressive colonial building with painted shutters and fretwork. Built in the early 1700s, Camden House is a great example of traditional Bermudian architecture. It has a fine collection of art and antiques. You can combine a visit to the Botanical Gardens with a free tour inside the Camden House. 
If you are carrying your lunch basket, there are picnic tables around this area for you to relax in the shades and enjoy your lunch. Alternatively for breakfast or lunch visit
Salty Time @ Homer's Cafe
. It's located inside the
Masterworks Art Museum
within the garden area. There is also a cafe at the Visitors Center of the garden serving fresh fruits, salads, sandwiches, wraps, beverages etc. 
Behind Camden House, there is a beautiful rose garden, and a kitchen garden showcasing many types of herbs and cut flowers. There is also an aviary here with peacocks, ducks and many other birds. Lawns stretch from here all the way towards South Road having many matured trees like cedars and acacias. Some of the lawns are bordered with beds of seasonal flowers like lilies, freesias and dahlias. 
Bermuda Botanical Gardens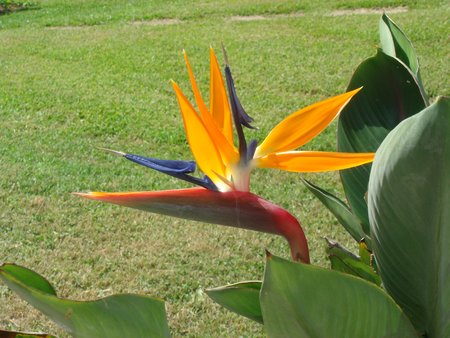 The western section has palm gardens full of Bermuda palmettos, butterfly and maze gardens, and mammoth rubber and ficus trees. There is also a Sensory Garden for the blind. All the signs here are in Braille to help those who do not have vision. The sensory garden has rosemary, jasmine, and other scented flora with a fountain at the center. 
In April,
Bermuda Annual Exhibition
takes place at the Botanical Garden for three days drawing thousands of people. It is like a country fair which is one of the island's biggest events. 
Double Fantasy Café and Gift Shop
Located inside the Bermuda Botanical Gardens Visitors Center, this air-conditioned eatery offers pastries, sandwiches, coffee, ice cream, cold drinks and such. With its renovated space and comfortable chairs, it provides a welcome respite from the sun on a warm day. 
The gift shop here stocks various garden inspired items including books on Bermuda, cedar souvenirs, candles, games, toys, floral stationery etc. 
The cafe and the gift shop are open from 9:30am – 3:30pm, Monday - Friday. 
Update June 2012: A steel made sculpture was erected at the courtyard of Botanical Gardens in front of the Masterworks Museum in tribute to the deceased Beatle member John Lennon. John had a deep connection with Bermuda. He sailed to Bermuda in 1980 with his son when he was 40. It is in this garden he discovered the Double Fantasy, a small freesia flower. He wrote his last album here and named it after the flower as "Double Fantasy". He deeply loved Bermuda. Three weeks after the album was released, he died in New York. The sculpture has a weight of some 2,000 pounds and features his style of glasses, guitar, doves and freesias. 
Admission and Open Hours
Admission to Botanical Gardens is free. The garden is open daily from sunrise to sunset. The Visitor Center is open from 9:30am to 3:30pm (Monday to Friday). 
Guided Tour of Botanical Gardens
There is a 90-min free guided tour that departs from visitors center car park at 10:30 a.m. on Tuesday, Wednesday, and Friday (weather permitting). The guides are extremely passionate about the plantations in the garden. 
This tour is a great way of knowing about Bermuda's local trees, plants, shrubs and flowers. If you go around the garden on your own, you will only find labels against the plants and trees, but you can gather knowledge about them only if you take this guided tour. And it's free. You can walk in and join the tour. There is no need for advance reservation. 
Location, Bus Routes, Contacts
Bus routes for Botanical Gardens: #2 (runs between Hamilton and Paget), #7 (runs between Dockyard and Hamilton), #1 (runs between Hamilton and St George). All these buses go to King Edward VII Memorial Hospital located nearby. 
If you are visiting by scooter, take the Berry Hill Road in Paget, at the roundabout you will find the entrance to Botanical Gardens. There is ample parking space right outside. There are two other entrances: South Gate on South Road, and West Gate on Point Finger Road next to the King Edward VII Memorial Hospital. 
Address: 169 South Road,
Paget parish
, Bermuda. Phone: 441/236-4201 
Check out
Tourist Map
to see the location of Botanical Garden. 
Raj Bhattacharya
Raj is an avid traveler, a travel journalist and a blogger. As an author of this website, he shares deep insights on Bermuda and related areas of interest. Since years, he has been helping countless viewers by posting quality articles, answering questions and sharing experiences on this website. Launched in 2008, this website is Bermuda's one of the leading sources of information since many years. 
Related Articles
4)
Bermuda Tours
: Know about many other great tours and excursions in Bermuda. 
5)
Bermuda Activities
: Know about all the recreational activities and things to do in Bermuda 
Visitors' Reviews and Comments
Lynda Wentzell (December 2016) 
I visited the botanical gardens today and was distinctly under-whelmed. They are not maintained properly, everything was shut, no cafe, Camden house was closed. I waited for the tour and in spite of 2 gardeners going to find a guide no-one turned up. I found out later that it is funded by volunteers. Such a shame there is so much potential here, wonderful mature specimen trees could be so good but needs funds, if they charged a small entrance fee they could afford to maintain it. 
Keith Walters (April 2015) 
Hi Raj, Quick question about the BBG, I have read some pretty negative stuff on Trip Advisor about the gardens not worth visiting and being underwhelming. I will be there next month May 4 and would like to hear what you know about the current state of BBG. I realize that Gonzalo did some damage but Spring brings new growth and recovery and as my wife is a keen horticulturist would like her to see this attraction. Thanks 
Raj (bermuda-attractions) April 2015 
Hi, Although worth a visit, unfortunately the Botanical Gardens is not in a great shape. Lack of consistent maintenance is the main issue. On top of it, the government is building a maintenance yard right at the center to replace one which used to be there a decade back. It will have couple of large buildings, a large 3 storey water tank, a parking lot for the staffs with fencing and sliding gates. So once functional, you can expect numerous trucks, trailers, tractors, staffs making their way into or out of the yard, completely spoiling the peace of the park. Even now, it's an ugly sight.