Masterworks Museum of Bermuda Art
Located inside
Botanical Gardens
in Paget parish, this art museum is owned by a non profit organization called Masterworks Foundation in Bermuda. If you are an art lover, you will surely like to come to this place. 
The foundation has been building a collection of artwork since 1987 from the work done by artists of Bermuda as well as foreign artists inspired by the island.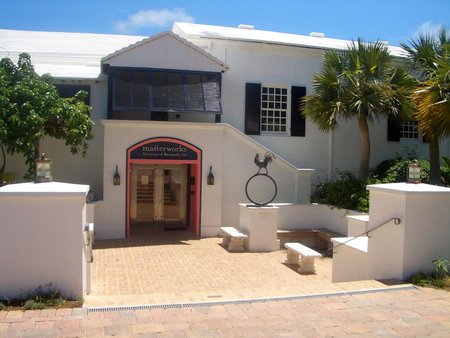 Source: Masterworks Bermuda 
In 2008, they converted what was a 150-year old arrowroot factory, into the Masterworks Museum for display of their collections. 
This huge 16,000 square feet art museum has three galleries that display over 1500 masterpiece permanent collections including paintings, photographs, sculptures, drawings, maps, and many types of memorabilia. 
The permanent collections have work starting from the 1700s from renowned artists and painters from all over the world but most notably from countries like United States, Canada, England, France and Sweden. 
Many such artists came to Bermuda to escape the northern winters, but opened their studio here after being inspired by the light and landscape of the island. Many of them took their work back home. 
Masterworks has worked hard to repatriate and collect many of such work that now form part of their permanent collections. 
You can see original work of internationally acclaimed artists such as 
Winslow Homer (wonderful seascape paintings), 
Georgia O'Keeffe (who made great paintings in Bermuda in 1930s), 
Marsden Hartley, 
Charles Demuth, 
Ogden Pleissner (who was well known for his excellent watercolor paintings), and 
Henry Moore. 
There are also plenty of work by the lesser known local as well as foreign artists. 
One of the walls in the main gallery has a quote inscribed on it from the founder director Tom Butterfield that says: "In the future, we will understand Bermuda through the eyes of the Collection." This pretty much sums up the mission of the foundation. 
The main gallery has a high ceiling and called Butterfield Family Gallery. Next to the main gallery is the Richard Faries Gallery, named after the late chairman of the foundation. And there is a third gallery called the Bank of Bermuda Foundation Mezzanine Gallery. 
Gallery, Masterworks Museum of Bermuda Art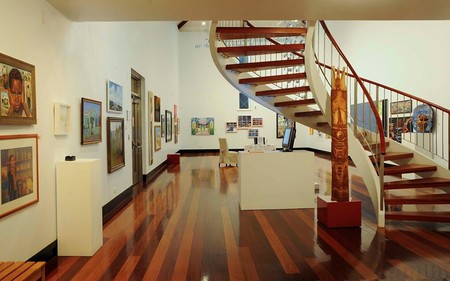 Source: Masterworks Bermuda 
The display of work changes every 6 months. There are regular exhibitions held in the museum comprising of work from the local and resident artists. The museum offers private and group tours of current exhibitions which are included in the admission fee. 
There are other programs also initiated by the foundation including art camps for kids, painters' picnics, art in the park festivals, workshops, and so on. The museum also has a library, a classroom, and conservation and storage rooms for the artwork. 
Masterworks Foundation also organizes architecture and art tours around the island. Tom Butterfield, who is the Creative Director and Founder, conducts drop-in tours at 11am on the first Saturday of every month. You can call the museum to arrange a tour. 
Other Facilities
Upstairs, there is a cozy and charming reading room. There are a number of books in the open wooden cabinets. 
You if you so want, you can pick up a book, sit on a comfortable cushioned chair next to a window and spend some quiet time reading. The ambience is perfect. 
Library at Masterworks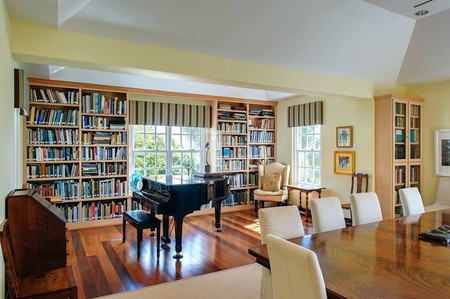 Source: Masterworks Bermuda 
The earlier Arrowroot Gallery has been converted into a gift shop and gallery known as Arrowroot Museum Shop and Gallery. 
Here you can purchase art and crafts by local artists, art books, calendars, china items, wines and chocolates, postcards and greetings cards, vintage Bermuda Posters etc at $20 each. There are also locally handcrafted fine jewelry, cedar items etc. 
There is a cafe serving snacks, breakfast and lunch, called
Homer's Cafe
set up in the museum next to the lovely Rose Gardens of
Camden House
, which is the designated official residence of the Premier located within the Botanical Gardens. 
The cafe has outdoor seating as well indoor in a lounge fitted with couches, tables and chairs, and it also has activities for kids. 
Update September 2023: Homer's Cafe has remained closed for a while. It is not known if and when the cafe may reopen. 
Museum Updates
A new permanent collection section known as 'Follow The Sun' has been opened to public on January 31, 2020 showcasing the artwork of many reputed artists from North America (mainly the East Coast) and others who visited the island. 
These artists created their work during their stay in Bermuda. These artwork were mainly inspired by the lights and landscapes of the island. 
In October 2013, Masterworks Museum has added one of the earliest known photographs of St George's. An American traveler Henry Whittemore who once visited Bermuda created the image in 1855. 
The image was created using an old photographic process known as daguerreotype which used an iodine sensitized silvered plate and mercury vapor. 
In March 2012, the Masterworks Museum has put up 26 historical photographs that celebrates the long standing relationship the island has enjoyed with the USA. 
The pictures include visits of the President of the United States in Bermuda and visits of Bermuda Premiers in United States. 
Open Hours and Fees
Admission fee is $10 for adults, $5 for students. 
Free for members and children under 12. 
Open Monday - Saturday: 10am - 4pm. 
It's closed on public holidays. 
The museum is wheelchair accessible. It can be accessed by using the ramp and elevator. 
Location and Contacts
Masterworks Museum of Bermuda Art is located inside the Botanical Gardens in Paget. There are signs in the garden to direct you to the museum. 
Check out
Tourist Map
to see the location of Botanical Garden and other attractions around. 
Phone:  (441) 299-4000 
Bus routes: #1, 2 and 7. Bus #7 operates between Hamilton and Dockyard, #1 between Hamilton and St George, and #2 between Hamilton and Paget. 
Road Map 
Related Articles
2) Check out
Paget Parish
to know about all the attractions in Paget. 
Visitors' Reviews and Comments
Carolyn Coveney (October 2013) 
Fine exhibit of work by small set of local artists painting currently, one  retrospective (Plessner (sp?)) that was very interesting but  masterworks referenced in guidebooks (Homers, Turners, OKeefes) were in vault and not on display. Still definitely worth a visit and don't forget to view the work on display in the cafe.