Hog Bay Park Bermuda
It's difficult to imagine that in an overdeveloped island like Bermuda, there is still an unspoiled 32 acres of rural land area like Hog Bay Park. It reflects the way Bermuda used to be before the housing boom started in the island in 1960s. 
Hog Bay Park, which is one of the newer National Parks of Bermuda, is a stretch of rural land which is mostly undeveloped.  
You won't see habitation, roads or hear any noise as you enter the park area. The park is located at the southern part of Sandy's Parish. 
On the west of Hog Bay park is the coastline, on the east it is bounded by the Middle Road. There is a car park just off the middle road where there is an entrance to the park. 
There are many network of trails that go around the park. It is best to keep to the trails as there are poison Ivy (plants causing skin rash andáitching when in contact) that are quite common in the park. 
There used to be three private estates in this area - Fordham, James and Mayor Estates. Bermuda Government had purchased them out in the 1980s and 1990s to create this national park. These were all farm lands, open space and forest areas. 
All these estates somehow managed to keep their own lands under single family ownership instead of dividing them for development. 
Hog Bay Park Imagery 
Rotate the image for 360░ view 
A unique feature of Hog Bay Park is the extensive unspoiled forest area and the thick bushes. There is a steep coastal hillside that goes all the way up to Brown's Bay which is in the western most coastline.  
You will see skeletons of cedars along the hillside which were killed by the insect epidemic of the 1940s and 1950s. However, new cedars have been planted and they are growing all around the park. 
At the western end of the park you will find a gem,
The Hog Bay Beach
which is small and secluded, but a wonderful beach. It's a beach during low tide. Which means it disappears during the high tide. So you got to time it right.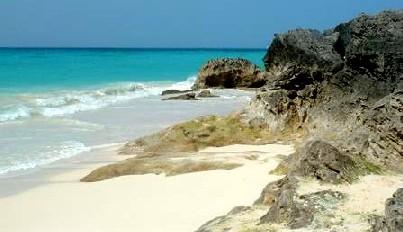 Hog Bay Park is one of the best birding locations in Bermuda. There are over 120 species of birds that are seen in the park. Its forest area, undeveloped marsh land and coastline attract large number of birds. 
You can see birds like Olive-sided Flycatcher, Orchard Oriole, Clay-colored Sparrow, Painted Bunting, Purple Finch and Rough-legged Hawk. 
You can also see spotted Sandpipers, Great Blue and Yellow-Crowned Night Herons along the coastline during the spring and winter time, and also during the fall migration. The forests and thickets are ideal for warblers, orioles, tanagers and other land birds. 
As part of future plans, the Bermuda Government would like to preserve the undeveloped nature of the area while planting more endemic and native plants. There is a plan to create a fresh water pond and a bird observatory as well. 
How to reach?
Hog Bay Park is on Bus Route #7. There is an entrance and also a car park off the Middle road in Sandy's parish. The park is open daily and admission is free. 
Road Map 

By Raj Bhattacharya 
Raj, a seasoned travel writer and Bermuda destination expert, has extensive global travel experience. This website reflects his profound insights, garnered over nearly two decades of dedicated findings and research on the island. Raj has assisted countless Bermuda-bound visitors by providing direct, personalized responses to their queries and imparting his wealth of knowledge through this platform. This site serves as an indispensable guide for those seeking informed and reliable insights into Bermuda's treasures. 
Related Articles
3) Check out
Sandy's Parish
to find out other great attractions in the parish. 
Visitors' Reviews andáComments
Marianne Hurley (May 2022) 
My family lived at the Doubloon Hill Farm from 1956-58 while my father was stationed at the US Coast Guard Station. The house was quite old, comfortable, with a large kitchen fireplace. 
The back yard was lined with those special cherry trees. Around the house the fields were cultivated by a farmer. We would walk to the beach from the house; also played atop the cistern that stored the water. We plan to visit Bermuda in June and hope the house is still there. 
Jessica Slater (January 2018) 
I will be coming to Bermuda in July and am hoping to find the cottage my grandparents lived in on Daubloon Hill Farm. This was back in 1953, so I'm wondering if it is still there? 
Raj (bermuda-attractions.com) January 2018 
Hi, Doubloon Hill Farm is now part of Hog Bay Park in Sandys. 
Pearl Beausoleil (May 2014) 
My husband and I lived at Doubloon House in 1970-1971 and just re-visited after 42 years. How long has it been part of "Hog Bay Park"? and how long has the house been vacant? Such a shame as it was a lovely 240+ year old Bermuda home. Does anyone else have comments on Doubloon House? BTW does anyone know when the house was actually built? and who the original owners were? 
Raj (bermuda-attractions.com) May 2014 
Since 1800s and for a long time, farming at Hog Bay Park was carried out under the directions of the estate owners living at Doubloon House. Prior to 1800s, the farming instructions came from the estate owners living at the house called The Hermitage.  
Over the years, ownership of the estate changed several times. Some of the original owners included Sir John Heydon, Captain Henry Tucker, Outerbridges, Browns, Trotts, Fordhams, James and Mayors.