Palm Grove Gardens Bermuda
Privately owned by the Gibbons family, Palm Groves is a wonderful manicured garden in Bermuda's Devonshire parish. The owner, Sir David Gibbons, a former Premier of Bermuda, opens this garden to all from Monday to Thursday from 9a.m to 5p.m. 
This 18 acre landscaped garden stretches from the main South Road to the sea. As the name suggest, there is a wide array of palm trees and palmettos including Cuban Royal palms, Canary Island palms and such. The garden also has Sago and coconut trees and there are nice limestone huts. There is an aviary that has lots of parrots. 
You will see a moongate in the garden. Moongates are supposed to bring good luck for the newly wed couples who pass through them. There is also a wishing well. The main highlight of the garden is a lily pond with a Bermuda island map on it as you can see in the picture above. 
Palm Grove Gardens Bermuda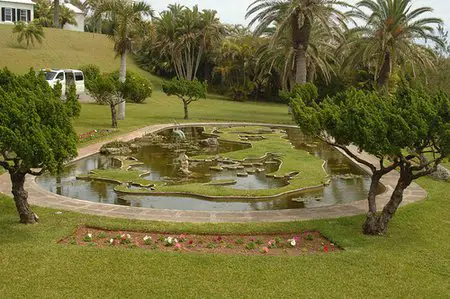 The family allows wedding ceremony in the Palm Grove Garden with a small wedding party of 9 or less. Many couples come to this garden for taking romantic pictures. 
There is no admission fee. 
Update: The area around the main house, the aviary and the map pond remain closed (due to a fire in 2015). The area close to the road with the moongate, bridge and wishing well are open, 9-5, Monday-Thursday. The entire garden is expected to re-open by summer 2017. 
Location & Contacts 
38 South Road, Devonshire Parish, Bermuda. Phone: 441/295-0022.  
Road Map 
Related Articles 
Visitors' Reviews & Comments 
Review and share your experience.