Palm Grove Gardens Bermuda
Privately owned by the Gibbons family, Palm Groves is a wonderful manicured garden in Bermuda's Devonshire parish. The owner, Sir David Gibbons, a former Premier of Bermuda, opens this garden to all from Monday to Thursday from 9a.m to 5p.m. This 18 acre landscaped garden stretches from the main South Road to the sea. As the name suggest, there is a wide array of palm trees and palmettos including Cuban Royal palms, Canary Island palms and such. The garden also has Sago and coconut trees and there are nice limestone huts. There is an aviary that has lots of parrots. 
You will see a moongate in the garden. Moongates are supposed to bring good luck for the newly wed couples who pass through them. There is also a wishing well. The main highlight of the garden is a lily pond with a Bermuda island map on it (known as Map Pond) as you can see in the picture below. 
Palm Grove Gardens Bermuda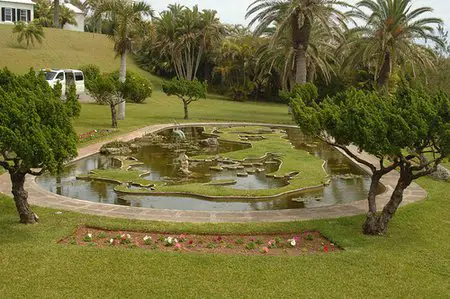 Photo: JERRYE AND ROY KLOTZ MD, cc by-sa 3.0 
There is also an aviary and a wishing well here. With the owner's guidance you can also take the short walk up to the Carrot Hill from where you can view the gardens reaching down to the sea. The family allows wedding ceremony in the Palm Grove Garden with a small wedding party of 9 or less. Many couples come to this garden for taking romantic pictures. 
Admission is free here but there are no clear signage at the entrance. The place is right across from The Brighton Nursery. 
Location and Contacts
38 South Road, Devonshire Parish, Bermuda. Phone: 441/295-0022.  
Road Map 

By Raj Bhattacharya 
Raj, a seasoned travel writer and Bermuda destination expert, has extensive global travel experience. This website reflects his profound insights, garnered over nearly two decades of dedicated findings and research on the island. Raj has assisted countless Bermuda-bound visitors by providing direct, personalized responses to their queries and imparting his wealth of knowledge through this platform. This site serves as an indispensable guide for those seeking informed and reliable insights into Bermuda's treasures. 
Related Articles
Visitors' Reviews and Comments
Review and share your experience.