Carter House Bermuda
Carter House is believed to be the oldest home in Bermuda that staill stands and located at St. Davids. It was built in 1640 by the descendants of Christopher Carter.  
Carter House Bermuda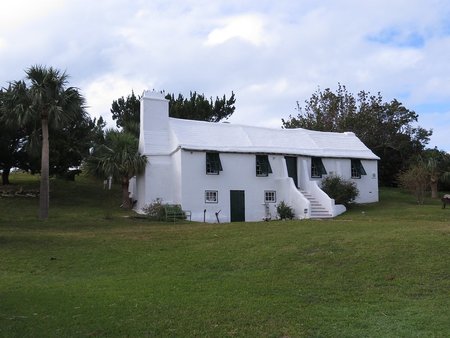 Photo: Malcom Manners, flickr, cc by 2.0 
So who was Carter? Sir George Somers and his men started the British colonization in Bermuda in 1609 when their ship got wrecked nearby and they all came ashore. When Somers started his sail towards Jamestown from Bermuda, he asked three men to stay back to continue the British claim of Bermuda. Carter was one of those who stayed back. 
So why Carter out of the three who became so well known? 
Carter was actually a rogue of a kind. He along with the other two found huge amount of Ambergris on the shore. Ambergris is a waxy substance that is secreted by sperm whales. It was earlier used in making perfumes and was very expensive item. When the three men found such huge quantity of Ambergris that were washed up the shore, they decided to smuggle it out to England. 
However on the final day when they all got into the boat, Carter lost confidence and instead handed over his two mates to the Governor of Bermuda blaming it entirely on them. 
So Carter became a free man and finally settled in Coopers Island in St. David's. His descendants later built this house. It was earlier known as Southside House because it's located on Southside Road in St. David's. However when it became known that Carter's own great granddaughter Martha Hayward lived here many years until 1791 and died at an age of 114 years, the house was renamed to Carter House. 
The house is made of Bermuda stone. Upper floor can be reached by an outside staircase as you can see in the picture. There is a large chimney on the side. The house is a great example of Bermuda's old vernacular architecture. It's now a museum exhibiting history and culture of St. David's over the past four centuries. The house has survived all the hurricanes since it was built including the devastating 2003 hurricane Fabian. The house has been maintained almost to its original condition. 
Before getting into the museum and its offerings, the story of Christopher Carter must be completed. From the time he came to Bermuda in 1609, Carter actually survived until 1624. He was on a ship along with his wife in Castle Harbor when the whole ship blew up in an explosion caused by a container full of gunpowder. And the wreck sank so quickly that nothing could be done. In fact the wreck could never be found again. Quite ironically the Carter House overlooks the water area where this incident took place and stands like a memorial of the first resident of Bermuda - Christopher Carter. 
Replica of early settlers dwelling hut at the 
Grounds of Carter House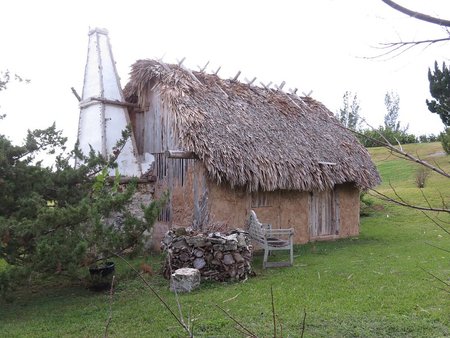 Photo: Malcom Manners, flickr, cc by 2.0 
During the US Military operation in St. Davids (between 1941 - 1995), public access was restricted and Carter House operated as a beauty parlor for sometime. Now it has become St David's Historical Society Museum. You will see exhibits depicting history of St. David's including whaling, farming, maritime life, fishing etc and all those dating back to several centuries ago. 
Other exhibits include many different types of hammers and tools used in 1600s. You can learn about life of ship pilots of those days, about the palmetto hats of Martha Hayward, humpback whales that migrate through the waters around during Spring, about Dinghies and more. One of the most interesting exhibits is the Ambergris that were found by Carter and about to be smuggled out to England as Carter himself played the spoilsport. You can see the real Ambergris here. 
Another major attraction is an early settlers' dwelling hut built on the grounds of Carter House. This hut has been built with palmetto thatched roof, cedar, lime and clay walls which is an exact replica of how the early settlers of 1600s built their houses in Bermuda. There are antique furniture and artifacts inside including an old tavern table. You will also see the original cooking fireplace. You can go inside and get a feel of how the earlier settlers lived in such huts. This dwelling hut was built in 2012 in celebration of Bermuda's 400th anniversary since the official British settlement began. 
Bermuda government is growing endemic plantations in the area surrounding the Carter house. If you look around, you can see many types of endemic trees including loquats and palmettos. 
Carter House premises is the venue for the popular Bermuda Onion Day festival which is held every year in May to celebrate the heritage of Bermuda onions which once became the single major business in the island even surpassing the shipping business. Read about
Bermuda Onion Day
.  
Admission
Free (but $5 would be appreciated). 
Open Hours
Monday to Saturday: 10am - 4pm. 
Note that in winter (November to March), Carther House is usually open only on Saturdays. 
Location and Contacts
Visit the
Tourist Map
to view the location and other attractions nearby. 
Carter House is located on Southside Road at
St David's
. It's less than 10 minutes by taxi from Kings Square, St. George. Bus route #6 operating between St. George and St. David's. 
Address: Southside Road, St David's, St George's Parish 
Road Map 

By Raj Bhattacharya 
Raj, a seasoned travel writer and Bermuda destination expert, has extensive global travel experience. This website reflects his profound insights, garnered over nearly two decades of dedicated findings and research on the island. Raj has assisted countless Bermuda-bound visitors by providing direct, personalized responses to their queries and imparting his wealth of knowledge through this platform. This site serves as an indispensable guide for those seeking informed and reliable insights into Bermuda's treasures. 
Related Articles
1) Check out
Bermuda Museums
for great museums and historical buildings in Bermuda. 
Visitors' Reviews and Comments
Jane Burgess (June 2015) 
Spent as a military wife 1990-1993/1994. I was one of the volunteers giving public tours of the Carter House along with two other well known Bermudian ladies. I remember it was a wonderful experience and a joy to be a part of the community. The military base was at that time still being leased from the Bermuda Government. It was the US military that ran the Bermuda civilian airfield/ Nato base.