Paget Marsh Bermuda
This 25 acres of marshy land in Paget with plethora of lush greenery and vegetation is a nature reserve and maintained jointly by
Bermuda National Trust
and Bermuda Audubon Society. 
The marsh has a peat. The water areas, mangroves, grassy lands and of course the forests have all made it attractive for the nature lovers. A 400-ft boardwalk has been built through the marsh that allows the visitors to take close look at the various flora and fauna. Although a short walk, the boardwalk goes up to the other end of the Marsh. 
The marsh is full of cedar and palmetto trees. The pond and marsh are home to an array of wildlife, including many species of resident and migratory birds. As you walk around, the signboards present the story of this marsh, from how it developed to how it is being preserved today. It is said that Sir George Somers who was the first to start settlement in 1609 had discovered Paget marsh. The flora and fauna have remained much the same as they were originally. 
Entrance to Paget Marsh 
As the mangroves have largely overgrown the water, a new half-acre pond was excavated in 1998. The new pond is called "David's Pond", named after the conservation officer David Wingate who was the main person behind this boardwalk. The pond is attracting an ever-increasing number of waterbirds. The old pond is named "Dennis's Pond", in honor of Mr Dennis Sherwin, former President of Bermuda National Trust, who donated the money for the boardwalk. 
Paget Marsh Bermuda, Boardwalk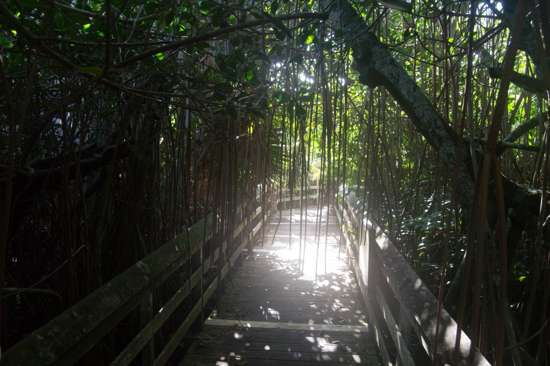 Before the boardwalk was constructed, it was quite difficult and even hazardous to explore the marsh on foot. In the first phase, 300 feet of boardwalk was completed and as you walk over it you can see five different ecosystems.  
Dr Wingate says, "There are pure stands of red mangrove, saw-grass, savanna, original cedar and palmetto canopy, with native ferns covering the floor, and intermediate woodland with wax myrtle, wood shrubs and bushy areas. The boardwalk goes through all these habitats." 
In Paget Marsh one can understand how Bermuda's interior valleys looked to the first settlers before the clearing began. The palmettos are so numerous that the ground is covered with dead leaf fronds.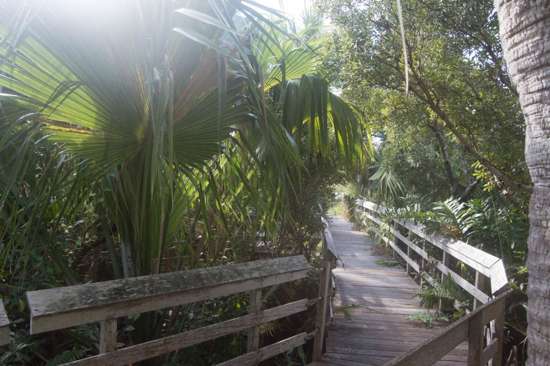 Guided Tour
While the admission to the Paget Marsh is free, you can avail an excellent guided tour. It is conducted by Bermuda National Trust from
Waterville
. Guide Tim Rogers first takes you through the gardens at Waterville, where you learn about the unusual plants and features of the traditional garden.  
Then you tour the 18th Century elegant house at Waterville which is the Headquarters of the Trust, see its fine collection of antiques, and learn about life in colonial Bermuda. A short drive away, the tour then continues through Paget Marsh, a Trust reserve that provides a great opportunity to view pre-colonial vegetation.  
The Waterville and Paget Marsh is a 1.5 hours guided House and Garden Tour. It begins at 10am on Wednesdays and Fridays. Tour cost is $50 per person and includes taxi to Paget Marsh from Waterville, and a National Trust combo-ticket to all three Trust museums (
Verdmont
,
Tucker House
and the
National Trust Museum
). Minimum four persons and advance bookings are required. A private tour for a couple costs $150. Walk-ins are not accepted. 
Contact Info 
Call Bermuda National Trust at Waterville (Phone: 441/236-6483) by Tuesday afternoon to reserve the tour. 
Admission and Open Hours
Admission is free and you can explore the peat marsh on your own. It is open from dawn until dusk everyday. 
Location of Paget Marsh
Lovers Lane (off South Road), Paget Parish 
Check out
Bermuda Tourist Map
to view the location of Paget Marsh and other attractions nearby. 
Bus Routes: #2, 7 and 8. Bus routes #7 and #8 run between the Dockyard and Hamilton, while Bus route #2 runs between Paget and Hamilton. Get off at South Road and enter Lovers Lane. Within few yards you will see entryway to Paget Marsh on your left (there is a board at the entrance). 
Road Map 
Related Articles
2)
Bermuda Tours
: Know about many other great tours and excursions in Bermuda. 
5)
Paget Bermuda
: Find out many other attractions in Paget Parish. 
Visitors' Reviews and Comments
Share your experience.