Somerset Bridge Bermuda
Somerset Bridge is located at the western part of Bermuda in Sandys parish. It actually connects the main island with Somerset island. This is the world's smallest drawbridge. It opens up from the middle allowing the ships to pass by.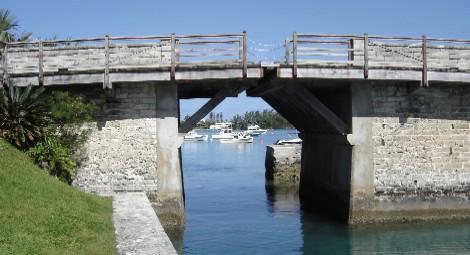 Actually, the bridge is so narrow and water here is so shallow, cruise ships can't reach this point. Only sail boats pass through it. This narrow strip of water is used mainly for boat tours these days. 
Somerset bridge was originally constructed way back in 1620. In those days, whenever a small ship required to pass through, the bridge used to be opened using a manual crankshaft. 
In 20th century, Somerset bridge went through some major renovation, but much of it's basic constructs have been retained even now. 
Presently the bridge has cantilever based two half spans. An 18-inch wide timber is placed between the spans to bridge the gap between the two. You can clearly see the timber piece in the picture below. 
Whenever a sail boat is required to go under the bridge, this timber piece is only removed to allow just the mast of the boat to pass through.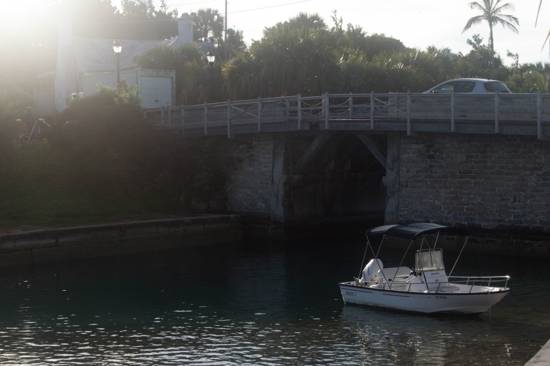 There are narrow wooden sidewalks on both sides of the bridge. Walk up to the middle of the bridge to see the timber plate for yourself. 
And then look out to get the wonderful views around, particularly the Ely's harbor with many boats and the old Bermudian cottages near by. 
Somerset Bridge Imagery 
Rotate the image for 360░ view 
Walk down to the eastern end of the bridge (main island), you will see a small building with a car park at the back side. From the car park a stairway leads down to a beautiful parkland below by the water channel. 
There are picnic benches here where you can sit and relax, and see through the lower part of the bridge and out into Ely's harbor. 
Location
Somerset Island, Sandy's Parish, Bermuda 
Bus Route: #7, 8 (both operating between Dockyard and Hamilton City). Get off at Somerset Bridge stop and come up to the bridge. It takes only about 15-17 minutes from dockyard by bus and about 35-40 minutes from Hamilton City. 
Road Map 

By Raj Bhattacharya 
Raj, a seasoned travel writer and Bermuda destination expert, has extensive global travel experience. This website reflects his profound insights, garnered over nearly two decades of dedicated findings and research on the island. Raj has assisted countless Bermuda-bound visitors by providing direct, personalized responses to their queries and imparting his wealth of knowledge through this platform. This site serves as an indispensable guide for those seeking informed and reliable insights into Bermuda's treasures. 
Related Articles
Visitors' Reviews andáComments
Review and share your experience.