Heydon Trust Bermuda
Park and Chapel
This beautiful property in western Sandys parish is a private park administered by the Heydon Trust. This 43 acres of lush gardens is one of the largest parks in Bermuda and also has 10 old buildings in it. There is also a chapel called Heydon Chapel inside the park. This is the smallest church in Bermuda built in 1620 and offers nondenominational services. 
This property was donated by Mr. & Mrs. Bernard Matthews, members of the Church of England. The gardener is the only person who draws pay from the trustees. Everyone else working or contributing to the maintenance of this wonderful park are doing it by voluntary services. The name of the Park came from Jeremy Heydon, an investor in the Bermuda Company that used to run the governance of Bermuda in the early 17th century. Heydon was a puritan and quite unpopular. He had however set up the Heydon Trust. The Trust administers and owns the houses, property and the land. 
The park has a bird sanctuary, fruit groves, and flower gardens some of which are still being farmed. You also get a wonderful view of the waters at the Heydon's Bay. The bay is actually the north eastern part of Ely's Harbor. There is a small cottage in the premises which is available to the members of the clergy for retreats. The church and the park is open to the public on all days during the day time and there is no admission fee. 
Heydon Trust Chapel, Bermuda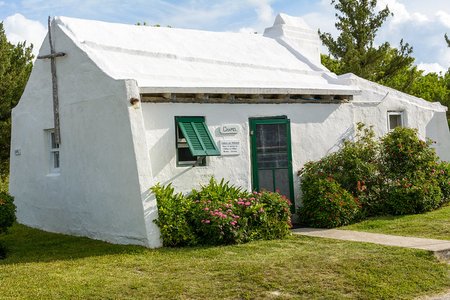 Morning services are held at 7am from Monday through Friday. On these days Gregorian chants are still held in the chapel at 3pm. This is the only church in Bermuda where such old traditions of plainchants are still carried out that dates back to the times of Pope Gregory the Great. A Bible study takes place on Thursdays and a fellowship supper on Saturdays. Update: Gregorian chants have been discontinued at Heydon Chapel 
Location & Contacts 
Address of Heydon Trust Park is 16 Heydon Lane, off Somerset Road, Sandys, Bermuda.  
Phone: 441/ 234 1831. Nearby bus stops #7 and 8. 
Related Articles 
1) Check out
Bermuda Churches
to know about the other great churches in Bermuda. 
2) Check out
Sandys Bermuda
to find many other attractions in Sandys Parish Bermuda. 
Visitors' Reviews & Comments 
George Kirchmann (December 2012) 
The Heydon Trust property is indeed beautiful and the view overlooking the bay is very charming. The Chapel is open from 8 until 4 Monday through Saturday, but Gregorian Chant is no longer sung there. The nuns who used to sing at morning and afternoon services returned to Massachusetts several years ago. The chapel is open for visitors, but there is no guide service available.