Rum Bum Beach Bar, Bermuda
CLOSED
---
This is a little beach bar… basically a shack on
Horseshoe Bay Beach
and a great place to grab a quick bite and drink while here. The main bar has a roof made from palm tree fronds and it has a Tiki bar feel about it with reggae music playing in the background. It boasts of a well stocked bar along with a full service kitchen which offers a mix of Bermudian and overseas cuisine, served al fresco in their patio overlooking one of the top rated beaches in the world. In keeping with its beach setting, it offers a very casual and relaxed ambience. 
They also have a gift shop where you can pick up little souvenirs or t-shirts and sweatshirts to carry back home, an ice-cream stand and a rental hut that offers beach loungers, sand chairs, beach umbrellas boogie board, tent along with full snorkeling gears. One of their main attractions is the live music and entertainment that they organize on several days of the week throughout the year. 
Rum Bum Beach Bar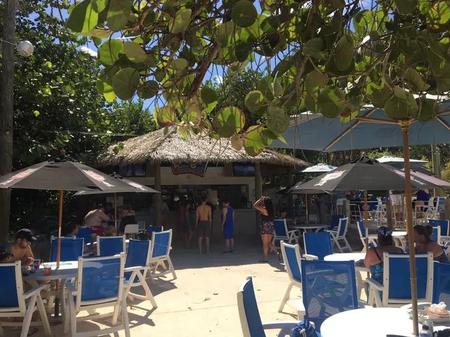 Source: Rum Bum Beach Bar 
This outlet is owned by Rick Olson who also owns a couple of other food venues on the island- the former Red Steakhouse and Bar and Bermuda Bistro at the Beach, both in Hamilton. 
Apart from the regular 'Dark n Stormy' and 'Rum Swizzles', you can also try some of their ice cold cocktails like the Bacardi Mojito and Iced Tea or the non-alcoholic frozen drinks, pina coladas  which are all quite nice. Some of the other favorites here are the Gosling Black Rum and Black and Coke, which are delicious. They offer bucket beers that come at a fair price compared to the island standards. 
Rum Bum Beach Bar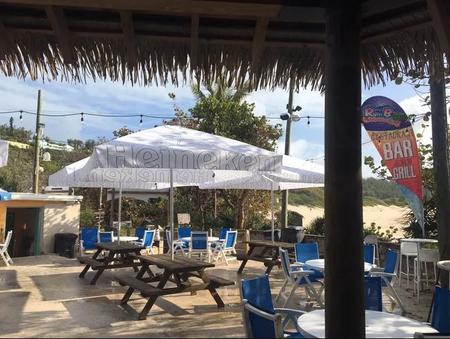 Source: Rum Bum Beach Bar 
The bartender can also rustle up a drink of your choice if you make a request. Also if you intend to use their free WiFi you can request the bartender. You will find friendly, accommodating and service oriented staff here. 
It has a simple food menu and offers some delicious burgers, salads, sandwiches, crispy fries with great seasoning, chicken wraps, fish n chips and chicken nuggets. You can also try the fried fish baskets, barbecued chicken legs, hot cross buns or fishcake on a bun, which are quite nice. 
Apart from the regular menu, they have a combo meals menu too. These have a variety of burgers, hot dogs, fish and chicken dishes, all accompanied with fries and fountain drink or a bottle of water. There is a "to go" option available on the menu. You have the choice of a hot (chicken legs, pies, sandwiches) or cold ( salads, sandwiches, fresh fruits etc) meal for take away. 
This is one of the few places in Bermuda where you do not need a cover up to get in. You can simply walk in, in your beachwear and also leave your slippers off. The restaurant accepts credit card. 
The parties, themed events and live entertainment that they organize is a unique aspect of the restaurant. Special events are also organised starting Thursday through Sunday. These usually start in the afternoon or early evening and continue till very late. The events have distinct nomenclature like "The Big Chill Thursdays", "Absolut Sunset Fridays",  " Saturday Full Moon Party" and "Lime Sundays".  They feature performances by Bermuda's bands, DJs and Karaoke nights along with special drinks and menu. The Saturday Party Nights are themed events which are organised on particular Saturdays of each month in the summer season. You can contact the restaurant staff for more details on these dates. 
Open Hours
Bar Hours: Monday - Wednesday:  9am - 8pmThursday - Sunday: 9am - Late 
Grill Hours:Monday - Wednesday: 9am - 6pmThursday - Saturday: 9am - 10pmSunday: 9am - 7pm 
Beach rentals are available everyday from 9am-5pm, though if the weather turns bad, some of the gears are not given out on rent. Also these timings may vary during the winter months / off season. 
Location and Contacts

By Raj Bhattacharya 
Raj, a seasoned travel writer and Bermuda destination expert, has extensive global travel experience. This website reflects his profound insights, garnered over nearly two decades of dedicated findings and research on the island. Raj has assisted countless Bermuda-bound visitors by providing direct, personalized responses to their queries and imparting his wealth of knowledge through this platform. This site serves as an indispensable guide for those seeking informed and reliable insights into Bermuda's treasures. 
Related Articles
Visitors' Reviews and Comments