Hamilton Princess & Beach Club
Category: $$$$, Location: Hamilton City 
Style andáCharacter
Hamilton Princess andáBeach Club (once a Fairmont Group Hotel) is now owned by the Green family of Bermuda and considered a grand heritage landmark of the island.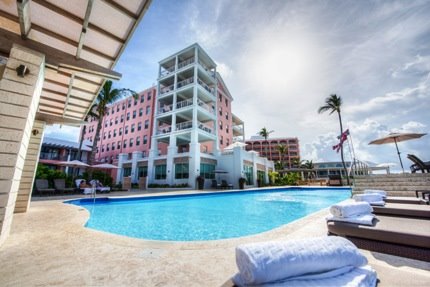 Source: Hamilton Princess 
The hotel however continues to be managed by the Fairmont group. The pink building is also locally known as The Pink Palace. 
Hamilton Princess is located right at the edge of the picturesque Hamilton harbor overlooking the blue waters full of colorful boats and yachts. 
Lounge: Hamilton Princess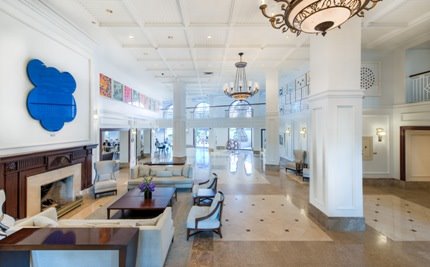 Source: Hamilton Princess 
The visit of Princess Louise, the daughter of Queen Victoria in 1883 was the inspiration when this hotel was built. The name of the hotel continues to pay homage to the princess.  
The hotel is all about historic grandeur, heritage and modern luxury blended to perfection. 
The hotel has introduced a public modern art program in its lobby and other public places. As a result you can see lots of colorful world-class contemporary artwork on the walls from many local artists, and the collection is changing all the time. 
It's the only hotel in Bermuda with a full service Marina. 
Hamilton Princess Imagery 
Rooms andáSuites
There are 400 elegant rooms and suites of varying sizes and decor, many with private balconies, overlooking the harbor and its own marina. Many rooms have been newly renovated. You can choose from harbor view or city view rooms. 
The Fairmont Rooms are located in the historic main building and you can enjoy the old world charm with wooden furniture and beautiful marbled bathrooms... these rooms have city views. 
The Deluxe Rooms have private balconies with wonderful view of the harbor and are located near the pool. 
The Signature Rooms are also in the main historic building, newly renovated and have large private balcony with lounge chairs overlooking the harbor. All units come with modern amenities including Keurig coffee maker and high speed internet access. 
Deluxe Room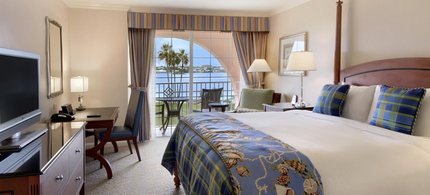 Suites offer a higher level of luxury and comfort. 
There are Junior Suites (one bed room with a separate sitting area having a pull-out sofa) located in the main building and offering partial city/harbor view. 
Garden View Suites (newly renovated one bedroom suite with a sitting area having sofa bed) are located in a garden setting, and one-bedroom Harbor View Suites have a separate sitting area, sofa-bed, private balcony and located close to the infinity pool. 
And of course for the ultimate luxury, there are Penthouse Suites (each unit with two bedrooms, two bathrooms with soaking tubs andárain showers, separate sitting and dining areas and overlooking the harbor. 
The hotel has a Fairmont Gold service offering Fairmont Gold Lounge with an array of services like private check-in andácheck-out, a salon with bar, complimentary continental breakfast, and many other facilities like use of complimentary laptop, iPad etc. 
Dining
A restaurant
Intrepid
has opened at the space where the
celebrity restaurant Marcus
used to be. This is an upscale restaurant serving steak and seafood. 
The restaurant has a raw bar. On the menu, there are appetizers/ starters, salads, sushi, steaks, sides, desserts, and a lot more. They also serve a range of cocktails. 
In starters, try out the Oyster Rockefeller and Lump Crab Cake with Jumbo Lump Crab. In main courses, try out the delicious King Salmon with Crab Quinoa or the 12oz CAB Ribeye. 
For the sides, go for Roasted Spicy Broccoli, Smoke-House Mac &áCheese with Lobster and Potato Gratin. 
There is a bar andárestaurant known as 1609 located at the marina and overlooking the harbor. It offers alfresco dining. 
1609 Bar &áRestaurant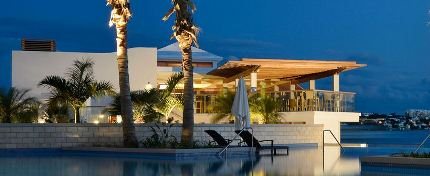 Source: Hamilton Princess 
Food includes salads andácold store items like prawns, assorted meats, fresh seafood, golden fried shrimp, creamy stone crab dip, fish tacos and lot more. You also get burgers, pizzas, pastas, grilled rockfish and other items. 
They also have nice selection of cocktails including island specials like Rum Swizzle and Dark n' Stormy. 
Crown &áAnchor is a restaurant andábar that offers comfort food in a laid back yet elegant ambience that reflects the colonial past with a touch of modern look. There is also a lovely outdoor sitting area in a garden setting and overlooking the marina. 
It has great selections of rum and serves the island favorite Rum Swizzle. Menu includes salads, sandwiches, steak, grilled salmon, fish andáchips etc. 
You can also purchase cigars at the bar. Open for breakfast, lunch,
traditional afternoon tea
(Saturdays andáSundays) and dinner. 
The hotel has opened a new stylish cafe -
The Duchess and Gelateria
. It serves a range of teas, coffees, pastries, salads, smoothies, shakes and gelatos, and is opened for breakfast an lunch. 
Facilities
Beach Club 
The private Beach Club is located at Sinky Bay on South Shore (Southampton) and is open to the guests of the hotel. The hotel offers a ferry shuttle to the beach club (takes 20 minutes one way). 
Beach Club at Sinky Bay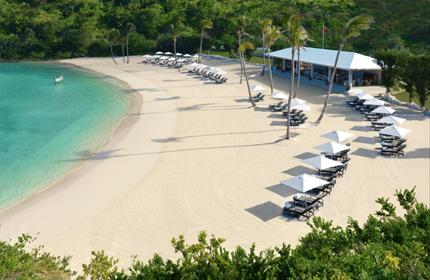 Source: Hamilton Princess 
The Beach Club is open daily between 9am to 6pm and the access is free to all hotel guests. Hotel's own ferry service is available between the hotel and the beach club to transport the guests. 
Other than on-beach services, a restaurant with a pavilion is also available for food and beverages. The menu is designed by the renowned international Chef Marcus Samuelsson and includes items like salads, pizzas, steaks, tacos etc. 
Restaurant at Beach Club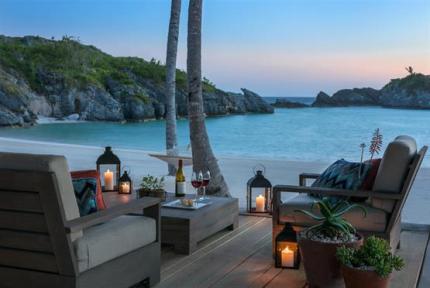 Source: Hamilton Princess 
Special cocktails are also available. Watersports rentals like kayaks, paddleboards, snorkel gears etc are offered. The view of the ocean and the setting at the beach club is spectacular. Landscaping has also been done to make it look beautiful. 
Swimming Pools 
Outdoor swimming pools (both fresh water and salt water) including an infinity pool, private cabanas, splash pool, family pool, hot tub, food andábeverage service from 1609. There are also floating lounge chairs under the palms. 
Minicar Rental 
You can rent a minicar right at this hotel to get around the island. The minicar rental company operates out of Hamilton Princess Hotel. Read
Minicar Rentals in Bermuda
for details. 
Other Facilities 
The hotel has 2,150 square feet well equipped and spacious gym spanning across two floors. The floor-to-ceiling glass panes offer great views of the harbor and the marina. 
5,400 square foot Ehale Spa overlooking the harbor offers full service body treatments including massages, skin care, outdoor pool-side yoga classes, pilates and lot more. 
The hotel now has a new luxurious shopping arcade offering clothing, jewelry, gifts andásouvenirs etc. 
A 66-berth full service marina has been created where boats of all sizes can be parked. 
A shoe shine seat located in the lobby. 
The hotel offers fax services, photocopying and Internet access. 
Numerous shops and restaurants of all kinds, nightclubs andábars in downtown Hamilton are only a short walk away from the hotel. 
Both the main ferry and bus terminals are located within a few minutesĺ walk from Hamilton Princess. If you want to explore You can rent a scooter from Smattĺs Cycle Livery. 
Rates provided by booking.com 
Road Map 
Address: 76 Pitts Bay Road, Pembroke, Hamilton, Bermuda.  
Related Articles
Visitors' Reviews andáComments
Patrick Lasalle (August 2017) 
Raj, Where is the Hamilton Princess beach located? 
Raj (bermuda-attractions.com) August 2017 
Pat, it's at Sinky Bay on south shore .... requires a boat ride to reach... hotel provides a boat shuttle for its guests. Other than a beach, there is a beach bar, restaurant and also hammocks, snorkeling etc. The hotel doesn't have any beach in Hamilton though. 
Katya (June 2015) 
Hi Raj, What a great site you have created. Very informative, thank you! We are coming to Bermuda next week and we will be staying at Hamilton Princess. Is the ferry still running between that hotel and the Fairmont in the South? What would be the most convenient way to get to the snorkeling beaches on the south shore? thank you 
Raj (bermuda-attractions.com) June 2015 
Hi, yes the ferry between the two hotels still operates. For the south shore beaches, take the hotel ferry to Southampton dock and take bus #7 to Church bay or other beaches. 
Ray Ellis (March 2015) 
Had a wonderful stay at the Hamilton Princess from Mar 10 to 15. Staff very friendly and helpful. Part of the hotel closed for renovation but did not create any noise or disturbance. Cuisine was great. Have to try their Grilled Chicken. 
Meals were expensive but this is a "luxury hotel". Fabulous hot tub and heated pool as well as an unheated one. Grounds are awesome with beautiful gardens and flowered nooks and crannies popping up everywhere. I had beautiful view of the harbour full of yachts bobbing on the waves. Awesome new bar and grill on the water front called the 1609. A ferry leaves the waterfront, about a 10 minute walk from the hotel for tours to various parts of the island. I hit 5 beaches in one day. Visited their sister hotel the South Hampton Princess and had lunch at their seaside grill. Would make a return visit in a heartbeat.  
Michelle Mustone (March 2015) 
Went to check out tea at the Hamilton Princess. Was told they are in the midst of a big renovation and do not serve tea right now- they hope to resume in May.