Hamilton Princess & Beach Club
A great luxury hotel in Bermuda
Category: $$$$   Location:  Hamilton City 

 

Hamilton Princess & Beach Club, a Fairmont group managed hotel, is another favorite of ours among the luxury hotels in Bermuda. The whole hotel building is pink in color and also known as The Pink Palace in Bermuda. Hamilton Princess is located right on the picturesque Hamilton harbor. This hotel is an ideal one if you are a keen shopper. Most of the Bermuda's glittering shops are in Hamilton city and all are within close distance of this hotel. It's also a perfect location for business executives. 

A little about background of this hotel - it was actually built out of inspiration on Princess Louise, the daughter of Queen Victoria. Therefore you see the hotel has princess as part of its name. It remains as one of the grand heritage landmarks of the island. 

 

Hamilton Princess 

There are 400 elegant rooms and also suites of varying sizes and decor, many with private balconies, overlooking the marina and Hamilton harbor. The harbor with colorful sailboats and sleek yachts looks marvelous from the hotel. The hotel has a Gold Lounge offering an array of services like private check-in & check-out, a salon with bar, complimentary continental breakfast, and many other facilities like use of fax & VCR etc. Of course, the rooms are special too. 

 

Lounge: Hamilton Princess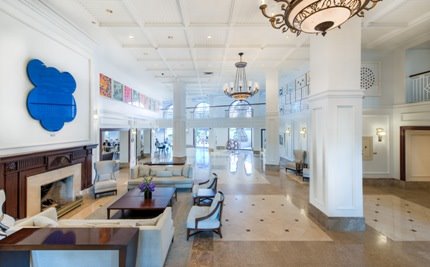 Source: Hamilton Princess 
The hotel has introduced Bermudiana House that was earlier known as the Bay Wing. It has 113 newly designed rooms giving a feel of a luxury home. This section reflects the Victorian heritage and architecture. Some of the features include marble entryways, flat screen TVs and rain showers. 
Hamilton Princess has superb dining options.
Harley's Restaurant & Terrace
located at the harbor-side and having indoor & outdoor dining options, serves breakfast, lunch and dinner. This restaurant specializes on Mediterranean cuisine and won the Best of Bermuda Gold Award in hotel dining. 
Update March 2018: Harley's Restaurant has closed down. 
Freshwater outdoor pool, Hamilton Princess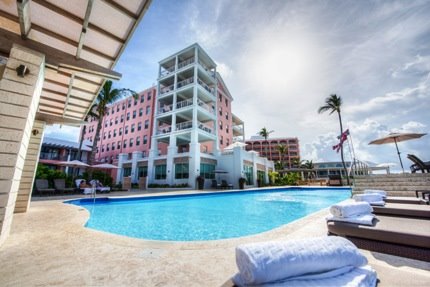 Source: Hamilton Princess 
Another great restaurants is the
Heritage Court
adjacent to the lobby and Japanese Koi pond. The comfortable and sophisticated Heritage Court is well known in the island for its Afternoon Tea, the true British kind. It's ranked in the top 10 Best Afternoon Teas in the World. 
Heritage Court offers a large selection of fine rums and cigars available for smoking on the terrace. If you are looking for romantic dining, a candlelight dinner prepared by the butler on your private balcony can be a great option to consider. 
Other facilities include: 
Fitness Center 
Outdoor swimming pools 
A shoe shine seat located in the lobby. 
The hotel offers fax services, photocopying and Internet access, allowing you to mix business with pleasure. 
HP's Coffee Shop (open 6am to 2pm) serving wraps, sandwiches, coffee, tea etc.  
UPDATE August 2016: No HP's Coffee anymore. The hotel now has a new luxurious shopping corridor with a sunglass hut, Americas cup store, resort shop and a luxury 'For him and For her store' which is the sister shop to Luxury Gifts at Tuckers Point. 
Complimentary ferry service to its sister hotel Fairmont Southampton hotel and its golf course, beach, spa and tennis facilities.  
UPDATE August 2016: Earlier Fairmont Southampton was a sister property of Hamilton Princes. No longer so. There are no ties with hotel Fairmont Southampton now, so no complimentary ferry to Southampton anymore or any other cross benefits. 
Both the main ferry and bus terminals are located within a few minutes' walk from Hamilton Princess. If you want to explore You can rent a scooter from Smatt's Cycle Livery. The hotel also has a good selection of high quality shops. Crisson Jewellers, AS Cooper & Sons and the English Sports Shop all have branches here. 
Update September 2012: The hotel has been bought over by the Green family of Bermuda from the Global Hospitality Investments (GHI). The Green family are Bermudians and have been living in the island for 65 years. All citizens of Bermuda are happy that the grand landmark property's ownership has finally comeback to Bermudians. 
The family plans to continue with the upgrades of the hotel as laid out by GHI including building a marina, upgrading the public places like the restaurants, rooms, swimming pools, gardens etc. 
Update 2014: Facility Upgrades 
As part of the renovation program, the hotel has added the following facilities among others: 
1) Attractive guest rooms and suites have been added to a new wing created facing the harbor. The rooms have blue hues inspired from the sky and the water, dark woods and modern local art on the walls. Suites have 1 or 2 bed rooms. 
Source: Hamilton Princess 
2) An infinity pool with private cabanas and having splash pool, family pool, hot tub, food & beverage service from a new restaurant 1609. There are floating lounge chairs under the palms. 
3) A new bar & restaurant known as 1609 located at the marina and overlooking the harbor. It offers alfresco dining. Food includes salads & cold store items like prawns, assorted meats etc. You also get burgers, pizzas, pastas, seafood, grilled rockfish and other items. They also have nice selection of cocktails including island specials. 
1609 Bar & Restaurant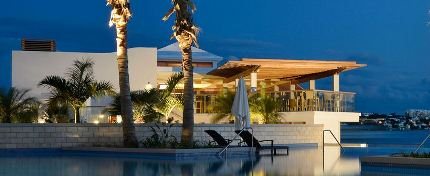 Source: Hamilton Princess 
4) The hotel has introduced a public modern art program in its lobby and other public places. As a result you can see lots of colorful artwork on the walls from many local artists, and the collection is changing all the time. 
5) A 66-berth full service marina has been created where boats of all sizes can be parked. 
The hotel overlooking the marina 
Source: Hamilton Princess 
6)
Marcus Restaurant
owned by the Celebrity Chef Marcus Samuelsson of New York. Great harbor views, Bermdian style food with global fusion, and fun make the main theme of the restaurant. It's open for lunch and dinner. 
7) Crown & Anchor: A restaurant & bar having great selections of rum and serves the island favorite Rum Swizzle. Menu includes salads, sandwiches, steak, grilled salmon, fish & chips etc. You can also purchase cigars at the bar. Open for breakfast, lunch, traditional afternoon tea (Sat & Sun) and dinner. 
Update June 2015: Facility Upgrades 
The Beach Club located at Sinky Bay on South Shore (Southampton) has finally come up and is now open to guests of the hotel. 
The Beach Club is open daily between 9am to 6pm and the access is free to all hotel guests. Hotel's own ferry service is available between the hotel and the beach club to transport the guests. 
Beach Club at Sinky Bay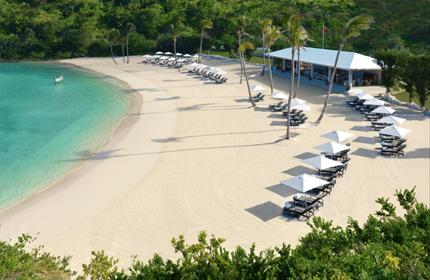 Source: Hamilton Princess 
Other than on beach services, a restaurant with a pavilion is also available for food and beverages. The menu is designed by the renowned international Chef Marcus Samuelsson and includes items like salads, pizzas, steaks, tacos etc. Special cocktails are also available. 
Watersports rentals like kayaks, paddleboards, snorkel gears etc are offered. The view of the ocean and the setting at the beach club is spectacular. Landscaping has also been done to make it look beautiful. 
The Beach Club is for Guests only. There are NO day passes available for outsiders. However there is a Beach Membership locals may acquire with exhale. 
Restaurant at Beach Club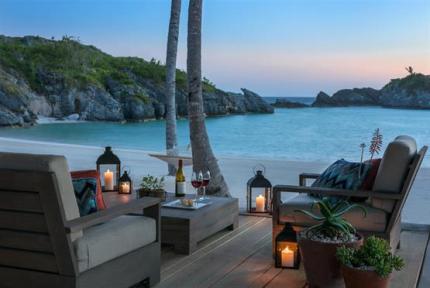 Source: Hamilton Princess 
Update June 2016: Facility Upgrades 
A new well equipped and spacious gym has opened on June 1st. The floor-to-ceiling glass panes offer great views of the harbor and the marina. 
Update July 2016: Facility Upgrades 
The third and the last phase of the renovation has been completed. It includes the new gym, the Exhale Spa with renovated pool, new retail corridor, upgrades to Fairmont Gold facilities including new private lounge and upgraded suites. 
More Updates... 
October 2018: Hamilton Princess & Beach Club has been ranked as the 7th best in the whole of Bahamas in Condé Nast Traveler Readers' Choice Awards 2018. In 2017 it was in 17th position. 
Rates provided by booking.com 
Location 
Address: 76 Pitts Bay Road, Pembroke, Hamilton, Bermuda.  
Contact Info 
Road Map 
Related Articles 
Visitors' Reviews & Comments 
Patrick Lasalle (August 2017) 
Raj, Where is the Hamilton Princess beach located? 
Raj (bermuda-attractions.com) August 2017 
Pat, it's at Sinky Bay on south shore .... requires a boat ride to reach... hotel provides a boat shuttle for its guests. Other than a beach, there is a beach bar, restaurant and also hammocks, snorkeling etc. The hotel doesn't have any beach in Hamilton though. 
Katya (June 2015) 
Hi Raj, What a great site you have created. Very informative, thank you! We are coming to Bermuda next week and we will be staying at Hamilton Princess. Is the ferry still running between that hotel and the Fairmont in the South? What would be the most convenient way to get to the snorkeling beaches on the south shore? thank you 
Raj (bermuda-attractions.com) June 2015 
Hi, yes the ferry between the two hotels still operates. For the south shore beaches, take the hotel ferry to Southampton dock and take bus #7 to Church bay or other beaches. 
Ray Ellis (March 2015) 
Had a wonderful stay at the Hamilton Princess from Mar 10 to 15. Staff very friendly and helpful. Part of the hotel closed for renovation but did not create any noise or disturbance. Cuisine was great. Have to try their Grilled Chicken. 
Meals were expensive but this is a "luxury hotel". Fabulous hot tub and heated pool as well as an unheated one. Grounds are awesome with beautiful gardens and flowered nooks and crannies popping up everywhere. I had beautiful view of the harbour full of yachts bobbing on the waves. Awesome new bar and grill on the water front called the 1609. A ferry leaves the waterfront, about a 10 minute walk from the hotel for tours to various parts of the island. I hit 5 beaches in one day. Visited their sister hotel the South Hampton Princess and had lunch at their seaside grill. Would make a return visit in a heartbeat.  
Michelle Mustone (March 2015) 
Went to check out tea at the Hamilton Princess. Was told they are in the midst of a big renovation and do not serve tea right now- they hope to resume in May.