The Hamilton Princess Hotel added a feather to its already illustrious cap by opening a stylish new coffee shop- The Duchess Café and Gelateria. It was opened in March 2020 and named for the Duchess of Argyll - Princess Louise, the namesake of the hotel. 
Apart from a range of teas, coffees, pastries, salads, smoothies, shakes and gelato, the café serves breakfast and lunch as well. Prepared fresh every day, the meals are also available for take-out. 
Style and Decor
The décor is done very tastefully with the pink color featuring in the ceiling stripes, banquette seating and piping on the chairs. It is also in conjunction with the rest of the hotel's look and feel and reflects its elegant style with a slight retro twist to it. The set-up is further accentuated with some great artwork and the eye-catching palm print wallpaper. 
Duchess Cafe 
Photo: Hamilton Princess 
Food and Drinks
The gelatos are hand crafted and made in the hotel's very own patisserie. Some the flavors to look out for are the Mint Chocolate Sorbet, Pistachio and Salted Caramel. They serve some exciting milkshakes too, made with the in-house made gelato!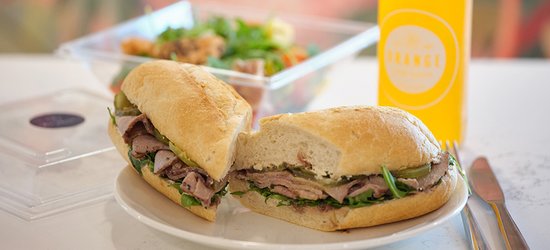 Photo: Hamilton Princess 
Other interesting offerings on the menu include sandwiches, Prosciutto Baguette, Pressed Pulled Chicken Focaccia, Low Carb Grilled Salmon Salad and much more, apart from delicious coffee, fresh pastries and of course, the signature Duchess Cake, Bailey's Chocolate Cake, Marcus' Carrot Cake and Guava Cheesecake. 
Photo: Hamilton Princess 
The café focuses on supporting local producers and uses locally grown fruits and vegetables from Wadson's Farm and JandJ Produce as key ingredients. Other locally sourced products they use are, roasted coffee from Devil's Isle, locally made baked goods etc. 
Photo: Hamilton Princess 
The utensils they use for serving are also made from plant-based products. For instance, you will find hay straws, bamboo cup holders and wooden cutlery. The café is for walk-ins only and does not need reservations. 
Open Hours
Open every day 
6am-5pm April through October 
6am-3pm November through March 
Dress Code: Casual 
Contacts
76 Pitts Bay Road, HM08, Bermuda. 
Phone: +1-441-295-3000 

By Raj Bhattacharya 
Raj, a seasoned travel writer and Bermuda destination expert, has extensive global travel experience. This website reflects his profound insights, garnered over nearly two decades of dedicated findings and research on the island. Raj has assisted countless Bermuda-bound visitors by providing direct, personalized responses to their queries and imparting his wealth of knowledge through this platform. This site serves as an indispensable guide for those seeking informed and reliable insights into Bermuda's treasures. 
Related Articles
Visitors' Reviews and Comments