Marcus Restaurant Bermuda
$$$, Bermudian 
The much hyped restaurant Marcus is now open to guests. It's located at the former gazebo of Hamilton Princess hotel. In fact they served the first lunch on May 27, 2015. But I must admit that they were able to successfully create a buzz around the island about opening of this restaurant. 
And why not? After all this is the first celebrity restaurant in the island which belongs to the celebrity and award winning chef Marcus Samuelsson after whom the restaurant is named. Samuelsson is the youngest chef having received 3-star rating twice from The New York Times. 
Marcus had earlier opened a popup restaurant within the Hamilton Princess for few weeks to try out his globally influenced dishes. Having received great response, he decided to open a permanent restaurant at the hotel. And what a location! You can get wonderful view of Hamilton Harbor from every seat of the restaurant whether it's indoor dining or outdoor terrace. The restaurant is semi circular in shape and therefore offers sweeping views. 
It covers an area of 3,000 sq. ft with 180 seats out of which 30 seats are around the bar area and in the private dining room. The private dining space also offers spectacular view of the harbor. The circular outdoor terrace is about 1,500 sq. ft in area and at a level 2.5ft below the restaurant floor so that guests sitting inside get unobstructed views. At the terrace they have a remote control blinds which can quickly cover the area during inclement weather. Since the blinds are fitted with windows, you can keep getting the views even when it rains and the blinds are down. 
Marcus, Hamilton Princess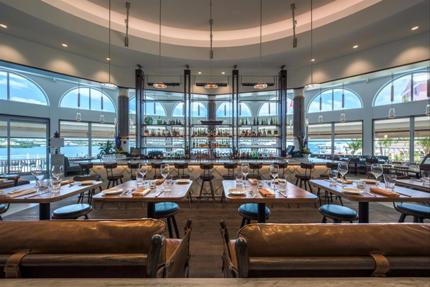 Photo Source: Hamilton Princess 
The floor-to-ceiling bar is at the center of the restaurant. The interior decor has a vintage and urban mix with walls mostly white with colorful sections. The owners of the hotel (the Green family) have brought in great collections of art that hang from the walls. There are also several underwater collections of Teddy Tucker (the legendary diver) on display. Another great feature here is the wood-burning grill and the grilled food prepared in it. This is the first of its kind in Bermuda. 
From the dining room, the kitchen, the entire cooking line and the wood burning grill are all visible. Overall the whole theme is friendly, fun and casual while you get wonderful views of the water all around.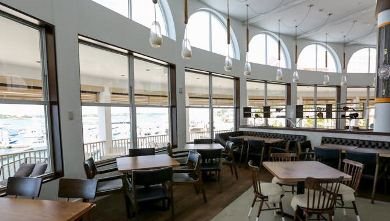 Now coming to the food, the restaurant is managed by the Executive Chef Leonardo Marino who comes from the famous New York restaurant Red Rooster Harlem which is owned by Marcus Samuelsson. Food although globally influenced, thoroughly reflects Bermudian dining culture. Most ingredients, fish and vegetables are locally sourced. They have tie-ups with several local farmers including Wadson's Farm. Several cooks and assistants are Bermudians too. 
Here are some great innovative food to try out in Marcus Bermuda: 
In appetizers, select from tomato and seared watermelon salad, lobster cocktail from the grill, aunt Bonita's crab & codfish cakes, jerk pork belly, fried chicken with waffles etc. In snacks they have couple of very interesting items like fish chowder bites and warm spinach chutney. 
In main courses some of the great dishes includes catch of the day (this is Marcus Samuelsson's personal favorite too), salmon from the grill, fire pit roasted chicken, blackened rockfish and grit, steak tray for two etc. They also have raw in their menu including garden fresh vegetables. 
In desserts some of the favorites are mango & ginger marinated fruits, rum cake, dark & stormy sorbet, sweet potato donuts, warm chocolate cake etc. The bar is well stocked with wine, spirits and cocktails. 
They accept credit cards. Dress code is smart casual. Reservation is recommended. 
UPDATE March 2017 
The restaurant has recently undergone a major facelift whereby the looks and the menu have both gone through a lot of changes. You will get even better ocean views from the restaurant now. The wall behind the bar has been removed.  
Appetizers in the menu now includes items such as Shrimp & Pork Belly Hot Rice (essentially jerked glazed pork belly, shrimp fried rice), Lobster Cocktail, Aunt Helgas Meatballs, Yep Chicken & Waffles, Wild Wild Wings, Fish Chowder Bites, Tortilla Morelos etc. There are several varieties of salads as well. Try out the Marcus Cobb Salad (comes with jerk chicken) or Warm Vegetable and Quinoa Salad. 
The main courses include exotic dishes such Fire Grilled Wahoo, Octopus Ragu Pasta, Fried Yard Bird (i.e buttermilk fried chicken), Obama's Short Rib, Ratatouille & Couscous etc plus sandwiches and burgers like Lenox Smash Burger or Crispy Bird Sandwich. 
Note that while the menu has gone through major changes, some popular Bermudian dishes from the previous menu such as Cornbread Madeleine and Fish Chowder Bites are still retained. 
Open Hours
Lunch (Monday-Saturday): 12pm- 3pm  
Dinner: 6pm -10pm 
Bar: 5:00pm – 1am (Daily) 
Brunch (Sunday): 11am - 3pm 
Location & Contacts
Hamilton Princess Hotel and Beach Club 
76 Pitts Bay Road, Hamilton, Pembroke, Bermuda 
Phone (for reservation): 441-298-2028, between Monday – Sunday 9:00am – 9:00pm 
Raj Bhattacharya
Raj is an avid traveler and a full-time travel blogger. He has been travelling all across the world since decades. His mission here is to help viewers like you visiting Bermuda or seeking insights into matters related to Bermuda with the most comprehensive content compared to any other resources. Since years now he has been helping countless viewers by posting quality articles on this website, answering questions and sharing experiences. Launched in 2008, this website is Bermuda's leading source of online information since many years. 
Related Articles
Visitors' Reviews & Comments
Share your experience.