Marcus Restaurant Bermuda
$$$, Bermudian 
CLOSED
---
The Restaurant andáAmbience
The much hyped restaurant Marcus is now open to guests. It's located at the former gazebo of Hamilton Princess hotel. In fact they served the first lunch on May 27, 2015. But I must admit that they were able to successfully create a buzz around the island about opening of this restaurant. 
And why not? After all this is the first celebrity restaurant in the island which belongs to the celebrity and award winning chef Marcus Samuelsson after whom the restaurant is named. Samuelsson is the youngest chef having received 3-star rating twice from The New York Times. 
Marcus had earlier opened a popup restaurant within the Hamilton Princess for few weeks to try out his globally influenced dishes. Having received great response, he decided to open a permanent restaurant at the hotel. And what a location! You can get wonderful view of Hamilton Harbor from every seat of the restaurant whether it's indoor dining or outdoor terrace. The restaurant is semi circular in shape and therefore offers sweeping views. 
Marcus, Hamilton Princess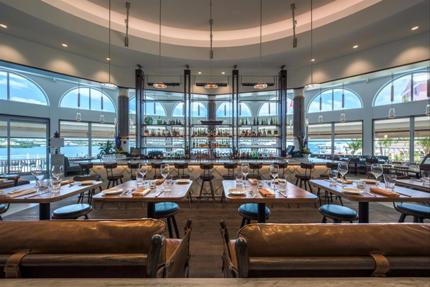 Photo Source: Hamilton Princess 
It covers an area of 3,000 sq. ft with 180 seats out of which 30 seats are around the bar area and in the private dining room. The private dining space also offers spectacular view of the harbor. The circular outdoor terrace is about 1,500 sq. ft in area and at a level 2.5ft below the restaurant floor so that guests sitting inside get unobstructed views. At the terrace they have a remote control blinds which can quickly cover the area during inclement weather. Since the blinds are fitted with windows, you can keep getting the views even when it rains and the blinds are down. 
The floor-to-ceiling bar is at the center of the restaurant. The interior decor has a vintage and urban mix with walls mostly white with colorful sections. The owners of the hotel (the Green family) have brought in great collections of art that hang from the walls. There are also several underwater collections of Teddy Tucker (the legendary diver) on display. Another great feature here is the wood-burning grill and the grilled food prepared in it. This is the first of its kind in Bermuda. From the dining room, the kitchen, the entire cooking line and the wood burning grill are all visible. Overall the whole theme is friendly, fun and casual while you get wonderful views of the water all around. 
Food andáDrinks
Now coming to the food, the restaurant is managed by the Executive Chef Leonardo Marino who comes from the famous New York restaurant Red Rooster Harlem which is owned by Marcus Samuelsson. Food although globally influenced, thoroughly reflects Bermudian dining culture. Most ingredients, fish and vegetables are locally sourced. They have tie-ups with several local farmers including Wadson's Farm. Several cooks and assistants are Bermudians too. The menu is carefully cultivated and it is hard to really go wrong with whatever you choose. 
There are some great innovative food to try out in Marcus Bermuda. You can start off with the Parker House Bread Rolls which is served warm with the very delicious honey butter. If you wish to go for the salads, you can select from tomato Burrata salad with basil and pistachio or the Kale salad which comes in an ample portion with many different types of greens along with raw and pickled vegetables and dressed in a nice purple onion dressing. 
In appetizers, there's also the lobster Tacos, Scallop ceviche, fried chicken with waffles etc. In snacks they have couple of very interesting items like fish chowder bites with Gosling's black rum aioli, the fresh Sashimi with Ackee, crisps and Yuzu sauce and also the crispy cauliflower in BBQ sauce and sesame mayo. If you wish to have a soup, try the coconut and carrot. It is simply outstanding with deep flavors of both along with yet another flavorful short rib dumpling in the middle. 
In main courses some of the great dishes includes catch of the day (this is Marcus Samuelsson's personal favorite too), Smoked Pork ribs, Jerk Chicken with rice and peas, chutney and Bermuda onions, the Tomahawk steak, steak frites etc. The steak frite is a beautiful filet with fantastic fries that are perfect. It is served with 2 sauces- the red wine jus and the bearnaise. The red jus has an earthy taste and paired well with pinot noir wine. 
The Fried Yard Bird is a good choice as well. It comes with garlic mashed potato, greens and gravy. It is moist and not with too much coating. The Bermuda Triangle seafood dish is great too. 
They also have raw in their menu including garden fresh vegetables. Other vegetarian dishes include the Goat Cheese ravioli with almonds and cherry tomato preserve and the vegetarian burger with lettuce, dill cheese, tomato aioli, marmalade and Johnny bread. Some of the sides especially the Market salad one is quite tasty. 
Top off your meal with some of their finger licking goodness from the desserts menu. A few of the favorites are the very rich Carrot cake with a delicious lemon curd ice cream, raisins and cashew brittle and the exceptional Brown butter Madeleines with a homemade peach jam and whipped cream dip. The six madeleines in it are warm and crispy on the outside and almost melts in your mouth, warm and buttery on the inside. We had ordered a scoop of vanilla ice cream too with it to offset the sweetness and it was simply amazing. 
The Espresso martinis are a wonderful way to end your meal. The bar is well stocked with wine, spirits and cocktails and some very creative cocktails. 
They have a kid's menu that includes veggies, crispy fried chicken, hamburger, pasta and ice cream/ sorbet and a fruit plate. 
The restaurant offers a Sunday brunch which is quite popular. The buffet includes an extensive spread with special food corners. There is deconstructed codfish breakfast, the Caribbean corner, an ice cream station that features some of the best local selections, taco cart, dim sum, waffles, hand pressed canapes and other favorites of Marcus'. The food is diverse, plentiful and utterly delicious as is the free flowing champagne (if you upgrade to it. whilst it is not cheap it is certainly good value)! It also comes with live entertainment. There is nothing more relaxing than enjoying a Sunday brunch on a balmy day at one of the fabulous shaded tables outdoors with a stunning Harbor view. 
The Service
The service here is quite professional yet friendly and efficient. The staff checks on you throughout your meal without making it intrusive or overbearing. On our visit during one of the Sunday brunches, our server was gracious enough to also give us a personal tour of all the food stations spending time explaining everything in all its interesting details. If you happen to celebrate a special occasion, the team in fact go out of their way to make the occasion especially memorable for you with personal touches and recommendations. They take special care if you have food allergies and even have the chef come out and talk to you about options on and off the menu. 
Trivia
This is an expensive place but the food more than makes up for it and the only thing better than the food is the staff. They accept credit cards. Dress code is smart casual. Reservation is recommended. If you happen to get a table that faces the kitchen, you will be fascinated at the way the kitchen is 'orchestrated' by the chef. It is actually a treat to watch. There is also a semi-private art collection here which you can take a look if modern and street art interest you. It is definitely worth a watch. 
It is said that adversity brings to light ones true strength of character (or the lack of it). If you dined at Marcus during the hurricane that hit the island in September, 2019 you would know that the service didn't suffer an inch despite the staff working straight shifts with very little sleep... the switch from five star service to safety and again to great service without any rest and all this without excuses and only with smiles and a professional approach. 
Conclusion
The restaurant is known for the rare combination of quality food, ambience, breathtaking views and excellent staff. Perched above the sea, experience a magnificent sunset that can be only outshined by the wonderful meal you have inside the Marcus'. In addition to this excellent chef-driven menu the wonder man Marcus brings to you a true class of servers' team who are on top of every detail and make you feel very welcome from the moment you step in. 
Their attention to detail deserves commending. The interiors, a bit more modern and eclectic than a lot of other fine dining establishments on the island, offers a refreshing change. Moreover, the care that goes into the preparation of every order is impressive and the way special orders are honored and changes accommodated amidst the pace of the restaurant, is reason enough for a return visit. 
Open Hours
Lunch (Monday-Saturday): 12pm- 3pm  
Dinner: 6pm -10pm 
Bar: 5:00pm ľ 1am (Daily) 
Brunch (Sunday): 11am - 3pm 
Late night dining : 10pm - 12am 
Indicative Prices
Soups andáSalads: $16-$18,  
Appetizers: $18-24, Sides : $8-$14 
Main Courses: $36-$49 and vegetarian dishes: $38-$42 á 
Desserts: $12 
Sweet/ Fortified Wine by glass is $ 12-$ 25, Spirits : $7-$80 
Sunday Brunch: $54 for brunch only plus gratuities; $94 for unlimited Veuve Clicquot champagne brunch plus gratuities; $220 option to upgrade to unlimited Veuve Clicquot's La Grand Dame champagne brunch 
Location andáContacts
76 Pitts Bay Road, Hamilton, Pembroke, Bermuda 
Phone (for reservation): 441-298-2028, between Monday ľ Sunday 9:00am ľ 9:00pm 
Road Map 
Related Articles
Visitors' Reviews andáComments
Share your experience.