Minicar rentals in Bermuda
The regulation was passed on April 20, 2017 by Ministry of Tourism & Transport to allow tourists and locals to rent minicars in the island - these are tiny battery operated all-electric cars. However the move was opposed quite heavily by the taxi drivers who anticipated an impact on their taxi business. But that did not hold much water and finally the much awaited minicars have been launched. Minicar rental companies have soon started operation in Bermuda. 
Several hotels in the island have made such small vehicles available on rent for their guests who look for flexible rides on their own to explore the island. 
The minicars are 4-wheeled (or sometimes 3-wheeled) vehicles and can accommodate two persons (one sitting behind the driver). However they are quite safe... some models like Renault Twizy minicars boast of air bag for the driver, side impact protection, seat belts for both passengers etc. Being less than 4-ft wide, these small vehicles are ideal for navigating through the narrow roads of the island. 
The steering is centrally located and the dashboard shows the driving range (kms) remaining from the current charge of the battery. Pedal brakes and accelerators are also available. 
Renault Twizy Minicar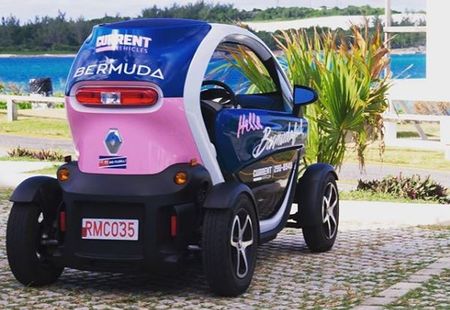 These eco-friendly all-electrical minicars run on batteries. Once fully charged (which takes about 3 hours), a minicar can run for about 50+ miles (or 80+ kms) which is good enough to explore the whole island which is only 21 miles end-to-end. These miniature vehicles are excellent option for those who are not comfortable with scooters or mopeds, but at the same time want to be on their own to explore the island at their own pace and enjoy flexible rides. 
Driving license & minimum age for renting minicars? 
You must have a valid driver's license from your home country to be able to hire a minicar in Bermuda. Also the minimum age requirement of the driver is 25. The second rider can also drive the minicar provided he/she fulfills the same criteria as above. 
How to book minicar rentals in Bermuda? 
While the hotel Hamilton Princess & Beach Club in Hamilton City was the first hotel in the island to introduce such minicars on rent, now several other hotels have similar offers including Rosedon, Mid Ocean Club, Coral Beach & Tennis Club, The Loren at Pink Beach, Inverurie Executive Suites etc. 
With time, many other hotels are expected to join the bandwagon. All these hotels actually tie up with a rental livery or operator and offer the vehicles through them. Most of these hotels would be equipped with battery charging facilities (for their own guests who rent a minicar). 
Presently one of the prominent Mini Car rental companies in Bermuda is
Current Vehicles
. They supply the mini cars through various hotels. You can also contact them directly in case your hotel does not have a tie up with any minicar operators. They can help you with the vehicle pick up and charging points. Email:
[email protected]
; Hours: 9.00am - 5.30pm. You can also book online through their website www.currentvehicles.com. 
If you book the minicar for more than one days, you can keep it with you and park it at your hotel parking or cruise port parking. However note that you must return the vehicle by a stipulated time on the day of drop failing which they charge a steep penalty. 
Battery charging points are located at various hotels and the network of such charging points are expanding. Note that while it takes about 3 hours to fully charge the battery from zero charge level, you can get good amount of charge in just 20 minutes. So while riding if you see that your driving range has come below your comfort level, do stop by to top up the charge. Charging is free. 
Minicar Rental Rates 
Hotels would normally rent the minicars on daily rates which can vary between $90 to $110 per day depending on the season and demand. The rate however goes down with longer duration of rent. There is no extra charge for the second person. There is also a one time charge (around $30) for third party insurance which remains valid for the period of hire. 
Few points to note 
If you are a cruise ship passenger and want to rent a minicar for a day or more, you can do so by booking online. You need to pick up and drop the vehicle at the hotel Hamilton Princess & Beach Club in Hamilton City where the company's office (i.e. Current Vehicle) is located. 
The minicar (i.e. the Twizzy) is a real small car. The person sitting at the back really needs to stretch to get in and out. There is hardly any space for keeping anything inside including grocery or other bags. Also note that the windows are open and without glasses or shutters... so the minicar is subject to elements... during heavy rains you may not be able to use the minicar, neither the company would adjust the booking or refund any money. You can not leave anything inside the minicar and go out for sightseeing or shopping... you may not find it when you get back. 
The battery charging points are mostly in private hotels and guesthouses which are meant for guests in such properties and not for others. There are few other public charging points as well located in restaurants in few places of the island (for example at Gulfstream Restaurant near Horseshoe Bay Beach in Southampton, Clearwater Beach at St. Davids etc). The company is trying to add more public charging points to their network. You should ask for a list of location-wise charging points during pick up. 
The insurance covers only Third-Party (i.e. hospitalization of a person if you hit him or her), but not collision damages to the minicar or theft. The company expects you can use your existing car insurance to get that coverage. So get that clarity from the company before you book. 
Related Articles 
Visitors' Reviews & Comments 
Kelly (June 2018) 
Hi Raj. Coming to Bermuda via cruise in July.  Is it possible to rent a mini-car and keep it for the 3 days we are in port?  If so, may be park each evening near the cruise ship at the Navy shipyard or must we return it to the hotel daily?  Do you have a map of the local charging stations? Thank you. 
Raj (bermuda-attractions.com) June 2018 
Hi, yes you can keep it at the cruise port which is usually safe. However the insurance covers only third-party and not theft or collision. Most charging stations are at private hotels & guesthouses meant for their own guests...  however there are few public charging points at restaurants (like Gulfstream near Horseshoe Bay Beach). The company is adding to the charging stations... you can get to know about them when you pick up a minicar. 
Craig (June 2018) 
Is there charging spots at the ship ports and is it safe to leave them there overnight? 
Raj (bermuda-attractions.com) June 2018 
Hi, there are no charging spots at the ship ports at present although they are trying to expand their charging point network. It is usually safe to leave them at the car park at dockyard. However the insurance covers only third-party but not collision or theft. They expect you to get that coverage from your existing car insurance... so you may like to get that clarified from the rental company. 
Mike Barber (March 2018) 
Hey, my wife and I will be there in November 2018 on a cruise,will we be able to rent a minicar since we're not staying in a Hotel. Thanks for your help. 
Raj (bermuda-attractions.com) March 2018 
Yes you can. While booking the minicar rental online through the company 'Current Vehicle' (website: www.currentvehicles.com) you should book using 'Hamilton Princess' option (because that is where they are officially located). You will need to pick up and return the minicar at hotel Hamilton Princess. 
Balaji Devarajan (January 2018) 
Hi Raj, Thank you for the informative articles...We are three people traveling to Bermuda - 2 Adults and a 6 months old infant. Can we hire a minicar and travel with the baby on the lap? Thanks in advance. 
Raj (bermuda-attractions.com) January 2018 
Hi, baby on lap will unlikely be allowed due to safety reasons.