Minicar Rentals in Bermuda
What are Electric Mini Cars?
The regulation was passed on April 20, 2017 by Ministry of Tourism and Transport to allow tourists and locals to rent minicars in the island - these are tiny battery operated all-electric cars. However the move was opposed quite heavily by the taxi drivers who anticipated an impact on their taxi business. But that did not hold much water and finally the much awaited minicars have been launched. Minicar rental companies have soon started operation in Bermuda. 
Several hotels (in partnership with minicar rental companies) have made such small vehicles available on rent for their guests who look for flexible rides on their own to explore the island. There are also several rentals companies who offer mini electric cars directly on rent. The minicars are 4-wheeled (or sometimes 3-wheeled) vehicles and can accommodate two persons. 
Renault Twizy Minicar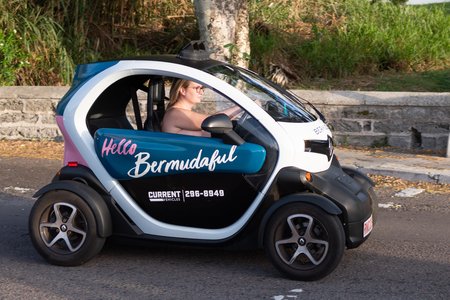 Photo: Stephen Gostick, Shutterstock 
These minicars are quite safe... some models like Renault Twizy minicars boast of air bag for the driver, side impact protection, seat belts for both passengers etc. Being less than 4-ft wide, these small vehicles are ideal for navigating through the narrow roads of the island. The steering is centrally located and the dashboard shows the driving range (kms) remaining from the current charge of the battery. Pedal brakes and accelerators are also available. 
These eco-friendly all-electrical minicars run on batteries. Once fully charged (which takes about 3 hours), a minicar can run for about 50+ miles (or 80+ kms) which is good enough to explore the whole island which is only 21 miles end-to-end. These miniature vehicles are excellent option for those who are not comfortable with scooters or mopeds, but at the same time want to be on their own to explore the island and at their own pace. Most of the rental companies also provide an app based navigation guide, which comes in quite handy when you are out finding your way around. 
While the hotel Hamilton Princess and Beach Club in Hamilton City was the first hotel in the island to introduce such minicars on rent, now several other hotels have similar offers including Rosedon, Mid Ocean Club, Coral Beach and Tennis Club, The Loren at Pink Beach, Inverurie Executive Suites etc. With time, many other hotels are expected to join the bandwagon. All these hotels actually tie up with a rental livery or operator and offer the vehicles through them. Most of these hotels would be equipped with battery charging facilities (for their own guests who rent a minicar). 
Driving license and age requirements
You must have a valid driver's license from your home country to be able to hire a minicar in Bermuda. Also the minimum age requirement of the driver is 25. The second rider can also drive the minicar provided he/she fulfills the same criteria as above. 
Minicar Rental Companies and Rates
Current Vehicles 
Current Vehicles is the first company to introduce electric mini cars in Bermuda. They supply the mini cars through various hotels. You can also contact them directly in case your hotel does not have a tie up with any minicar operators. They can help you with the vehicle pick up and charging points. Pick up locations include The Hamilton Princess and Beach Club, The Fairmont Southampton Hotel, The Loren at Pink Beach etc.  
If you book the minicar for more than one days, you can keep it with you and park it at your hotel parking or cruise port parking. However note that you must return the vehicle by a stipulated time on the day of drop failing which they charge a steep penalty. 
Battery charging points (also known as Oasis Points) are located at various hotels and the network of such charging points are expanding. Note that while it takes about 3 hours to fully charge the battery from zero charge level, you can get good amount of charge in just 20 minutes. So while riding if you see that your driving range has come below your comfort level, do stop by to top up the charge. Charging is free. 
Hotels would normally rent the minicars on daily rates which can vary between $90 to $115 per day depending on the season and demand (some mini cars like Hummer HXT are costlier to rent though). The rate however goes down with longer duration of rent. 
There is no extra charge for the second person. There is also a one-time charge (around $30) for third party insurance which remains valid for the period of hire. Many would agree that this is quite a cost effective method of travelling here as the cost for a 24-hour rental is about the same as a round trip taxi fare from Hamilton City to destinations in the east or west. 
Contacts for information and booking 
Hours: 9.00am - 5.30pm. 
You can also book online through their website www.currentvehicles.com 
Bermuda Rental Car 
Bermuda Rental Car is yet another, quite dependable, addition to the list of minicar service providers. Its Tazzari is essentially an enclosed two-seater (side by side) with air conditioning, large windows, a 43-mile range per charge and fun eye-catching designs. They also offer another slightly smaller vehicle which is easier to navigate Bermuda's roads, known as the Anaig Quick. 
Anaig-Quick is rented out at around $115 per day with a $40 onetime charge - Third Party Insurance (Mandatory and Non-Refundable). There is an optional $15 per day CDW (Collision Damage Waiver) - Reduces liability of vehicle damage from whole vehicle replacement of $10,000 to $500. Maximum charge to customer is $500. 
Tazzari comes for about $150 per day with a $40 onetime charge - Third Party Insurance (Mandatory and Non-Refundable). There is an optional $25 per day CDW (Collision Damage Waiver) - Reduces liability of vehicle damage from whole vehicle replacement of $20,000 to $2,000. Maximum charge to customer is $2,000. There is room for luggage or groceries at the back, which opens up with a hatch back. The company owns a fleet of more than fifteen cars. The vehicle however takes a long time to recharge (almost 5 hours) and the air conditioning depletes the charge pretty quickly. 
Tazzari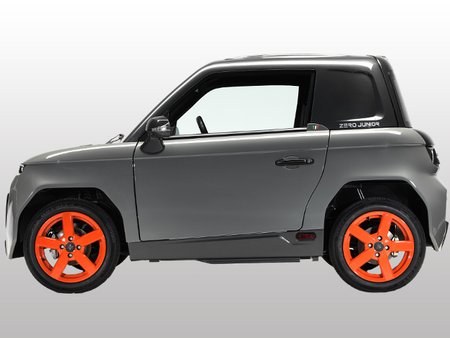 Contacts for information and booking 
Bermuda Rental Car has locations island-wide including at The Royal Naval Dockyard where the large cruise ships dock. So this makes quite convenient for the cruise ship passengers to rent mini cars. 
9 Camber Road, Royal Naval Dockyard, Sandy's 
Phone: (441) 236-2453; Dockyard Phone: (441) 234-2764 
Website: bermudarentalcar.com 
Oleander Cycles 
Oleander Cycles, a very popular bicycle rental company on the island, now offers rental of mini cars with two different vehicles to choose from. There is the Anaig Quick electric car, which costs about $115 per day to rent. There is also the Tazzari electric car, which is a two passenger car which can be rented for about $150 per day and fits two passengers, sitting side by side, and has windows and air conditioning. 
Contacts for information and booking 
Their main outlet is at 6, Valley road, Paget Parish. 
Phone-441-236-2453 
Website: www.oleandercycles.bm 
Rugged Rentals 
Another company, Rugged Rentals offers a more muscular option in the form of Hummer HXT, which is an electric twist to the iconic American vehicle. It comes with a restricted top speed for safety purposes and a range of 70-90 miles on a single charge. They are available at $170 per day, which includes insurance. 
Hummer HXT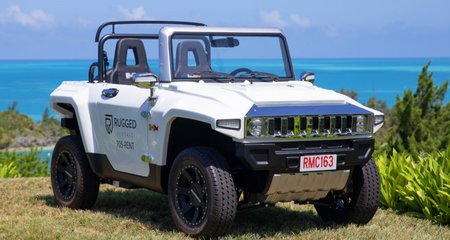 Photo: Rugged Rentals 
The vehicle is sturdy, rugged and spacious compared to its traditional counterparts. The newer vehicles have air conditioning apart from side-by-side leather seating, a high-end radio with auxiliary jack, removable canvas top, a lithium-ion battery, a defogger, and an eco-drive feature to limit battery usage and speed. It takes six to eight hours to charge the battery on 110 volts, and half that time on a 220-volt charge. 
Contacts for information and booking 
They are located at 9, Pennos Wharf in St George's.  
Call 705-RENT (7368) between 9am-5pm, 
Website: www.ruggedrentalsbda.com 
Tips
If you are a cruise ship passenger and want to rent a minicar for a day or more, you can do so by booking online. You need to pick up and drop the vehicle at the hotel Hamilton Princess and Beach Club in Hamilton City where the company's office (i.e. Current Vehicle) is located. 
The minicar (i.e. the Twizzy) is a real small car. The person sitting at the back really needs to stretch to get in and out. There is hardly any space for keeping anything inside including grocery or other bags. Also note that the windows are open and without glasses or shutters... so the minicar is subject to elements... during heavy rains you may not be able to use the minicar, neither the company would adjust the booking or refund any money. The heat can be equally unbearable, though Current Vehicles has added air vents for the driver in most of their vehicles now. You should not leave any valuable inside the minicar and go out for sightseeing or shopping... you may not find it when you get back. Also, the backseat could do with a little more padding, which would have given comfort to the backseat rider.  
The battery charging points are mostly in private hotels and guesthouses which are meant for guests in such properties and not for others. There are few other public charging points as well located in restaurants in few places of the island (for example at Gulfstream Restaurant near Horseshoe Bay Beach in Southampton, Clearwater Beach at St. Davids etc). There are now charging stations at Royal Naval Dockyard. There is one behind the Clocktower Mall and by the Frog and Onion Pub, which is a bit more reclusive. So, ensure you get proper directions before embarking on your tour, or you might find yourself going in circles. The company is trying to add more public charging points to their network. You should ask for a list of location-wise charging points during pick up. 
It would be wise to note here that charge points are not as ubiquitous as they say and you are also likely to encounter bad charging ports along the way. So, while taking the orientation before venturing out on your ride, make sure to understand how to recognize whether the minicar is charging successfully or not. It is a simple matter of plugging into another port, when you don't get the dash indicators that it's charging. You could be in a bit of a tricky and contentious situation if you completely run out of charge midway as, the company Current Vehicles charges around $150 for a tow. However, if you are renting from Current Vehicles, note that the management now claim that they check on all charging points regularly to make sure that they note any that might have tripped or are dysfunctional and rectify the matter at the earliest.  
Although, the promised mileage on full charge is around 50-60 miles, it really depends on your driving skills too.  To maximize the distance on a charge, you have to drive very conservatively (28-30 kmph). This is easier said than done in Bermuda, where people can be seen to drive above the 35 kmph speed limit. The faster you go, the less distance range you get. 
Although the navigation app is quite useful, the company does not provide you with a phone mount. So you either need to get one for yourself or the person sitting behind has to relay the directions to you. 
Motorists drive on the left in Bermuda, as in the United Kingdom 
The speed limit is 35 kmph 
Keep your seatbelts on at all times while driving 
Note that cyclists and scooters enjoy the same road rights on all Bermudian roads 
All said, this is a fun little compact car and definitely an entertaining novelty. It is something that really opens up the prospect of exploring Bermuda at your own pace, as you are no longer dependant on the bus schedule or high-priced taxis. It does have some design limitations such as size, suspension, storage capacity, hard seating etc., it is safer than mopeds/ scooters and easy to drive. Be a little strategic as to when and where you stop so you don't run out of power. You will love driving this environment friendly and wallet friendly solution which is the perfect size for Bermuda's roads. 

By Raj Bhattacharya 
Raj, a seasoned travel writer and Bermuda destination expert, has extensive global travel experience. This website reflects his profound insights, garnered over nearly two decades of dedicated findings and research on the island. Raj has assisted countless Bermuda-bound visitors by providing direct, personalized responses to their queries and imparting his wealth of knowledge through this platform. This site serves as an indispensable guide for those seeking informed and reliable insights into Bermuda's treasures. 
Related Articles
Visitors' Reviews and Comments
James Bello (April 2019) 
Will they drop off and pick up mini car to a vacation rental. 
Raj (bermuda-attractions.com) April 2019 
Nope. 
Dick Beaudoin (April 2019) 
How far is the rental place for Twizy from ferry dock in Hamilton? Have a tough time walking long distances! Thanks. 
Raj (bermuda-attractions.com) April 2019 
It's at Hamilton Princess and Beach Club... about 700 meters from the Hamilton Ferry Terminal and will take about 10-12 minute walk. 
Dick Beaudoin (April 2019) 
Arriving by cruise ship in August of 2019...was wondering what is the best way to pick up the rental, and how far is the parking lot at ship yard to ships!  We are arriving at 1:00 pm on Sunday and leaving at5 on Tuesday...is ferry the best way to pick up and return the entail?   Thanks for your time in this matter. 
Raj (bermuda-attractions.com) April 2019 
You can take the ferry to Hamilton, pick-up the Twizy and drive it back to the dockyard. There is a parking about 200 meters from the cruise piers. You can take the Twizy on the ferry but only on early morning hours and evening hours (not during the rush time)... so check the timings... otherwise you need to drive it to Hamilton, return it and then get back via ferry. 
Malcolm (February 2019)  
Raj, My wife and I are driving in Bermuda 4/20 to 21/ 2019 and thinking of renting one the electric cars. Is it possible to visit the beaches via the electric cars? Is there parking while at the beach? Also are the beaches public or is there a fee to visit? Thanks fo any feedback you can provide! 
Raj (bermuda-attractions.com) February 2019 
Hi, yes you can take your electric minicar to the beaches. Apart from few private beaches that are mostly part of hotels and one commercial beach (Snorkel Park at Dockyard) all are public beaches and entry is free. There is parking at most of the beaches. 
Jenney (February 2019) 
Can I pick up/drop off a vehicle from the airport? 
Raj (bermuda-attractions.com) February 2019 
No, not possible. 
Kelly (June 2018) 
Hi Raj. Coming to Bermuda via cruise in July.  Is it possible to rent a mini-car and keep it for the 3 days we are in port?  If so, may be park each evening near the cruise ship at the Navy shipyard or must we return it to the hotel daily?  Do you have a map of the local charging stations? Thank you. 
Raj (bermuda-attractions.com) June 2018 
Hi, yes you can keep it at the cruise port which is usually safe. However the insurance covers only third-party and not theft or collision. Most charging stations are at private hotels and guesthouses meant for their own guests...  however there are few public charging points at restaurants (like Gulfstream near Horseshoe Bay Beach). The company is adding to the charging stations... you can get to know about them when you pick up a minicar. 
Craig (June 2018) 
Is there charging spots at the ship ports and is it safe to leave them there overnight? 
Raj (bermuda-attractions.com) June 2018 
Hi, there are no charging spots at the ship ports at present although they are trying to expand their charging point network. It is usually safe to leave them at the car park at dockyard. However the insurance covers only third-party but not collision or theft. They expect you to get that coverage from your existing car insurance... so you may like to get that clarified from the rental company. 
Mike Barber (March 2018) 
Hey, my wife and I will be there in November 2018 on a cruise,will we be able to rent a minicar since we're not staying in a Hotel. Thanks for your help. 
Raj (bermuda-attractions.com) March 2018 
Yes you can. While booking the minicar rental online through the company 'Current Vehicle' (website: www.currentvehicles.com) you should book using 'Hamilton Princess' option (because that is where they are officially located). You will need to pick up and return the minicar at hotel Hamilton Princess. 
Balaji Devarajan (January 2018) 
Hi Raj, Thank you for the informative articles...We are three people traveling to Bermuda - 2 Adults and a 6 months old infant. Can we hire a minicar and travel with the baby on the lap? Thanks in advance. 
Raj (bermuda-attractions.com) January 2018 
Hi, baby on lap will unlikely be allowed due to safety reasons.