Bermuda Car Rentals: Does It Exist?
When we came to Bermuda for the first time, we noticed that there was not a single car rental company on the island. There is none even to date (i.e., if you are looking to rent a sedan or a hatchback, MUV, SUV and such). That's because Bermuda Government does not allow the usual car rentals in the island. Motor cars are limited only to residents who can own one and that too only one per family or household. Irked? Well, there are some good solutions though.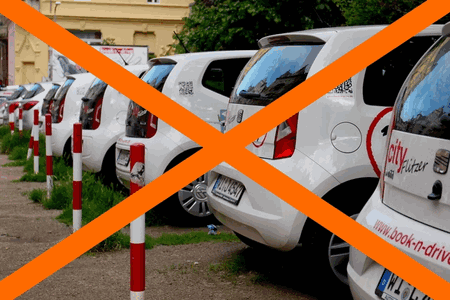 So why did the Government disallow the car rentals in Bermuda in the first place? 
Well this tiny 21 square mile island by itself has around 65,000 residents. And every year, the visiting tourists swell this population by about 10 times. Well over 650,000 tourists visit Bermuda every year. So imagine if most of them had rented a car. Would there be space left to move around? What would be the level of pollution? The roads in Bermuda are quite narrow and winding, and often take sharp turns. What would be the risk to others on the road? 
So, what are the alternatives?
We have now come to realize that having no rental cars in Bermuda is actually a blessing in disguise. So how do you get around the island ? Here are all the best alternatives: 
Option1: Rent an Electric Mini Car
After the legislation was passed in April 2017, battery operated all-electric mini cars are now available for rent in Bermuda. These 3 or 4-wheel tiny vehicles are quite safe and offer an excellent option to those who are not comfortable with scooters. Two persons can sit in a mini car (in some models like the Renault Twizy, the co-rider needs to sit behind the driver). 
Twizy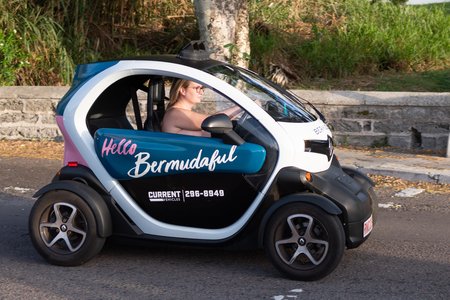 Photo: Stephen Gostick, Shutterstock 
Once fully charged (which can take about 3 hours), the battery lasts for 50+ miles and you can drive end-to-end across Bermuda which is only 21 miles long. Mini cars rent for a day or multiple days (they are relatively more expensive than scooter rents, but are safer). Remember one thing though, Bermuda follows left hand drive, which means you need to drive along the left side of the road. 
Option2: Rent a Scooter
If you can ride a moped or a scooter, this too can give you all the freedom you are looking for. You will find these two wheelers for rent at several places in the island. Some rental agencies can also deliver the scooters or mopeds at your cruise ship or hotel. There are outlets of scooter rental companies both at the Royal Naval Dockyard (cruise port) as well as at the airport. 
Scooters for rent in Bermuda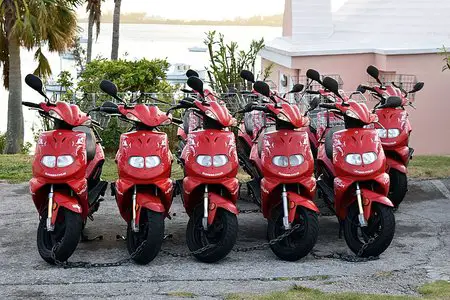 Photo: Andrew Currie, CC by SA 3.0 
Check out
Bermuda Scooter Rentals
to know about the renting procedure, rates and the best rental companies in the island. 
Option3: Rent a Bicycle
Locally known as Pedal Bikes, bicycles can be an excellent option too. Although the traffic heavy main roads are not quite ideal for biking particularly during the office opening/closing hours when there are more vehicles on the roads, you can get into several excellent routes that are relatively traffic free (like the Tribe roads) and even trails like the
Bermuda Railway Trail
that are great for biking for several stretches. You can get bike rentals at the dockyard and several other places in the island. 
Option4: Take a Taxi Tour
If scooter is not for you, there are fairly large number of taxis that are available for private transportation. But quite interestingly, taxis in Bermuda are allowed to do island tours on an hourly rate. And, there are Blue Flag taxis in Bermuda whose drivers are certified tour guides.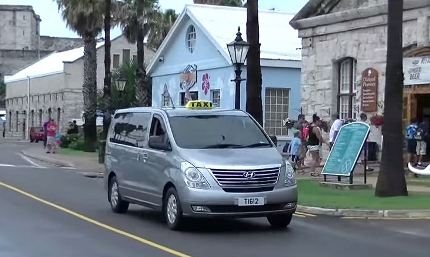 While taxis can not substitute a car rental where you can take the pleasure of driving yourself, a guided taxi tour can be much more time efficient and informative at the same time. Taxis come in two sizes... smaller ones can accommodate up to 4 passengers and the larger ones up to 7. 
Option5: Take Minibus Tours
There are operators who provide set guided group tours on minibuses that operate on a per person rate. Many also offer their minibuses on private charter where you can customize the tour, but the group size in general needs to be six or more (the capacity of most minibuses are up to 15).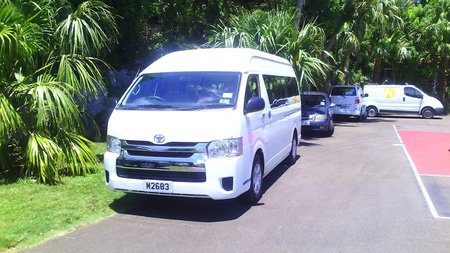 Photo: Ricky's Minibus Tours 
Option6: Avail Public Bus
Well if you don't care much for privacy, bus service in Bermuda is excellent and quite comfortable. Buses are air-conditioned. There are 11 bus routes that reach out to various places in the island (all these routes originate from Hamilton City, except one). 
Bus#3 operating between Hamilton and St. George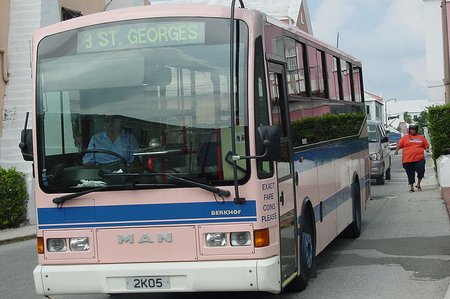 Photo: Captain-tucker, cc by-sa 3.0 
And you can buy transport passes (1-day, 2-day etc) to hop on and off the buses any number of times. You can also pay by cash or tokens. 
Option7: Ride the public ferry
There are several important places you can reach more conveniently and faster by a public ferry rather than by any other transport. There are ferry routes that connect several places of the island with Hamilton City (Dockyard-Hamilton and Dockyard-St. George ferry connections offer the fastest an arguably best mode of transport between these places). 
Ferry boat at Royal Naval Dockyard Ferry Dock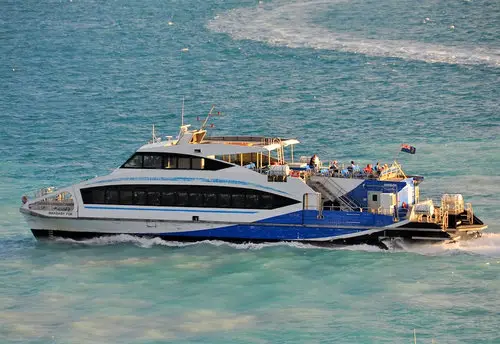 Photo: James Willamor, flickr, cc by-sa 2.0 
And the same transport passes (as in case of buses) hold good for the ferries as well. Cash and token payments are also accepted. Ferries not only provide a convenient way to move between several places (although the network is not as extensive as buses), the rides along the harbor and other water areas are scenic and offer a great view of the shorelines. 
Option8: Consider Walking
Bermuda is a small island. Although it would be a daring venture to walk the island from one end to the other, you can easily take a public transport to get to a point and then get into a nature trail or a side road for a lovely walk. Explore the nature, the traditional pastel houses of the island, its many historic sites including British Forts, Lighthouse and lot more. You can also explore Hamilton City and even the historic town of St. George on foot. 
Related Articles
Visitors' Reviews and Comments
Tammy Wallace (July 2018) 
Hello, my daughter and I are coming to Bermuda by cruise ship. We would like someone /local to pick us up and drive us to our desired locations for the day. Who or which company would you recommend? Thank you for any information you can provide. 
Raj (bermuda-attractions.com) July 2018 
Hello, self or chauffeur driven car rentals are not available in Bermuda. Your best option is to take a taxi tour. There are several taxi drivers in the island who are also certified tour guides and are excellent in knowledge and behavior. 
Go through the page
Island Tours in Taxi
where I have discussed such options (also go through the comments given by visitors at the bottom of that page).