Gombey's Bar & Restaurant, St. David's, Bermuda
Category: $ 
UPDATE: Gombey's Bar and Restaurant has closed down in December 2019 after operating at the Clearwater beach for 14 years. The lease for the place has expired and Marlon and Sara-Lee Laws, the owners were not successful in their proposal to renew the lease. The main complaint from the government was, despite several reminders in the past, Laws did not care to upgrade their infrastructure, offerings and service to the desired level.
---
This is one of the very few authentic beach bars that offers true Bermudian vibe and certainly a favorite to the locals. In fact being away from the mainland of Bermuda, you will find very few tourists here and would have ample opportunity to chat with the locals while enjoying a drink. The staff and the owner are also very friendly and often engage in friendly conversations. Marlin is a great host and she can fill you in with all the local information you need. 
Gombeys Bar and Restaurant is actually a shack... colorful and quite large. Wooden beams supporting the roof, long bar counter with high steel made chairs, Budweiser signs fluttering all across and the local vibe would immediately get you into the mood. 
Gombeys Bar and Restaurant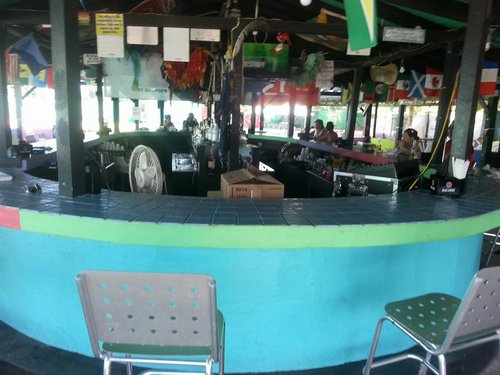 Photo: Gombey's Bar & Restaurant 
Gombeys is located right next to
Clearwater Beach
in St. David's island (part of St. George's Parish). The entry to the bar is from the road and there is a cute pig statute just outside the main entrance dressed in Gombey's attire that would welcome you and set the vibe. As you walk in, you can hear the reggae music playing. Right in front is the bar counter. There are ceiling as well as pedestal fans that swing into play during summers. 
This is essentially a bar although they offer some snack type food too. If you are here, there area few must try items both in beverages and food. In drinks, Gombey's bar is well known for the island drinks such as the Rum Swizzle and Dark n' Stormy. Of course there are beers too. Drinks are very economical compared to the prices you see across the island. One drink would cost you $6-$7. 
In food, Gombeys is well known locally for the fish sandwich they make with raisin bread. Portions are large and the taste is authentic Bermudian. Other than that they also make nice jerk chicken (another island favorite), cheese burgers, fries etc (do not look for gluten free or vegan food here). Menu is limited but enough for a beach bar such as this. There are tables scattered around, however there can be sometimes problems of flies, but generally they try to keep the place clean. 
There are bathroom facilities both in the bar as well as in the beach. You can also get beach chairs, umbrella and even kayaks on rent from Gombey's bar (the beach is right behind the bar and restaurant). Entry to
Cooper's Island Nature Reserve
is a short walk away. 
How to reach
You can take bus #6 from St. George's... note that all services of bus #6 do not come up to Gomebeys or the Clearwater beach, some do. So ask the driver before you board. The bus takes about 25 minutes to reach up to the beach/bar. You can also take a taxi from St. George. 
Address and Contacts 
193 Cooper's Island Road, St David'S, St George's. Phone: (441) 293-5092. 
Related Articles
Visitors' Reviews and Comments