Cooper's Island Nature Reserve Bermuda
Cooper's Island Nature Reserve is located at the eastern end of Bermuda in St. Davids. This 12 acres of unspoiled and beautiful nature reserve is now part of Bermuda's national parks. 
Until 1995, the area was restricted and occupied by the US Military. On it's east is the Cooper's Island Road, and on it's west is the beautiful Castle Harbor.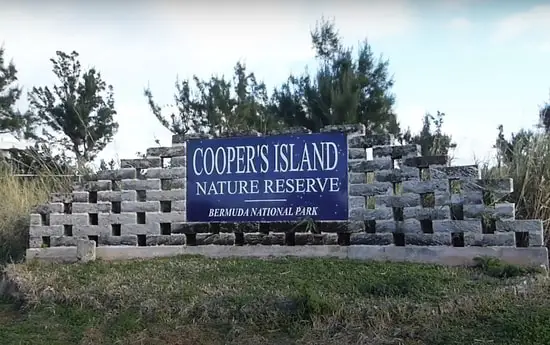 Clearwater beach
and
Turtle Bay Beach
are two beautiful public beaches located next to the reserve. These shallow water beaches are popular picnic areas for local families and can get quite crowded over the weekend. 
But, once you are inside the reserve, it's quiet and serene. There are nature trails through a vast stretch of woodland area. 
Although much of the reserve is filled with introduced plantations like Brazil pepper, casuarinas and allspice, there are patches where you can find heavy concentration of Bermuda cedars, palmettos and olivewoods. 
The nature reserve has a pond which has been restored in recent times. You can walk over a boardwalk that goes across the pond and a salt marsh. 
Reserve (Boardwalk), Rotate the imagery for 360° view 
The pond is home to a large population of endemic killifish. Although small in number, you can see giant land crabs in the salt marsh. 
Many birds like herons, egrets and kingfishers come here and roost in the plantation around the salt marsh. 
Close to the reserve is Well Bay, an excellent area for spotting turtles. The secluded beautiful beach here is known as Well Bay Beach and is great for swimming and snorkeling. 
Well Bay Beach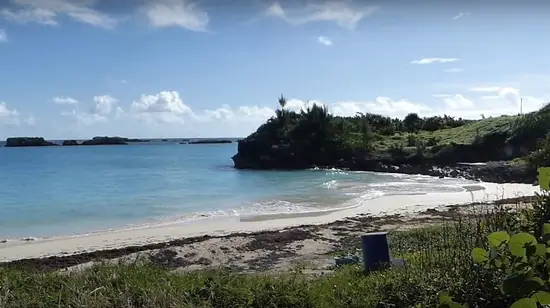 From the reserve, you get a marvelous view of the
Castle Harbor
and the small islands on it. Many of the islands in the harbor are breeding grounds for rare birds and animals. 
One of the islands on Castle Harbor is known as
The Nonsuch Island
where Bermuda's national bird Cahow is conserved, which was nearing extinction at one stage. 
There is a Wildlife Observation Tower at the far end of the reserve. You can go up a spiral ladder to the top and get a marvelous view of the coastline.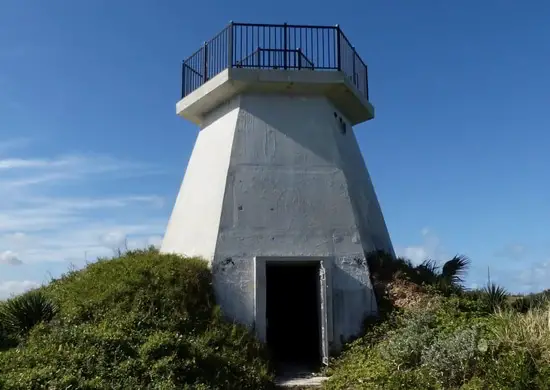 The deck on top of the tower is a great place to spot migrating humpback whales (March - April) and migratory birds. 
View from the Observation Tower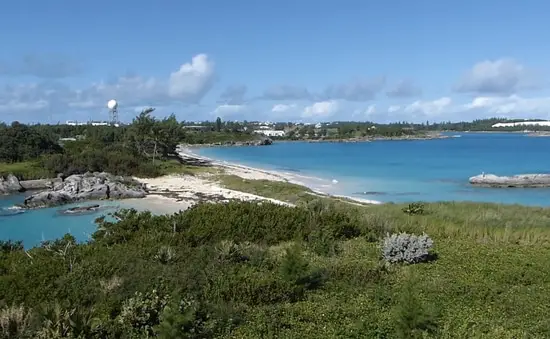 NOTE: 
Being a nature reserve, no fishing is permitted around the Cooper's Island shoreline and this is legislated under the Parks Act. There is a large sign by the gate stating that fishing is prohibited. 
You can not take your dog into the nature reserve either. Driving is also not allowed here. 
How to reach Coopers Island Reserve
Coopers Island Nature Reserve is open all days from sunrise to sunset. 
Bus #6 from St. George goes by Clearwater beach which is located next to the reserve. It takes about 25 minutes. Note that all services of bus #6 do not go all the way to the beach/reserve. So check with the bus driver before you board. 
Taxis are also available at St. George (near Kings Square). 
Another option is to take bus #6 from St. George up to
St. David's Lighthouse
. Then walk along the Ruth's Bay Road towards west. On a small junction, take Orange Hole Road and keep walking towards west. You will get Cooper's Island Road. 
Bear left and you will reach the entrance to the reserve. The distance from the lighthouse to the reserve is about 1.3 miles and would take around 25 minutes. 
Road Map 
Nearby Attractions and Eateries
Clearwater beach is right across the entrance of the reserve. It's a wonderful beach (often quite secluded) and visited mostly by local families. The beach park has a children's playground as well as public toilets. 
You can also enjoy the calm and shallow waters at Turtle Bay Beach which is located right next to Clearwater Beach. 
The beautiful Long Bay Beach located close by also offers smooth sand, crystal clear waters and lots of turtles to see. 
Sunjammers is a beach bar on Clearwater Beach and is a good option to have an island drink or beer and munch some local snacks like fish or chicken sandwich, burgers or wahoo nuggets and fries. 
It is wheelchair accessible and also has an outdoor seating arrangement. You can get beach loungers and umbrellas on rent here. 
Related Articles
Visitors' Reviews and Comments
Judy (June 2019) 
Our cruise ship will be in St. George's in August and this is not our first trip to Bermuda so we were looking to visit Cooper's Nature Reserve and Carter house. 
I think on your great site you indicate that the mini bus is no longer in service. Please can you give me an idea how to get to these locations. Thanks a bunch. 
Raj (bermuda-attractions.com) June 2019 
Hi, you can take bus #6 from St. George to Carter House. Some services of bus #6 (ones via Clearwater beach) also serve Cooper's Island Nature reserve. 
The beach is located next to the entrance of the reserve. The bus to the beach operates hourly from 9:45am (from St. George) until 8:45pm, Monday through Saturday. One way time to the beach is 25 minutes. 
Patricia Castagno (June 2016) 
We will be in Bermuda next week on a cruise. What is the easiest way to get to the reserve from the dockyard? Please include costs. Thanks for your help. Also is the Fun Bus still in service, if so, where can we get on ? 
Raj (bermuda-attractions.com) June 2016 
Take orange route ferry to St. George, and then a minibus shuttle to Clearwater Beach/Cooper's Reserve. Check the timings of the ferry (it does not run on the week ends). You can of course take a taxi all the way, but that will be expensive.