Mickey's Beach Bistro & Bar Bermuda
$$$, Mediterranean 
X Temporarily Closed 
The Restaurant and Ambience
This is the closest to the waters you can get while dining in Bermuda. Mickey's is a beach bar and restaurant right on Elbow beach and is run by
Elbow Beach Hotel
in Paget parish. There is a large custom made tent that provides all the shades. Outside the roof covered area, there are open seating as well with many tables laid out on the sand with umbrellas. 
Every table has a nice view of the ocean. If you arrive here just before sunset, you get a nice view of the sky turning pink even though the sun doesn't set right over this beach. 
Mickey's Beach Bistro Bermuda 
Photo: Elbow Beach Hotel, Bermuda 
After a full day on the beach, this is a perfect place to relax, have your lunch or sip a great sundowner cocktail while sitting on the sand. Mickey's Bistro also serves dinner. You must dine here once and on the sand watching the blue waters of the Atlantic. However, Mickey's operates only seasonally during high season between April to October for Dinner. Lunch is served between April to December. 
Food and Drinks
The food here is prepared in a simple manner. Being part of a luxury hotel, it's a little pricey. However, given the lively atmosphere, great service and the water almost touching your toes, it makes up for the price. There is a nice variety on the menu and some of the dishes have a nice Italian influence to them. Some of the favorites in starters include the traditional Bermuda fish chowder, seared scallops with lemon sauce, golden fried calamari or the seafood salad. 
Spinach salad and roasted red bit and French green beans salad are also nice. The chicken, mango and avocado salad with spinach and fresh fruit is nice and so is the grilled chicken Caesar salad. They also have the best bread and the basket of bread served with each meal is a nice touch. 
For main courses there are plenty of great choices like pan roasted red snapper with lemon sauce, lemon grilled pork tenderloin, seafood casserole served with calamari, scallops and prawns in tomato, garlic and chili broth, grilled seafood platter, the salmon skewers in soy sauce with oriental spices, rib eye steak, chicken breast etc. Lobster dishes are available almost everyday. The catch of the day preparation is also quite popular. They also serve pasta and risotto.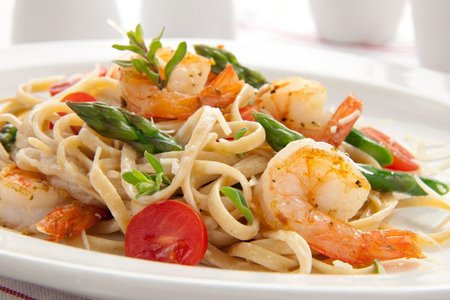 Photo: Elbow Beach Hotel, Bermuda 
For dinner, we had a veal scallopini with a white wine sauce and potato gratin, and it was delicious. The Bermuda Rockfish here is particularly amazing with a nicely presented plate of golden colored, beautifully flavored and perfectly done, warm, succulent fish. We could not stop talking about it after we had it. The salmon too is tender and very flavorsome and the grilled octopus is cooked perfectly and very well seasoned. 
There are also many grilled dishes served like Angus beef steaks with mustard sauce, perfectly grilled salmon, tuna tartare and lamb chops. For pasta lovers, there are some dishes including spaghetti and risotto, but the menu is limited. The Lemon zucchini shrimp risotto is excellent and one we would highly recommend. 
The beautiful venue warrants a finish well worth it. So venture towards the famous carrot cake here with ice cream and you will not be disappointed. Also, in desserts, don't miss out the mango cheese cake with orange sauce. You get flavored ice creams and chocolate mousses as well. 
Note that the lunch menu is shorter. Other than appetizers and salads, you get burgers, sandwiches, wraps, pastas, steaks, local catch of the day, grilled shrimps etc. They also have a full and well stocked bar with a nice wine list and some nice relaxing cocktails. If you are in a group, you can go for cocktails such as the Dark n Stormy offered in pitchers. 
Service
Service is very welcoming and accommodating here and the staff kind and helpful. They are dressed in authentic long shorts and long socks, are attentive without being overbearing. Some of them in fact  can be quite fun and engaging exuding genuine warmth and service is also quick and food gets served in a timely and peasant manner. 
Trivia
Dress code is smart casual. Being on the beach, you may choose not to wear shoes. However note that smart casual does not mean that you can walk in on your swim suits straight from the beach. Women should put on a cover up while men are expected to wear trouser and T-shirt at the minimum. Being run by the luxury Elbow beach hotel, the bistro is fancier than a usual beach bar and much costlier. 
You can also have them arrange a private candle lit beach dinner in a secluded corner of the beach. The ambience is made further romantic by surrounding the table with flickering candle torches, a private steward to your assistance and a delicious five course dinner with the perfect wine pairings. Portions are nice and enough to fill you comfortably. 
They accept credit cards. Since seating is limited, try to make reservation in advance. Though the ride isn't cheap, cabs are easy to catch for a ride back to the cruise terminal from here. They wait at the bottom of the hill next to the complex the restaurant is housed in. 
Conclusion
Enjoy scrumptious food with a stunning view of the renowned pink sands and rolling turquoise waves. The restaurant is one of the few places that combines both an informal lunch vibe for beach goers along with a smart casual dining experience at night. So sit in one of the easy chairs set aside with a great view and sound of the surf, dig your toes in the sand, sit underneath the stars and see a surreal full golden moon rising as you enjoy the hospitality at Mickey's. The restaurant offers much more than just a great meal and be sure to enjoy that with a special  someone. 
Open Hours
Daily noon-3pm and 6-9:30pm. Bar 10am-1am 
Note: Mickey's Bistro operates in high season between April to October. It remains closed during the other months of the year (although they serve lunch until December). However they can open on special group bookings any time of the year. 
Indicative Prices
Starters: $12-$33 
Main courses: $37-$53, Pastas: $25-$44 
Salads and sandwiches (lunch): $18-$29 
Desserts: $12, Beverages: $5-$12 
Port and wine by the glass: $9-$25, by the bottle: $40-$159 
Location and Contacts
Elbow Beach, 60 South Shore Road, Paget Parish 
Phone: 441/236-9107 
Buses to reach Mickey's: #1, 2 or 7 
Road Map 
Related Articles
1) Check out
Restaurants in Paget
know about all the great restaurants and bars in and around Paget parish. 
4) Check out
Paget Parish
to know about the parish including all its attractions, activities, hotels and other information. 
Visitors' Reviews and Comments
Share your experience.