Coconuts Restaurant Bermuda
$$$, Caribbean Cuisine 
Coconuts Restaurant is part of the
Reefs Hotel
in Bermuda located in Southampton Parish. So what's so special about Coconuts? This is one of the very few restaurants in Bermuda which is set up on a beach, between the sands and the cliffs. So if you are looking for a romantic alfresco dining in Bermuda with stunning views of the ocean, Coconuts can be a great choice. 
You can have your seat right on the beach. However, you will need to book well in advance, particularly if you are aiming for beach seating on a weekend.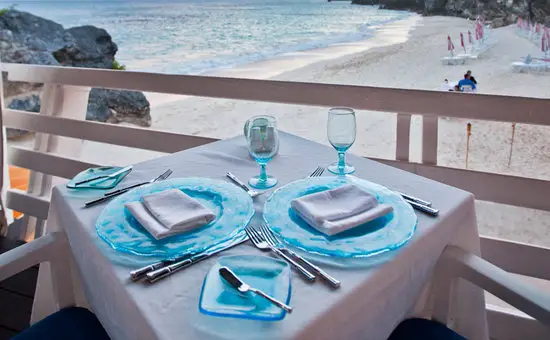 Photo: The Reefs Resort, Bermuda 
But keep in mind that one of the disadvantages of beach seating is that the food may cool off faster that you would like due to the sea breeze at nights. But with the flood lights and the gas torches on the beach, the view can easily make up for such shortcomings. 
There are non-beach seating areas as well. Part of the restaurant is paneled with varnished cedar and looks very nice. Now about the food. Coconuts serves Caribbean and Bermudian type of food. The menu changes quite frequently. 
I have heard mixed reactions and seen mixed reviews about the food in Coconuts. I tend to believe that this is due to the frequent change in menu that they bring about. And sometimes you may not like all that comes as part of the fixed 4-course dinner. So if you are picky with the type of food you would like, call them in advance and find out the type of preparations for the evening. The restaurant also offers an a-la-carte menu that you can choose from. 
Here are some of our favorite dishes at the Coconuts: South Shore Bermuda Fish Chowder (a soup made with ground fish head) that comes flavored with Outerbridge's Sherry Pepper and Gosling's Black Seal Rum. 
As the main course we generally go for Pan Seared Rockfish Filet (with crushed buttered lobster potatoes, grape tomato and mango, cilantro salsa), or Seared Yellow Tail Snapper (bed of haricot vert and fingerling potatoes kaffir, white wine beurre blanc), or Papadella Pasta and Veal Meat balls (spinach, shitake with a smoked tomato coulis and basil chiffonade). Other great dishes include the grilled beef tenderloin, duck breast, Bermuda rockfish, Jamaican pork casserole etc. 
Note that you may not get all these dishes on the same day as I mentioned, the menu changes periodically. They have nice selections of wine. For desserts, you can try Strawberry Feuilleté or The Reefs' Classic Bread Pudding. 
They also serve a romantic special dinner for two by the beachside. It comes with 5 course meal with sparkling wine. Note that beach dining here requires advanced reservation and there is an extra charge. 
Dress code: Smart Casual. Although I have seen men wearing shorts while seated on the beach. 
Indicative Prices
Soups and Salads: $10-$18, Appetizers: $15-$18, Main Courses: $24 - $36. 
The last time we had dinner at the Coconuts, they offered a four course meal package for $75 (plus 17% gratuity). Unless you love to eat a lot, this may be a little over stuffing. 
Wine menu is quite reasonably priced. For example, a bottle of Sauvignon Blanc would cost around $78 here compared to over $100 in other upscale restaurants in Bermuda. 
Open Hours
Coconuts serves dinner between 6:30pm-10pm (April to November), while lunch is available from 12noon–4pm. They are open seasonally between April to November. Lunch in my view is nothing special. You get the standard stuff like the burgers, sandwiches, salads, rock fish, steaks, some weekly specials and some desserts and such. 
On Thursdays, there is usually barbecue on the beach during dinner time, live cooking stations, DJ's music etc. There is a per person package cost for this. Check out with the hotel if you plan on this one. 
Location and Contact
Inside Reefs Hotel Bermuda. 56 South Shore Road. Southampton Parish.  
Bus routes: #7 (operating between Hamilton and Dockyard). Phone: 441/238-0222 
Road Map 
Related Articles
4) Check out
Southampton Parish
to know about the parish including all its attractions, activities, hotels and other information. 
Visitors' Reviews and Comments
Review and share your experience.