The Reefs, Southampton Bermuda
A Great Luxury Resort
Category: $$$$   Location: Southampton Parish 
The Reefs in Southampton Bermuda is a small romantic luxury resort in a cliff-side setting overlooking a private beach. This resort has been a consistent award winner from travel magazines like Travel & Leisure, and Conde Nast Traveler. This oceanfront resort is ideal if you want to spend a great relaxing time on a private beach. 
Why The Reefs is one of the finest Luxury resorts in Bermuda? Here are the reasons: 
Pink resort buildings and cottages are intimately ringed around the fabulous beach. 
Wonderful view of sunset from the ocean view rooms. 
You can take a nature walk or borrow a kayak and enjoy the ocean. 
Top notch maintenance and great service. 
Restaurants overlooking the water. 
Excellent infinity-edged pool. 
You get excellent selection of rooms at The Reefs Bermuda. If you want a little more privacy, you can choose from the impeccable cliff-side cottages located at the far end of the resort. There are cottages with excellent ocean view or nestled in a garden setting with sun decks. Suites have Jacuzzi tubs. 
The Reefs, Bermuda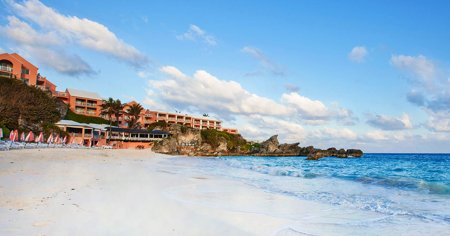 The Cliff-Side Suites have direct view of the Atlantic and have private patio or balcony (depending on lower or upper floor), sitting area etc. They have king or queen beds. Junior Suites are similar and located along the cliff-side with great view of the ocean, but have a step down sitting area, soak in tub, walk-in rainwater shower etc. 
There are beachfront 2-bedroom suites as well (like condos) that are ideal for families. They too have private balcony, hot tub, two bathrooms etc. And there are several higher class suites. 
Ideal for Honeymoon getaways, this resort can also be a great choice for families and couples. If you want a small place and tranquility, Reefs' relaxing pink cottages are ideal. My personal favorite is room #316 (called Vertigo) which is located at the highest point of the property. 
A Cliffside Room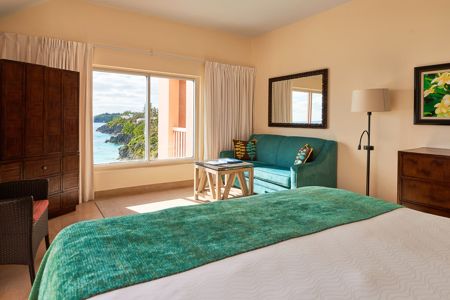 Aqua Terra
is the main restaurant (newly done up) and serves breakfast and dinner. It specializes on traditional Bermudian cuisine as well as western food. In dinner you get soups & salads, fish, beef tenderloins, lamb racks, chicken breast etc . The large dining room has huge windows with lovely views of the ocean (particularly from the window-side tables). They also serve drinks (wine selections are quite nice). Go to
Aqua Terra
for more information. 
Set up on the beach,
Coconuts
restaurant provides a great choice of romantic and alfresco dining. The restaurant has been recently remodeled (elegantly done up with tables having white linens). You get lunch and dinner here along with drinks. Visit
Coconuts Restaurant
for details. 
Clubhouse Bar & Lounge offers alfresco sitting under terrace umbrellas with sofa layouts... it's great for enjoying a drink while having lovely view of the ocean. 
Infinity Pool, The Reefs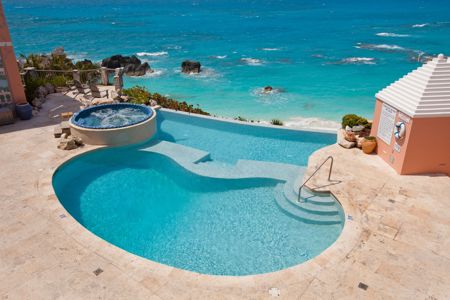 Facilities
3 restaurants; 2 bars; 
Fresh water outdoor infinity pool ; 
Private beach; 
3 golf courses nearby;  
2 tennis courts (complimentary rackets & tennis balls) 
Health club; 
Complimentary kayaks and snorkeling equipment; 
Moped and mountain-bike rentals (across the street) 
UPDATES
The Reefs now offers complimentary Flip digital video cameras to guests. The resort has also added a private wine room that has over 1000 bottles of wine and available for private events.  
March/2011: Jason Koppinger has been appointed as the Executive Chef at the Reefs overseeing all the three restaurants at the resort. In 2006 and at the age of 30, he became the youngest certified Master Chef in the U.S, a highest professional distinction earned only by 66 others. Jason's dishes are inspired by flavors and diversity of Asian cuisine. 
The resort has opened The Reefs Club which has 19 elegant 2/3 bedroom beachfront residences. This is timeshares property and one can purchase the accommodations at The Reefs Club on fractional ownership basis. 
October/2010: The Reefs has been chosen as the #1 hotel in the whole of Caribbean and Atlantic by Conde Nast Traveler Magazine, beating The Atlantis of Bahamas. The Reefs acquired an overall score of 91.7 to come on top. It's the sixth consecutive time the hotel has been in the gold list of the magazine. 
October 2011: The Reefs has been chosen once again as the best hotel in the Atlantic by the readers of Conde Naste Traveler Magazine. 
March 2012: For the fifth consecutive year, The Reefs Resort has been selected by the Travel & Leisure magazine as one of the top 500 hotels in the world. In fact this is the only Bermuda property that features in the magazine's 2012 list. 
October 2012: The Reefs is rated as the top hotel in the Atlantic region by the Conde Naster Traveller Magazine readers. 
November 2014: The Reefs continues to top the list of 15 resorts in 'Best Resorts in the Atlantic: Readers' Choice Awards 2014' by Conde Naste Travelers. 
Update December 2014: The resort has been listed in the World's 500 Best Hotels by Travel + Leisure. 
Update 2018: The restaurants in the hotels have been renovated, revamped and renamed. Royston's and Ocean Echo Restaurants no longer exist. 
Rates provided by booking.com 
Location
56 South Shore Road, Southampton Parish. 
Bus Routes: #7 operating between Hamilton and Dockyard. 
Contact Info
Phone: 800/742-2008 in the U.S. and Canada, 441/238-0222 in Bermuda 
Road Map 
Raj Bhattacharya
Raj is an avid traveler and a full-time travel blogger. He has been travelling all across the world since decades. His mission here is to help viewers like you visiting Bermuda or seeking insights into matters related to Bermuda with the most comprehensive content compared to any other resources. Since years now he has been helping countless viewers by posting quality articles on this website, answering questions and sharing experiences. Launched in 2008, this website is Bermuda's leading source of online information since many years. 
Related Articles
Visitors' Reviews & Comments
Joseph Long (January 2014) 
If you live on the East Coast and long to experience the lush life in Hawaii or a week end jaunt to Malibu but do not want to endure the long flights...you have an option... 
The Reefs in Bermuda... After 36+ visits I can tell you that Paradise is 90 minutes away from NYC, Washington,Boston or Atlanta. BERMUDA.....Absolutely awesome...Oprah may have a great place in Hawaii, and Tom Hanks may have Malibu... However, Bermuda is a fantastic place. 65,000 of the nicest people you will ever meet! 21 square miles of wonder....And The Reefs makes a Ritz Carlton blush in terms of service and attention to detail.. And the beach at The Reefs.....Malibu could only photo shop this beach... Quiet, lovely, intimate, kid friendly and beyond relaxing. Evaporate your stress in 5 minutes between 25 June and mid October.. 
Do you live in NYC or DC and endure the trek to Southampton or Rehobeth?  And after all that driving step into water where you can't see your feet! Not in Bermuda....Crystal clear water, warm and magical...and your feet are NEVER EVER out of sight.. 
Great food as well...Imaginative but not "fusion nonsense". Elegant but not "over the top". The Reefs has it all... Vacations are meant to be cherished and enjoyed,not endured as some right of annual passage.. 441 238 0222... I've had The Reefs number memorized for years!  An awesome, family owned place... My children, now 19 and 16 grew up there every year since 1996. The Reefs...My highest review!  Guaranteed!