Wedding Packages
At The Reefs Resort Bermuda
The Reefs Resort in Bermuda has been offering wedding packages for over 15 years. It's a small intimate hotel perched on limestone cliffs and overlooking one of Bermuda's most beautiful private pink sandy beaches. With its charming architecture and intimate style, The Reefs is a great place for a romantic wedding. The wedding plan with The Reefs should begin at least 6-9 months in advance. The hotel hosts only one wedding a day. 
Caso's Point, an outdoor wedding venue, Bermuda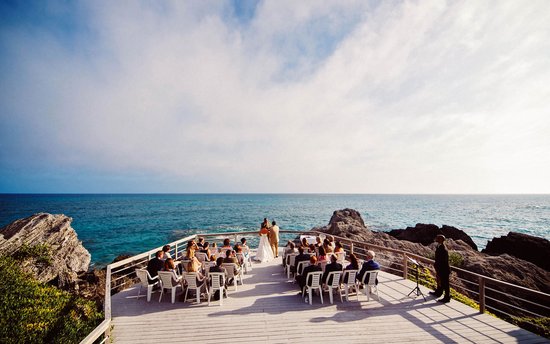 Photo: The Reefs Resort, Bermuda 
You should first begin your plans by contacting their wedding coordinator by phone or email. Once they are able to book a wedding official in the island, they can finally confirm the date and time of the wedding. At this time, The Reefs takes a non-refundable deposit of $500. During the wedding time, the couple needs to stay at the hotel. 
The hotel offers wedding packages generally for up to 12 guests. However, they can customize the package for larger parties. The package usually includes the necessary paperwork to marry in Bermuda, the ceremony with a wedding official, a bottle of champagne, the Bride's bouquet, Groom's boutonniere, and an hour with a professional photographer. 
The indicative fee to have a wedding at the hotel is $600 for a one hour ceremony and reception, and an additional $250 for each additional hour. They can also assist to make arrangements for videographer, wedding cake, flowers, reception and music. 
Wedding and Reception Venues
Caso's Point 
It's a private two-tiered deck built out over the rocks and water at the very tip of the property. To one side is the hotel with its traditional white roofs and on the other side is the beautiful beach below the deck. This dramatic deck was named after one of the guests, Larry Caso, who visited The Reefs over 125 times! Receptions are also held at this location with full bar services. 
Pricing is done on an hourly basis. There is a standard $125 bar set-up fee plus staffing. A bartender is $85 per hour and servers are $55 per hour. 
The private Beach at the Reefs 
Small weddings of 12 or fewer can be held at the private pink sandy beach of the resort. 
Beach Venue at The Reefs, Bermuda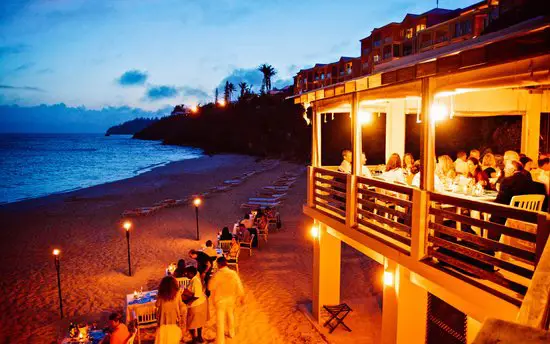 Photo: The Reefs Resort, Bermuda 
The hotel offers a number of dining venues: 
Tucked into the cliff, next to the beach is Coconuts restaurant. This open air restaurant has won several awards (including "Best Place in Bermuda to Fall in Love"). The four-course menu has a Caribbean flavor to it. The menu price is fixed – $75 per person plus 17% service charge. Capacity: up to 80 guests in dining room and up to 30 on Sand Deck. 
A buy-out of Coconuts is priced at $12,500 for the evening, which includes the four-course menu and service charge. Wine, beverages, cake etc. are additional. 
Perched high on the cliffs, it has a 180 degree ocean view with a large curved window-wall. It offers one of Bermuda's most serene and romantic fine dining experience, and features the native architectural elements of Bermudian stone and high peaked ceiling with cedar trusses. Capacity: 40 guests in the patio, 30 in the dining room. 
It offers a casual warmth of a club grille, a huge fireplace, beamed ceiling and views of the open kitchen where chefs prepare the food.  X Closed 
Dining on the Beach 
You can dine on the private beach of The Reefs Bermuda. Maximum group to dine on the beach is 16 and there is an additional charge of $45 per person for hotel guests and $118 per person for non-guests. 17% service charge is added. These prices include dinner and a glass of champagne. The Coconuts menu is offered on the beach. 
Music
Here are some of the options: string quartets, a solo violinist, guitar players, or even steel pan players to add some island flavor. Approximate rates: Solo violinist for one hour is $400. Steel Pan for an hour is $400. 
Evening Entertainment
From April to early December the hotel offers entertainment in the lounge from 9pm until midnight. They host a variety of local entertainers, including steel bands, piano players, and DJ's. They also have a small dance floor which opens onto the main terrace. 
Contacts
56 South Shore Road, Southampton SN02, Bermuda 
Phone: 800-742-2008 or (441) 238-0222 

By Raj Bhattacharya 
Raj, a seasoned travel writer and Bermuda destination expert, has extensive global travel experience. This website reflects his profound insights, garnered over nearly two decades of dedicated findings and research on the island. Raj has assisted countless Bermuda-bound visitors by providing direct, personalized responses to their queries and imparting his wealth of knowledge through this platform. This site serves as an indispensable guide for those seeking informed and reliable insights into Bermuda's treasures. 
Related Articles