Top Hotel Packages & Offers
For Weddings in Bermuda
What to expect
There are several hotels in Bermuda who offer comprehensive wedding packages and take care of all the steps necessary to organize a wedding and associated events. In fact these hotels often double up as wedding planners. Some of course have tie-ups with external private wedding planners to plan out the wedding details and also to take care of certain external logistics. 
Outdoor Wedding Venue at Hotel Hamilton Princess, Bermuda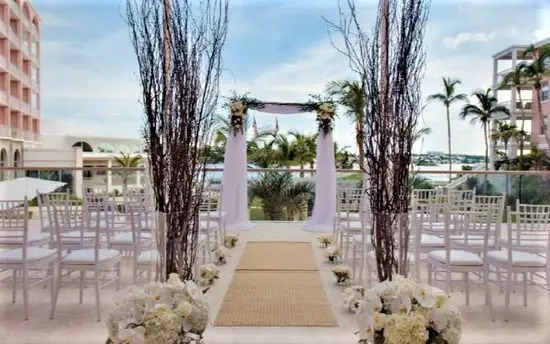 However, the hotel itself provides lodging for bride-groom and guests, food as well as the venue for wedding ceremony and reception. Several hotels offer wedding packages, which can however be personalized. 
If you are coming with a group of attendees, then you can also expect good discounts in both lodging and food. Also by virtue of their locations, several hotels can offer superb location for the wedding including their private beach, garden setting or the traditional ballroom. 
A great advantage with hotel or resort wedding is that you can have an all-inclusive wedding arrangements including wedding venue, rooms to stay, food, reception, and of course wedding flowers, cakes, music, catering, photography, support for marriage license and certificate etc all in one place. 
Top wedding packages
Here are some of the best wedding services offered by hotels in Bermuda. Visit the links for details of the packages along with contact information for booking. 
The Reefs located in Southampton on top of a cliff and having it's own private pink sandy beach, offers great wedding packages. They have priced usage of each service and facility separately and most of them by the hour so that you can exactly plan what to use and how much depending on your budget and requirement. You can work out the details with the help of their creative planner. 
Caso's Point, an outdoor wedding venue, Bermuda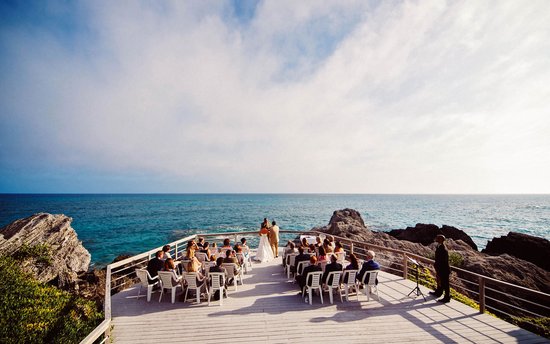 Photo: The Reefs Resort, Bermuda 
The wedding package includes assistance from a planner, paperwork for the marriage, arranging a wedding official, a bottle of champagne, photographer/ videographer, and optionally they can also arrange for wedding cake, reception including venue, food & drinks, music, flowers etc. 
X Temporarily Closed 
Elbow Beach Hotel is located in Paget parish and has its own beautiful private beach. They provide comprehensive wedding services including coordination service to arrange everything before, during and after the wedding. They offer several wedding locations including the Ocean Terrace with sweeping views of the Atlantic as well as at their private pink sandy beach. 
You may even opt to say "I do" under the moongate in the premises. According to legend, moongate brings good fortune and happiness to newlyweds. 
X Temporarily Closed 
This luxury hotel is perched on a hilltop with magnificent views of the south shore and with its own 18-hole golf course. The hotel has specialist planners and can hold a wedding with a small party size to as large as 1500 in its wide range of indoor and outdoor wedding venues. 
You can choose from a wide range of venues including Fairmont Beach and Terrace with a private beach on south shore located next to Horseshoe Bay Beach, lawn overlooking Great Sound water area, manicured gardens of historic Waterlot Inn, Pool Gallery which is an elevated curved terrace overlooking the golf course and the ocean, the poolside, ballroom etc. 
The Poinciana Ballroom features glittering chandeliers. It can be split into three rooms. There is also the adjoining Poinciana Foyer which can also be used for reception. 
Other than rooms and catering, some of the main wedding services here includes arrangement of wedding flowers, wedding music, wedding photographers, license requirements, wedding cakes which you can customize along with the pastry chef, wedding spa etc. 
Below are the reception capacities of the various venues in the hotel: 
Poinciana Ballroom: 1500; Gardenia: 400; Mid-Ocean Amphteater: 800; Bermudiana Boardroom: 45; Mezzanine Rooms (6): 45; Great Sound Lawn: 800; Beach (without terrace): 1500; Pool Gallery: 100. There are few other small venues. 
Located in Hamilton, this luxury hotel too is managed by Fairmont group and offers similar wedding services like Fairmont Southampton. However the difference is in venues. The new private beach club at Sinky Bay on south shore is an exceptionally great location for beach wedding. Other venues include the Flagpole Terrace with wonderful view of the harbor, Regency Terrace in garden setting with lovely view of the harbor, ballrooms etc. Below are all the options... 
If you prefer a smaller wedding, then Pitts Bay Point is a great location. It's right on the water edge and becomes even more dreamy during the sunset. And for indoor wedding, the private dining rooms at their celebrity restaurant Marcus with stunning view of Hamilton harbor is a perfect venue. And for a grand celebration, choose the Trudeau Ballroom... arguably Bermuda's most beautiful ballroom with an adjoining terrace overlooking the harbor which further adds to its splendor. 
Since opening of the hotel in 1885, two venues here have been island's favorites as wedding venues... the Regency Terrace and the Harbourview Ballroom, both overlooking the harbor. As a solemn tradition of the island, the newly weds walk through Moongates which is believed to bring in love and everlasting happiness in the relationship. Hamilton Princess has its own Moongate at Flagpole Terrace for couples to fulfil that wish. The moongate is lighted at nights. 
Lighted moongate at Hamilton Princess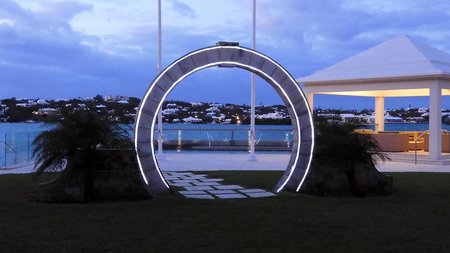 Photo: Kansasphoto/flickr, cc by 2.0 
Other than offering rooms, a range of wedding venues and creative planners to work with you on your wedding plans, the hotel also offers wedding cakes that are made to your choice by its pastry chefs, canapés for elegant cocktail reception, grand seafood buffet or a full sit-down dinner etc. Additionally the hotel offers customized spa packages for weddings. They offer 25% discount on all spa therapies that are scheduled for the bride and 10% to all members of the wedding party. 
Below are reception capacity of each of the venues at Hamilton Princess: 
Harbourview Ballroom: 1000; Trudeau Ballroom: 200; The Princess Ballrooms (all rooms combined, there are several of them): 500; Regency Terrace: 350; Flagpole Terrace: 180; Marina: 160; Marcus Restaurant: 200; Marcus Private Dining Room: 40; 1609 Bar: 150; Beach Club (Sinky Bay Beach): 300; Beach Club (Bridal Vista): 50; Beach Club (The Plateau): 700. 
Note: Backup indoor arrangement will be required for outdoor venues in case of inclement weather. 
Rosedon is a lovely boutique property located at a walking distance from Hamilton city center and nestled in a charming and intimate tropical garden settings, and has a pool. They offer wedding packages but can also personalize it as per your requirements. 
The basic package includes arranging the minister for conducting the marriage, paying registrar's fees, getting the marriage license, coordinating the issuance of marriage certificate, making all floral arrangement for the wedding, wedding cake, champagne etc. The indicative cost for this is $1,500. 
Wedding reception charge is additional as that depends on number of guests. The reception and the wedding ceremony are usually held at the garden or at the front porch. You can also ask for the additional services at extra cost such as music and dance arrangement, photography (including video), bar arrangements, hair-dresser, horse drawn carriage, other entertainment etc. Visit the link above
l
to know about the hotel and its facilities including contact information. 
This resort with several private beaches is located at the western coast of Bermuda. The resort boasts of offering comprehensive wedding services for two (just the couple) and making it as much intimate and successful as a wedding with a large group of attendees. 
Other than wonderful beach locations, rooms and food, the hotel offers a wedding package for two known as 'Happily Ever After' which includes professional wedding planner personalizing the details of the occasion, marriage license, bringing the minister for marriage, setting up the entire ceremony, Champagne at the ceremony, rose petal turn down on wedding night, breakfast next morning served in the room. The indicative price for the package is $1,565 for a couple (this is an add-on to room charges). These services can be offered separately with larger groups. 
Note that in the above package, accommodation and other arrangements like photography, music, dance, flowers, wedding cake, dining etc are not included and would cost extra and depending on individual requirements. Note that although the hotel organizes wedding occasions for two, they also offer their wedding services which includes large groups. 
Indicative prices for the extra arrangements are given below: 
Wedding Cake: Starts from $225 + 17% gratuity (1 tier cake; serves up to 10 people) 
Photographer: Starts from $600 per hour + 15% gratuity 
Musician at Ceremony: Starts from $250 per hour for a solo cellist, violinist etc + 15% gratuity 
Flowers: Starts from $200 for a bridal bouquet; $15 for a boutonniere + 15% gratuity 
Candlelight Dinner: $400 (BP); $275 (MAP) + 17% gratuity 
Resort fee: 10% of the goods and services rendered by outside vendors. 
Other than offering great choice of wedding and reception locations (like private beach with barbecue, poolside venue, section of golf course, terrace with magnificent views of water and golf course, ballroom etc), the hotel has tie-ups with several local and international wedding planners to work on every possible details. And if your occasion qualifies, then you can even receive an invitation for 2-nights complimentary honeymoon getaway which includes a romantic dinner, special welcome, complimentary breakfast served in the room, champagne etc. 
While the resort offers rooms, cuisine and locations within the property (including terrace with Hamilton harbor views or lawn with view of its lush golf course), they work through local wedding planners for most other requirements for the wedding. The property is located on Harbor road in Paget parish and overlooking the Hamilton harbor. 
This hotel enjoys one of the best locations on the south shore and has its own private beach. While the staff take care of all the details and are very friendly, the family that own the resort also stays in the premises which helps in ensuring everything falls in place at the right time. Other than lovely beachside venue, you can also use their restaurant with wonderful ocean view for the wedding reception. Check the above link for details.  
Related Articles