Newstead Belmont Hills Golf Resort & Spa
Category: $$$$   Location : Paget Parish 
Opened in April 2008, Newstead Belmont Hills Golf Resort and Spa is one of the newest and greatest luxury hotels in Bermuda. Located in Paget parish and overlooking the Hamilton Harbor, the hotel offers 45 great units of suites and studios with modern amenities. 
The hotel is owned by the owner of Belmont Hills Golf Course. If you happen to be a golfer, all your golfing needs can be easily taken care of by the hotel.  
So, how are the rooms in Newstead Belmont Hills? There are 45 one, two and three-bedroom suites and studios. Each unit has a private balcony with great views from the garden to the infinity pool and to Hamilton Harbor. The units also have full-function kitchen, luxury bathroom and a living area. 
Newstead Belmont Hills Hotel Bermuda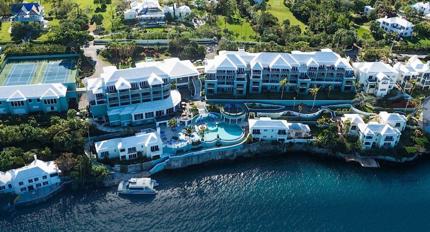 Photo: Newstead Belmont 
Here are the different units in Newstead: 
Studios: 450 sq. ft. with a king size bed or two double beds 
1-bedroom suites: 900-1100 sq. ft. with one King size bed 
2-bedroom suites: 1500-1700 sq. ft. with one sleeper sofa, one King size bed and two double beds 
3-bedroom suites: 2,500 sq. ft. with one sleeper sofa, one King size bed and two Queen size beds 
The rooms are quite spacious. They have great hardwood floors and are nicely equipped with closets, a large dresser with plenty of storage, iron and ironing board, extra pillows and blankets, coffee and tea maker, a small refrigerator, umbrella, a room safe, TV, phone, and a desk with chairs. There are chairs and a table on the balcony as well. 
Deluxe Bedroom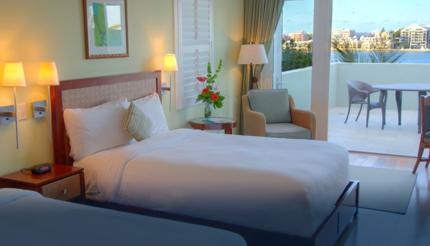 Photo: Newstead Belmont 
The tiled bathrooms are big, clean and well equipped with lots of white towels, a hair dryer, nice bathrobes, and toiletries. As you see in the picture, the partition between the bathroom and the bedroom is of glass with huge wooden blinds. 
You may think that this may interfere with the bathroom privacy a bit. Actually it doesn't if you close the blinds. On the other hand you have the option of opening the blinds, enjoy your bath, soaking into the hot tub while having a great view through the open blinds and out through the balcony :-) 
Bathroom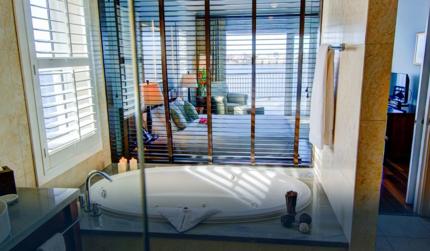 Photo: Newstead Belmont 
Facilities
The hotel offers a free private ferry (or a water shuttle) that runs between the hotel and the Hamilton City. However, there are fixed timings. It runs every 20 minutes on Monday through Friday 7:20 a.m. to 11:20 a.m. and 5:20 p.m. to 6:40 p.m., and Saturday 9:00 a.m. to 12:00 p.m. It takes only five minutes to reach Hamilton City from the hotel. 
You can also avail the public ferry service from the ferry stop as well and have access to other important places in Bermuda including the Dockyard at the west end. 
There is also a free beach shuttle provided by the hotel that runs during the high season from April 16 to October 31. 
Access to 18 hole Belmont Hills Golf Course - This golf course is in Warwick parish and the hotel provides a shuttle to take you to the course and back. One complimentary round of golf along with transport and club services is offered to the guests (subject to availability of Tee time). 
There are two excellent restaurants in the facility: 
1)
Beau Rivage
– This is a French restaurant and overlooks the Hamilton harbor. You get great views from every table. Don't miss the sunset. The restaurant offers great vegetarian and non-vegetarian creative food, and the award-winning chef Jean Claude prepares them. You can book the Chef's Table to witness the creative dishes being prepared in the kitchen. Reservations: (441) 232-8686 
2)
Blu Bar and grill
: The restaurant is located at the Belmont Hills Golf Course at Warwick. You can take the hotel shuttle to access Blu. The restaurant is known for fresh and innovative cuisine including brick oven pizzas, sushi, great steak and seafood. Blu was recently awarded the Bermuda Gold award for the best restaurant in Bermuda, and picked as one of the 100 best restaurants in the world by Condé Nast Traveler magazine. Reservations: (441) 232-2323 
Infinity Swimming Pool: Overlooking Hamilton Harbor, the pool area is surrounded by a great sunbathing deck. 
Fitness Room: Located next to the Samadhi Spa, the fitness room has treadmills, elliptical, stationary bikes, free weights and universal machines. Open 24 hours a day. 
Tennis Courts: The Newstead offers two well-tended tennis courts. 
There is free high-speed wired and wireless internet connectivity in all rooms and all throughout the resort. 
There is a Hair Salon and a Business Center. 
The hotel organizes events like private parties, wedding ceremony, golf outings etc. 
The hotel also offers a fractional ownership scheme. 
The only negative of this hotel is - it does not have a beach nearby. The closest beach is about 10 minutes by cab. So if you can live with that, this is a great hotel in Bermuda. 
Update October 2014: Newstead Belmont Hill has recently had a change in ownership. It has been purchased by New York based businessman Larry Doyle who has also indicated to make upgrades to the property. 
Newstead Belmont Hill Timeshares
The Newstead Belmont Hills offers fractional ownership or timeshares schemes. Under the shared ownership program, you can purchase a 1/6th deeded, fully transferable vacation property in one of the 45 suites. You get eight weeks of vacation usage per year as per the agreement, two weeks at a time. 
As an owner, while you can enjoy and have access to most of the hotel facilities and services, there are some special services extended as well including: 
They will stock your preferred grocery in your refrigerator when you arrive 
Your personal items that you had left behind, would be placed in your rooms 
Tee time bookings will be done and the clubs cleaned up 
Access to the exclusive Owners' Lounge 
Preferential service from Belmont Hills golf pros 
Membership in the Belmont Hills Golf Club 
Rates provided by booking.com 
Location and Contacts
Address:  27 Harbor Road, Paget Parish, Bermuda. Phone: (441)236-6060 
The property has a ferry dock at its premises. The Pink route ferries provide easy connections to Hamilton city and several other ferry docks in Paget and Warwick parishes. 
Road Map 
Related Articles
2) Check out
Paget Parish
to know about all the hotels, restaurants, attractions and activities in the parish. 
Visitors' Reviews and Comments
Eric Macklin (April 2018) 
Was the Belmont Hill Hotel & Golf Club torn down or converted to something else?? I used two stay there with two doctors who had served with the Canadian navy during WWII at the King George Hospital. 
Raj (bermuda-attractions.com) April 2018 
It is now the 'Newstead Belmont Hill Golf Resort & Spa' 
Nancy Mcguirk (2013) 
Just returned from a 4 day stay at Newstead Belmont Hills. Unfortunately, my 32 stay in Bermuda leaves me with a very heavy heart. I expected the people at the hotel to be just as warm and hospitable as the "old Bermuda". 
People were polite but very business like. Being guest on the breakfast plan limited what you were offered for breakfast (same menu everyday - very boring). The ferry hours were not convenient for shopping in Hamilton. 
Not being golf guest you had to "pay" to get to the restaurant at the Belmont (this was not indicated in any of the information sent to us about the hotel). Taxi to the Belmont restaurant and breakfast plan, were false information given by the hotel. It is sad to see what the hotel business is doing to the tourist who love and wish to return to Bermuda.