Beau Rivage Restaurant Bermuda
$$, French 
Located in Paget and part of
Newstead Belmont Hills Hotel
, Beau Rivage is one of the few restaurants in Bermuda preparing authentic French dishes. The restaurant has an awesome view of the
Hamilton harbor
from all the tables. There is also open air al fresco dining provision. 
You can watch the lights in the harbor and boats passing by as you dine. And beyond the harbor you can see the city-line of Hamilton.
View of sunset
is wonderful. 
There is also a special table for 10 that is located in the chef's kitchen. You can witness the creative dishes being prepared in front of you. The restaurant serves breakfast, lunch and dinner on all days, and on Sundays, excellent Brunch. 
Some of the popular dishes in the restaurant includes the beef wellington, veal preparations, rockfish special etc. The menu is quite exhaustive and includes dishes like frog legs, lobster ravioli and others. In soups and appetizers some of the nice selections are Bermuda fish chowder, or beef tenderloin carpaccio, blue crab with avocado, smoked salmon etc. 
Vegetarians too have nice choices here like grilled garden vegetables with goat cheese terrine. 
Harbor View from Beau Rivage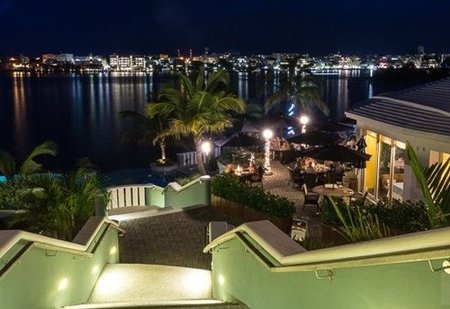 Several different types of salads are also available, one of the best is Macadamia chicken salad. In main courses some of the favorites here are catch of the day, honey deep fried chicken, or grilled strip loin. Pastas, sandwiches and wraps are also served. Dessert menu is quite nice as well. 
Try out the triple chocolate mousse & brownie with fresh berries, or one of the items like French soufflé, chocolate fondant, creme brulee, banana split ice cream Sunday. 
You also get a wide selection of French wine in the restaurant.  
Sanzibar - a Tapas & Burger Bar has been opened recently on the same level of the restaurant. Here you can try out one from 15 different types of burgers including a special one and also meat Tapas items. Cocktails are also available here. 
Open Hours
Daily from 7am - 11pm; Sunday Brunch: 11:30am - 3pm 
Sanzibar (Tapas & Burgers): Daily 6pm - 11pm 
Location and Contact
Phone: 441/232-8686 
There is a ferry dock right at the premises of the property. The Pink Route ferries stop here and offer convenient connections to Hamilton and several other ferry docks at Paget and Warwick. 
Raj Bhattacharya
Raj is an avid traveler and a full-time travel blogger. He has been travelling all across the world since decades. His mission here is to help viewers like you visiting Bermuda or seeking insights into matters related to Bermuda with the most comprehensive content compared to any other resources. Since years now he has been helping countless viewers by posting quality articles on this website, answering questions and sharing experiences. Launched in 2008, this website is Bermuda's leading source of online information since many years. 
Related Articles
1) Check out
Restaurants in Paget
know about all the great restaurants & bars in and around Paget parish. 
Visitors' Reviews & Comments
Review and share your experience.