Beau Rivage Restaurant Bermuda
$$, French 
The Restaurant and Ambience
Located in Paget and part of
Newstead Belmont Hills Hotel
, Beau Rivage is one of the few restaurants in Bermuda preparing authentic French dishes. The restaurant has an awesome view of the
Hamilton harbor
from all the tables. There is also open air al fresco dining provision on the terrace. You can watch the lights in the harbor and boats passing by as you dine. And beyond the harbor you can see the city-line of Hamilton.
View of sunset
is wonderful. 
There is also a special table for 10 that is located in the chef's kitchen. You can witness the creative dishes being prepared in front of you. The restaurant serves breakfast, lunch and dinner on all days, and on Sundays, excellent Brunch. 
Harbor View from Beau Rivage Terrace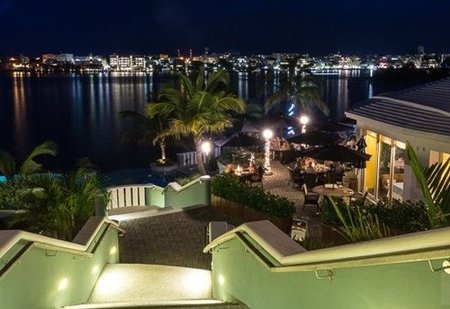 Photo: Beau Rivage 
Food and Drinks
The award winning Head Chef Jean Claude Garzia and his team present classic French dishes wonderfully melded with local produce.  The chef is a genius with flavors and makes it a point to keep the freshness of his proteins unhidden. His attention to detail, exceptional taste and outstanding service are all evident in the meals served. 
Some of the popular dishes in the restaurant includes the beef wellington, veal preparations, rockfish special etc. The menu is quite exhaustive, well crafted and has dishes that will appeal to every palate. It includes dishes like frog legs, lobster ravioli and others. In soups and appetizers some of the nice selections are Bermuda fish chowder, or beef tenderloin carpaccio, blue crab with avocado, smoked salmon etc. We had once tried out the freshly made Faux Gras that had been flavored with sauterne and served with a wonderful marmalade and balsamic reduction along with brioche toast. We thoroughly enjoyed that with a glass of sauterne. 
Vegetarians too have nice choices here like grilled garden vegetables with goat cheese terrine. If you are looking for vegan or gluten free options, they can make that for you too.  
Several different types of salads are also available, one of the best is Macadamia chicken salad. Shrimp salad too is presented beautifully and with a number of sauces to uplift the taste. We had the Fettuccine appetizer and followed it with the luscious Beef Wellington (this is a very popular and well loved dish here and a must-try). It made for a wonderful combination. The Spring rolls are delicious too and portions large. 
Duck Breast and Fillet Mignon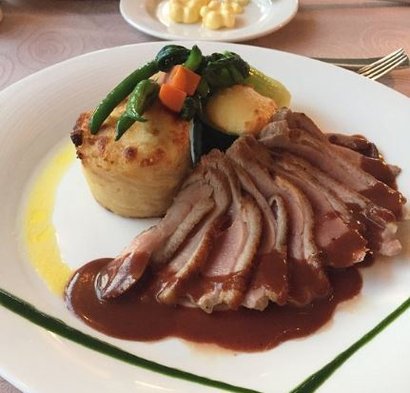 In main courses some of the favorites here are catch of the day, honey deep fried chicken, chicken piccata, rack of lamb and grilled strip loin. The chef makes the effort to get his fish fresh from the sea every day. The  Lobster ravioli and the pan seared scallops too are amazing. The latter comes rich in a lemon cream sauce with a medley of freshly prepared vegetables and tastes lovely with a nice glass of Sancerre. The Surf n Turf is great too, very French with an island twist. Pastas, sandwiches and wraps are also served in the restaurant. 
When you are at the hands of a decorated French chef, you ought to save room for dessert. The chocolate fondant with raspberry sorbet is magnificent. The Dark n Stormy cheesecake is another absolutely delectable item on the menu. You can also try out the triple chocolate mousse and brownie with fresh berries, or one of the items like French soufflé (the nightly soufflés vary), creme brulee, banana split ice cream Sunday. 
You also get a wide selection of French wine in the restaurant.  
Zanzibar - a Tapas and Burger Bar has been opened recently on the same level of the restaurant. Here you can try out one from 15 different types of burgers including a special one and also meat Tapas items. Cocktails are also available here. 
Service
Service is attentive and pleasant without being intrusive. The chef sometimes comes to your table for a quick chat maintaining the balance between cheerful informality and efficient service. He also invites guests into his kitchen and it's quite a sight as you watch them prepare your meals! They keep the atmosphere relaxed and you are not made to feel rushed with your courses. 
Trivia
If possible, reserve and experience the Chef's table (reservation required 48 hours prior). They offer a five course experience dining right in the kitchen with the meal perfectly prepared and artistically presented by the executive chef and his team. Each dish is served and explained by the chef. It is offered to as many as twelve guests at a time. So if you are willing to spend the extra dollar, this is highly recommended as it makes for a world class experience. It's great for special occasions. Friday nights are especially nice here. 
Conclusion
It is not very often that you get an elegant combination of great decor, view, service and food presentation. So relinquish the generic and experience something different. Check out this lovely little gem for an exquisite panoramic view of Hamilton across the water. Sit out on the terrace for the best sunset views and enjoy an evening of fine dining, fun cocktails and dinner. Dishes are finely prepared and presented in keeping with delicate French tastes and art. The internationally recognized chef here prepares his meals with the utmost care and freshness to make you want to come back for more. 
Open Hours
Daily from 7am - 11pm; Sunday Brunch: 11:30am - 3pm 
Breakfast: 7am-10.30am, Lunch: 11.30am-3pm, Dinner: 6pm-11pm 
Zanzibar (Tapas and Burgers): Daily 6pm - 11pm 
Indicative Costs
Chef's Table 
5 Courses: $125 per person 
7 Courses: $175 per person 
9 Courses: $250 per person 
Wine is not included in the per person cost.   
Breakfast 
Continental: $19, American: $28 
Waffles/toasts/croissants: $3-$14 
Eggs: $9-$14, Beverages: $3-$6 
Lunch and Dinner 
Appetizers: $14-$28, Soups and Salads: $12-$30, Main course: $32-$52 
Sandwiches and wraps (for lunch): $14-$18 
Desserts: $12-$18 
Location and Contact
Road Map 
There is a ferry dock right at the premises of the property. The Pink Route ferries stop here and offer convenient connections to Hamilton and several other ferry docks at Paget and Warwick. 
Related Articles
1) Check out
Restaurants in Paget
know about all the great restaurants and bars in and around Paget parish. 
Visitors' Reviews and Comments
Review and share your experience.