Belmont Hills Golf Club
Located in Warwick Parish, Belmont Hills Golf Club, a 18 holes, 6017 yards, par 70 course was earlier known as the Belmont Golf & Country Club. This golf course was originally designed by Deveraux Emmett way back in 1924. It was then part of the Belmont Hotel, which is now completely defunct.  
Subsequently, this golf course was renamed as the Belmont Hills Golf Club. The course was completely redesigned and renovated by Algie M. Pulley Jr. in 2002 and reopened in 2003. It is now part of the hotel Newstead Belmont Hills Resort and Spa. One of the key features of the course is its number of water hazards. In Bermuda this is a rare feature because of the lack of natural lakes and ponds. 
There is a lake with over a million gallon capacity located between holes 2, 7 & 8. The course has now become much faster with use of Tiff-Eagle greens and also more attractive with the lakes. Excellent views of Hamilton Harbor, the Great Sound water area, and tropical landscaping also add to the new course's appeal. The course offers bunkers, multi-tiered greens and lovely fairways. 17th and 18th holes particularly offer excellent scenic settings. Automatic irrigation keeps the course in top condition. Belmont Hills Golf Course features Bermuda's only double green (14,000 sq. ft. area).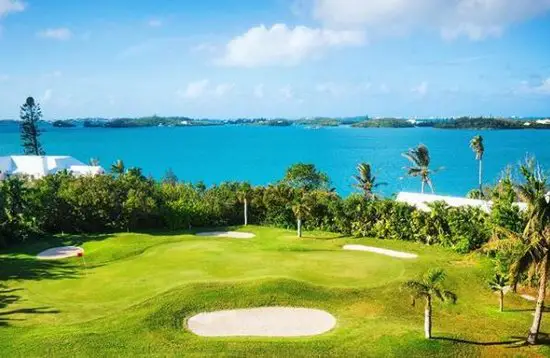 Facilities include
Golf Season: Year round 
Rental clubs available 
Rental carts available 
Resident Golf Pro 
Bar & Restaurant 
Pro Shop selling Polo T-shirts, golf balls and other items. 
Credit cards accepted 
Update January 2016: Renovation and upgrade work has started in Belmont Hills Golf Club to revamp the lounge/bar with increased capacity and to introduce a new pro shop. New facilities to come into effect in mid-August 2016. 
Tee Time Booking & Inquiry
While this is a private club run on membership, they usually accept visitors. But you need to book well in advance. Call 441/236-6867 for reservations.  
Golf in Bermuda can be quite expensive. However, depending on the time of the year, rates vary. Check out the late afternoon (sun set) Tee time rates. That should be quite lower compared to the morning times. Golf in Bermuda is a formal sports. So come wearing collard shirts, Bermuda type shorts and soft spiked golf shoes. 
Location
25 Belmont Hills Drive, Warwick, Bermuda. Phone: (441) 236-6400  
From the city of Hamilton, Belmont Hills Golf Club is about 4 miles away to the west. You can come close to the golf course by bus #8. But you can't carry your own clubs if you plan to come by bus. Take a taxi otherwise. 
Road Map 
Raj Bhattacharya
Raj is an avid traveler and a full-time travel blogger. He has traveled to numerous countries across the world and loves to keep travelling. His mission here is to help viewers like you visiting Bermuda or seeking insights into related matters with the most comprehensive content. Since years now he has been helping countless viewers by posting quality articles on this website, answering questions and sharing experiences. Launched in 2008, this website is Bermuda's leading source of online information since many years. 
Related Articles
1)
Bermuda Golf
: Know about all other golf courses and clubs in Bermuda. 
Visitors' Reviews & Comments
Guy Oliver (January 2015) 
Love this course. Will be back there again on Feb 13th for the Eighth Annual Alan Oliver Youthnet Golf Tournament. Great to see so many friends there again. Cannot wait.  
Paul Ballon (May 2014) 
We will be on a cruise and have played there many times while staying on the island. Looking at cost and tee time for June 5th (our anniversary) for my wife and I. Played there year before last when we stayed at the Newstead resort. Can you give me idea of cost? Thank you 
Raj (bermuda-attractions.com, May 2014) 
Hi, Published daily Green fee at Belmont Hills Golf Club is $110, cart fee $35, Clubs rental fee $45-$60 etc. 
Emmett Sewell (April 2013) 
My friend and I have a tee time for 12 o'clock at Belmont golf course, would it be practical to take a blue line ferry to Hamilton city and then take the Pink line to Belmont ferry, since we have to transport our own golf clubs and you cannot take clubs on the bus, thank you. 
Raj (bermuda-attractions.com, April 2013) 
Hi, Best is to take a taxi and ask the driver to come and pick you at a fixed time. The Golf Club staff can also organize a taxi for you. Ferry option you mentioned is doable but there are few points to note: 
1) If you plan to use a bus/ferry pass ... then you must buy the pass which is valid for Pink route as well (it is costlier). A normal pass is not valid for pink route ferry. Other option is to buy tokens or tickets at the ferry points. 
2) You should be prepared to walk for several minutes from Belmont Ferry to the club and back with your clubs.