Blu Bar & Grill Bermuda
$$$, American &  South-Western Cuisine 
Located at an excellent spot on Middle Road, Warwick parish, Blu Bar & Grill Bermuda has a great view of the
Belmont Hill Golf Course
and beyond to the sea. Specializing in American and Southwestern cuisine, Blu got the best newcomer award in 2006. Blu was recently awarded the Bermuda Gold award for the best restaurant in Bermuda, and picked as one of the 100 best restaurants in the world by Condé Nast Traveler magazine. 
So what are those favorites at Blu Bar & Grill Bermuda? You get all the standard American cuisine, including steaks and ribs. First time we were quite surprised that the chef here generously added bold flavors with lots of exotic herbs and spices. If you are not prepared for that, you may like to point that out at the time of your order. Reserve table no.1, the views are awesome and no tables would be in front to block the views. 
We also indulge into a wide variety of fresh seafood. Fish chowder with lobster, Yellow-fin tuna, rockfish, snapper and Wahoo are some of our favorites. Here are the other great dishes at Blu Bar & Grill Bermuda that you can choose from: 
Blu Bar & Grill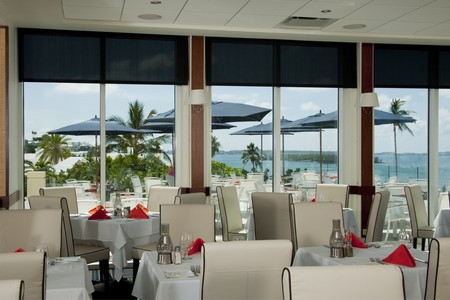 Photo: Blu Bar & Grill 
Spanish meat and seafood paella; organic bourbon-infused chicken; macadamia-crusted wild salmon steaks; and Yankee-style pot roast. Fresh oysters; Cajun-style fried calamari; shrimp ceviche with jalapeño and red onion; roasted pumpkin ginger soup; Barbecued chicken quesadillas; firecracker rolls of roasted duck with rice paper noodles, tofu, and mango chili; Chili-infused pork loin with mushroom sausage stuffing and creamy polenta. 
Other great choices include pan seared salmon or grilled mixed seafood. In meat, grilled beef tenderloins and grilled BBQ beef short ribs are also quite nice, and so are pork chops and pork ribs. 
Blu also serves sushi dishes including Sashimi, Nigiri, Temaki, rolls etc. And they have great varieties of rolls (a section of the menu is full of rools) including crab, shrimp, seafood, vegetarian and lot more. Blu also serves Pizzas. Yo uwill also get some Asian dishes here like lamb Madras curry (inspired from South Indian cuisine) or Shanghai Chicken. 
There is a prominent bar here as well. They accept credit cards. Reservation is recommended. Dress code is smart casual. 
Indicative Prices 
Salads: $14-$21, Appetizers: $18-$25, Main Courses: $23 - $45. 
Open Hours 
Daily 11:30am - 2:30pm, 6pm - 10:30pm 
Location and Contact 
97 Middle Road, Warwick Parish.  
Phone: 441/232-2323 for reservation.  
Bus route: #7 (operating between Hamilton and Dockyard) 
Road Map 
Raj Bhattacharya
Raj is an avid traveler and a full-time travel blogger. He has traveled to numerous countries across the world and loves to keep travelling. His mission here is to help viewers like you visiting Bermuda or seeking insights into related matters with the most comprehensive content compared to any other online resources. Since years now he has been helping countless viewers by posting quality articles on this website, answering questions and sharing experiences. Launched in 2008, this website is Bermuda's leading source of online information since many years. 
Related Articles
4) Check out
Warwick Parish
to know about the parish including all its attractions, activities, hotels and other information. 
Visitors' Reviews & Comments
Review and share your experience.