Fourways Restaurant
$$$, French Cuisine 
The Restaurant and Ambience
Located in Paget parish and overlooking the
Hamilton Harbor
, Fourways Inn restaurant is one of the grande dames of the island's fine dining venues, set up beautifully in an 18th century manor house. The restaurant is part of the
Fourways Inn Hotel
and is one of Bermuda's oldest restaurants. It is an upscale restaurant and on the more expensive side. However it would be well worth both your time and treasure! 
It is a fine dining restaurant and specializes in southern French cuisine although the menu accommodates other continental dishes as well. There is a wonderful glass covered balcony. If you have a quiet, gracious, elegant, romantic place in mind, this is the place to go. You can spend a romantic evening here or even one with your family and older children who appreciate good food. It is actually like stepping back in time where elegant dining was slow, elegant and classy! 
Fourways Dining Room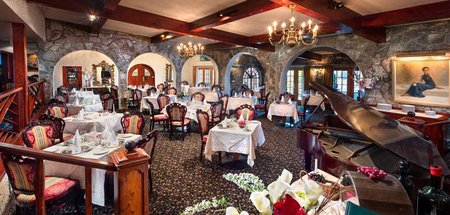 Source: Fourways 
The interior of the restaurant is made of cedar and coral stones. With burgundy color carpets, silver and crystal tables with white tablecloths, and soft candlelight, it creates a great romantic ambience almost like a fabulous old Bermuda home with an open beam ceiling. There is pianist who adds to the wonderful atmosphere of the restaurant (and yes you are allowed to pass your request to him, he is ready to accommodate you!). Take some time to imbibe the scene, ambience and soft music  playing in the background. It is especially good for those special celebrations. 
Service
The charming ambience is further enhanced by the impeccable service of the wait staff here who take great care of you and give you a memorable dining experience. The service is very pleasant, friendly and well trained too. You will find them following all the serving etiquette to the tee like placing and removing dishes from the correct side, refolding napkins on one's run to the restroom etc. 
The Food and Specialties
The preparation and presentation of food here is gourmet style. You can also choose to dine in the open air in the lovely Palm Garden which has a rock pond, palm trees and lots of other plantation all around. However, this restaurant often gets filled up and you might need to wait a while to be seated. 
For starters you can try one of their specials Yellow Tail Snapper Tartare which is excellent. The Fourways Sampler is also a great choice for an appetizer. It is a combination of Maine Lobster, avocado, cherry tomato, mango, aged balsamic, lobster oil, yellowtail tartare, American caviar, red pepper coulis, parmigiano shavings and much more. It is a great dish to start with and is wonderfully presented as well. You can try the flavorful lobster bisque and the special veal chops too. Both are excellent. The Caesar salad prepared table side adds to its appeal and is quite nice. 
They have an elaborate menu with both cold and hot appetizers. While the salads come under the cold part of it, you will find soups, escargots and traditional Bermuda fish chowder under the hot section. For the main course a spiny lobster or even the Veal Classic is an excellent choice. This escalope de veau tenderloin in Lemon and Lime butter nearly melts in your mouth. It is accompanied with potatoes and vegetables which are exceptional themselves. If you enjoy your steak make sure to try their Chateaubriand which is very nice. It is in fact a restaurant Classic along with others such as the lobster (Maine or Spiny), veal and rack of lamb.  
The rack of lamb is quite popular here, carved table side with rosemary scented crust, Fresh Maine lobster served grilled along with scalloped potatoes and vegetables, or Pan seared duck breast served with foie gras and duck confit ravioli. 
The fishermen supply the days catch and the fish served here is fresh, beautifully presented and in a burst of flavors. A portion of fresh wahoo carpaccio or a fillet with peppercorn sauce is simply delicious. Pair it with some great wine and end with a mouth watering souffle, which the restaurant is well known for. Ensure you pre-order your souffles if you want them custom made as per your individual likings. You can try the Dark n Stormy souffle, a mixed berry souffle, the Grand Mariner, the blue cheese one or concoct your very own chocolate and coconut sauce souffle. No request is too much for the very accommodating staff here. Their signature chocolate and vanilla souffle is just as good if you want to keep to the tried and tested. Finish off with a flaming Irish coffee.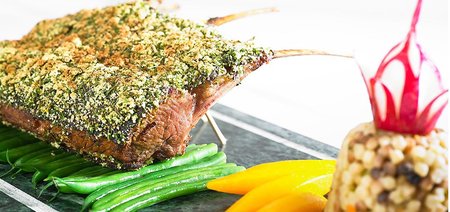 Source: Fourways 
There are a number of items for the vegetarians as well such as a green peas risotto, zucchini apricot and pistachio salad, the Burrata salad with slow roasted cherry tomatoes, Guacamole, a carrot falafel or a quinoa consisting of ratatouille, asparagus, roasted potato, red pepper and mushroom. The menu changes quite frequently though thus reflecting their use of seasonal ingredients. Herbs are picked from the garden on the property. 
Fourways Inn Restaurant is known to be one of the best places in Bermuda for a Sunday brunch having an elaborate menu. You can enjoy the brunch inside the restaurant or at the Palm Garden. They offer a huge buffet with an unbeatable variety of foods. Shrimps galore, the traditional codfish Sunday breakfast, omelettes made per your preference, fresh cut salads, pasta salads and the BBQ rack featuring the best cuts of meat and endless fish items. There is roast beef, lamb, pork, chicken rice, mac and cheese, potatoes, vegetables and soup. 
There is an array of cold and hot appetizers and main course meals as well as some outstanding desserts to accommodate all taste buds. Local dishes such as codfish cakes and cassava pie also find their way in the endless list. The sushi and the Dark and stormy Banana foster is really good. The Banana Flambe with ice cream is great for dessert. The dessert chef is also there to help you with chocolates or make the most fluff waffles to your liking. There are both local and international foods which change weekly.  It is better to get an early reservation as the place tends to get very crowded. 
There is an on-site pastry shop. The chocolate-dipped strawberries are awesome.  
The Wines
Another attraction of the Fourways Inn Restaurant is the quaint Peg Leg Bar and Lounge located in the same property. You can enjoy your cocktails sitting next to the original 18th century hearth and chimney (where the cooking used to take place) or out in the patio. The Peg Leg Bar includes a lounge, terrace, private entrance and its own waiters. 
Peg Leg Bar at Fourways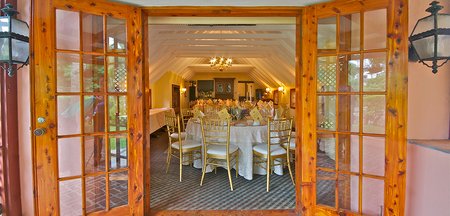 Source: Fourways 
The list of wines you get here is quite extensive and ranges from Champagne, White (Loire Valley, Italy, Germany, California, New Zealand, Burgundy) and Red (Bordeaux, Burgundy, Italy , California, Spain, New Zealand, Australia and Chile) wines along with half bottles, dessert wines and ports and House wines that you can order by the glass. 
Trivia
Restrooms are clean and in good order here. Prices here are on the higher side but at par with other fine dining restaurants in Bermuda. If you have a food allergy make the staff cognizant of the same so they can offer appropriate choices for you. The excellent service here also draws some old Bermudian families to frequent the establishment quite regularly. 
The dress code is smart elegant. Jacket and tie are preferred during dinner but optional. In fact the place is a little old school (in a good way) and you will not feel out of place if you dress up a little more than usual for dinner. However, a nice business casual works just fine too. 
Conclusion
One of the best ways to find your way around and get recommendations for the best places to visit and eat, is by asking the locals, especially the cab drivers. In Bermuda too, you will probably not find any cab driver who doesn't put in a good word for the restaurant and recommend at least one meal here. The restaurant is a great place to celebrate an intimate occasion, to make some good memories of an upscale old Bermuda dining experience with perfectly presented delectable food and spectacular wine in a cozy ambience enhanced by the very gracious and attentive host and congenial staff who go out of their way to serve you. The place exudes Bermudian charm and shows you yet another side of Bermuda that you will come to love! 
Indicative Prices
Soups and Salads range from $13.50-$24.95 respectively while traditional lobster salads can go up to $32.75. Other hot appetizers range from $18.50-$32.50 
Main Courses can go from $29 - $58.75 while the Classics $46-$59.75. 
Desserts of souffles range between $15-$18 approximately 
Vegetarian dishes range from around $18-$29 
Sunday brunch: $49.75 per person and $25 for children 10 years and under, plus gratuities 
Open Hours
Open Monday-Saturday for dinner from 6.30pm-9pm. No lunch is served. Credit cards are accepted. 
Sunday brunch is offered indoor as well as outdoor in the palm garden from 11.30am-2pm  
Location and Contact
Fourways Inn Restaurant 
1 Middle Road, Paget Parish, Bermuda 
Road Map 

By Raj Bhattacharya 
Raj, a seasoned travel writer and Bermuda destination expert, has extensive global travel experience. This website reflects his profound insights, garnered over nearly two decades of dedicated findings and research on the island. Raj has assisted countless Bermuda-bound visitors by providing direct, personalized responses to their queries and imparting his wealth of knowledge through this platform. This site serves as an indispensable guide for those seeking informed and reliable insights into Bermuda's treasures. 
Related Articles
1) Check out
Restaurants in Paget
know about all the great restaurants and bars in and around Paget parish. 
Visitors' Reviews and Comments
Share your experience.