Pompano Beach Club Bermuda
A Great Luxury Resort
Category: $$$$   Location : Southampton 
Pompano Beach Club is located on a spectacular cliff overlooking the southwest coast of Bermuda. You get breathtaking views of the ocean and sunset from the resort. Pompano is extremely popular with golfers. The
Port Royal Golf Course
designed by Robert Trent Jones is located right next to the hotel and is ranked among the top public golf courses in the world. 
The hillside villas scattered over the wonderful land area have private balcony or terrace overlooking the ocean. Deluxe rooms are located at oceanfront and have king-size beds, sitting area and spacious ceramic-tiled bathrooms (with double sinks and separate tub and shower).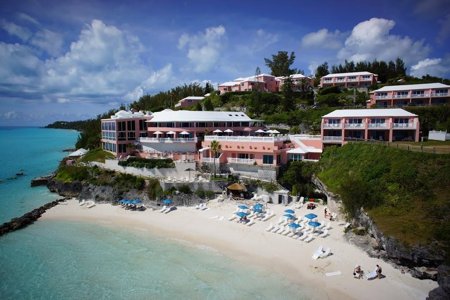 Sliding glass doors open out to a large private patio or balcony. The deluxe rooms offer great ocean views. These rooms have wet bars and showers with oversize tubs. 
During low tide, we could walk for over 400 feet into the water from the lovely private beach, and the water level was only up to chest high. Snorkeling experience here is simply fantastic due to the clear and shallow waters and is perfectly safe. Bride's magazine has called Pompano's waterfront "the best underwater beach in the world".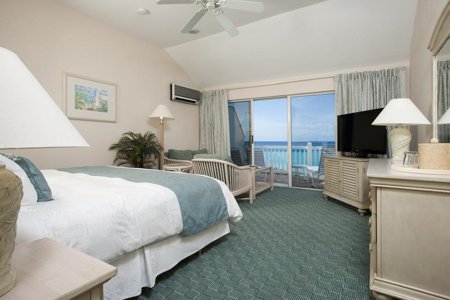 This family run resort also offers a shallow water sandbar which is the only one of its kind. Many beachgoers and others can be seen around the sandbar. Pompano Beach Club has heated fresh water pool overlooking the waterfront. 
There are three restaurants on site. All have great views of the ocean and serve International cuisine: The more formal
Cedar Room
, The bistro-style
Ocean Grill
and The casual
Coral Reef Café
. 
A team of international chefs prepare the food. If you choose modified American Meal Plan, an exchange-dining program is offered with two other great Bermuda resorts,
Cambridge Beaches
and
The Reefs
, which are also two of our top favorite luxury hotels in Bermuda.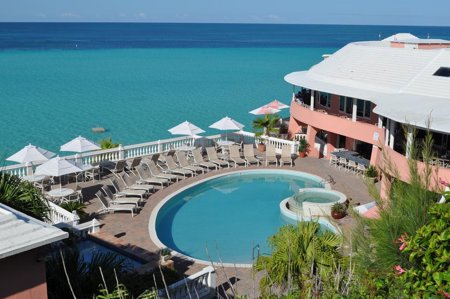 Facilities
2 restaurants; cafe, 2 bars 
Freshwater heated pool 
Access to government-owned Port Royal Golf Course  
4 all-weather tennis courts (2 lit for night play) 
ocean and poolside Jacuzzis.   
Oceanfront health club. The treatment room has a great view of the waterfront through its huge windows, offers some exotic treatments like the Moxy-Caviar Facial and the signature Cabernet Wine Bath and Massage for couples 
Free shuttle service to and from the local Rockaway ferry stop, making it easier for guests to commute back and forth from Hamilton. 
Moped rentals 
Watersports Center offers various watercraft and equipment rentals. The center is open daily between 10am to 6pm from May to October. Offerings include: 
Masks, Fins and Snorkel Gears, 
Water Tricycle and Water Pedal Bikes,  
Windsurfering Boards and Equipment ,  
Single and double Kayaks, 
Glass Bottom Kayaks for two persons,  
A-Frame Boats with Trolling Motors,  
Motorized Kayaks for two,  
Motorized Chaise Loungers,  
Hobie Cat Sailboat. 
Blue Water Divers, one of Bermuda's top scuba diving operators, is a five minute drive from Pompano. 
Rates provided by booking.com 
Indicative Rates for Watersports Rentals
Note: Hotels guests get discounted rates. Following rates are for outsiders. 
Masks, Fins and Snorkels: $6/hour 
Cobra "Explorer" Single Passenger Kayaks: $30/hour 
Non-glass Bottom Two Passenger Kayaks: $30/hour 
Kiwi 'Caribe' Two Passenger Glass Bottom Kayaks: $40/hour 
Molokini all glass (full see-though) kayaks: $60/hour 
Paddleboards: $40/hour 
Motorized "Escape and Sunkat" Chaise Loungers: $60/hour 
Hobie Cat Sailboat: $60/hour 
Location
Address: 36 Pompano Beach Road, Southampton Parish.  
Bus Routes: #7 and 8 (both routes operating between Hamilton and Dockyard). 
Contact Info
Phone: 800/343-4155 in the U.S. and Canada, or 441/234-0222 in Bermuda 
Road Map 
Related Articles
Visitors' Reviews
Jen Baldwin (October 2013) 
Raj - Blessings to you and yours...I'm Jen and have had the pleasure of visiting Bermuda twice in my life. The first in 1995, when I took my parents there for my mother's 50th birthday and then in 1998 on a cruise for my dear friends wedding. 
In '95 we stayed at Pompano Beach Club, which in my humble opinion is the only place to stay there...the owners are amazing loving individuals who embrace the culture of the island beautifully with their staff. I hope one day to bring my husband and daughter there to enjoy the beauty of the island that to this day leave me with an aching heart of the ocean. 
(formerly Jen Harvey...if you are ever around PBC, please tell Larry Lamb that Jay and Jackie Harvey's daughter sends her best!...Mom and Dad spent 8 consecutive years vacationing with PBC and always considered it heaven on earth!) 
Joyce 
Very nice place. Excellent service, small beach, sunsets were the best natural feature. We enjoyed from both our room porch and the dining room. Outside porch for all meals available and we recommend this option. Free shuttle takes you to Somerset Bridge, Rockway Ferry or nearby bus stops. Railway Trail gives a walking option to keep you off the narrow roads and is partly shaded, but sidewalks along much of Middle Road help.