Coral Reef Cafe Bermuda
$$$, International 
Setup in the
Pompano Beach Club Resort
at Southampton parish, Coral Reef Cafe is a great place to have lunch or late afternoon snacks while having a panoramic ocean view. The restaurant has a curved stretch along its length, with one side having large sliding glasses that open out to the terrace with a marvelous view of the south shore. 
You can choose to dine inside, or out in the terrace, or even by the pool side as the cafe is next to the pool. The ambience inside is absolutely relaxed and casual. This is one place in Bermuda where you can even come on your bathing suits. It is not air-conditioned though. There are large ceiling fans for the comfort. 
On one side of the restaurant, the wall has been made with glazed blue tiles with murals depicting ocean corals and reef fish. The name of the restaurant has been inspired by the large coral reefs along the shoreline right below the Pompano Beach Club. 
Coral Reef Cafe Bermuda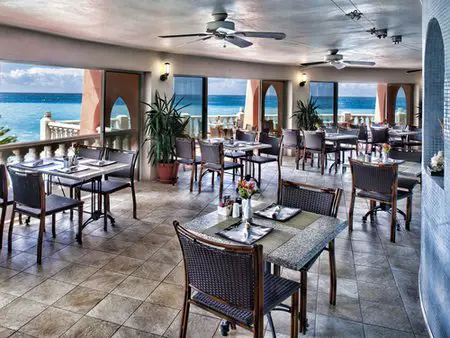 Photo: Pompano Beach Club, Bermuda 
The cafe serves snacks and lunch. The lunch menu has a number of appetizers, salads and main fares. For starters, you get good options like Bermuda Fish Chowder, chicken wings, conch fitters, smoked salmon, vegetarian nacho and such. The codfish cake salad is one of the specials here that includes homemade golden fried codfish cakes topped with a banana, black rum and raisin salsa and served with a mango sweet chili dressed island salad. 
There are other nice salads like the Garden salad or the Caesar salad. In the main fares you have a number of sandwiches and wraps to choose from including shrimp wrap, grilled chicken, roasted beef and such. My favorite is the pan-fried Wahoo fillet served with French fries, cole slaw, tartar sauce and lemon wedges. In desserts they serve New York style cheesecakes, brownie sundae and ice creams and sherbets. 
The restaurant accepts credit cards. Reservation is not required. Dress code is casual. 
Open Hours
12:00 noon until 5:00 pm 
Location and Contact
Bus routes: #7 or 8 (operating between Hamilton and Dockyard). The entrance to the hotel property is across the bus stop. 

By Raj Bhattacharya 
Raj, a seasoned travel writer and Bermuda destination expert, has extensive global travel experience. This website reflects his profound insights, garnered over nearly two decades of dedicated findings and research on the island. Raj has assisted countless Bermuda-bound visitors by providing direct, personalized responses to their queries and imparting his wealth of knowledge through this platform. This site serves as an indispensable guide for those seeking informed and reliable insights into Bermuda's treasures. 
Related Articles
Visitors' Reviews and Comments
Review and share your experience.