Cedar Room Restaurant Bermuda
$$$, International 
Setup in the
Pompano Beach Club Resort
at Southampton parish, Cedar Room has a great classy ambience for both inside and al fresco dining. Practically all tables have a wonderful view of the south shore. As the name suggests, there are
Bermuda cedar
work all around including the beams, the window frames, the chairs and the wall paneling. 
There are two huge wall murals showing the artwork of the local artist Mary Zuill and depicting Bermuda's beautiful landscapes. There is an atrium section where the wall is fully covered with plant foliage giving it a nice tropical look. The atmosphere inside is relaxed and casual. 
The Executive Chef Paul Proverbs has been in charge since 1997 and has been the key person behind the reputation of the restaurants in Pompano. His focus has been mainly on fresh ingredients including locally available fresh vegetables and herbs, and locally caught fish. The beef used is always black Angus. 
Cedar Room Bermuda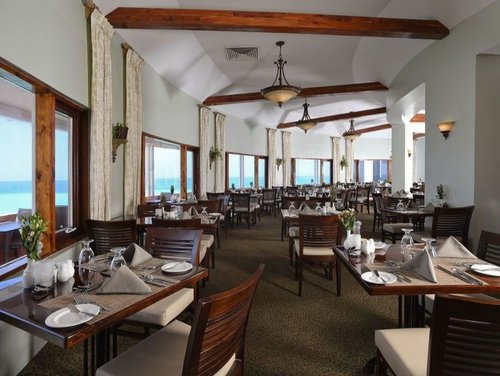 Photo: Pompano Beach Club, Bermuda 
From April to November, there is a buffet/ barbecue and the manager's rum swizzle party every Monday night. And on the other days of the week, there is a set five course dinner served by the restaurant, although you always have a choice of a-la carte menu selections. The five course dinner is available from December through March as well, but between Cedar Room and
Ocean Grill
, one of the restaurants usually operates during the off season. 
The Monday evening barbecue/buffet features fresh salads, breads and cheeses. There is a raw bar with clams, oysters, and shrimps. There would also be black Angus steaks, fresh local fish, ribs and grilled chicken cooked in front of you on a barbecue grill. 
There is usually a good selection of desserts (like the dark chocolate pyramid) served by the Swiss pastry chef Jorg Rudolf who has been around for about two decades now. 
The five-course dinner menu changes every night. There is a choice of three different appetizers, two soups, átwo salads (including fresh garden salad), and six different entrees typically consisting of a Black Angus beef, pasta, fresh fish fillet, shellfish specialty, poultry item and a veal, lamb or pork selection. There would be a number of dessert items as well. 
From the A-la Carte menu, some of the great dishes include lamb chops marinated in lavender and pink peppercorns with a port wine sauce; grilled tiger shrimp with a miso and sake glaze; New York strip steaks with black rum sauce and such. 
The menu also focuses on vegetarian and healthy dishes, and will usually include such items in each course. There is also a children's menu available. 
The restaurant accepts credit cards. Guests staying in Pompano and with Modified American Plan (MAP) that includes breakfast and dinner, will not require to make reservations. However, outside guests are required to make reservations. 
Dress code is smart casual. 
Open Hours
The Cedar Room serves dinner daily from 6:30 ľ 9:00pm 
Location and Contact
Bus routes: #7 or 8 (operating between Hamilton and Dockyard). The entrance to the hotel property is across the bus stop. 

By Raj Bhattacharya 
Raj, a seasoned travel writer and Bermuda destination expert, has extensive global travel experience. This website reflects his profound insights, garnered over nearly two decades of dedicated findings and research on the island. Raj has assisted countless Bermuda-bound visitors by providing direct, personalized responses to their queries and imparting his wealth of knowledge through this platform. This site serves as an indispensable guide for those seeking informed and reliable insights into Bermuda's treasures. 
Related Articles
Visitors' Reviews andáComments
Review and share your experience.