Ocean Grill Restaurant Bermuda
$$$, International 
Located at the
Pompano Beach Club
in Southampton Bermuda, Ocean Grill is perched on a cliff and has a sweeping view of the south shore. Out of all the restaurants that I have dined in Bermuda, this one probably has the largest of windows opening out to the ocean. The two tiered windows span from floor to ceiling and encompass three sides of the restaurant. During off season, Ocean Grill remains closed at times and the other restaurant, the
Cedar Room
operates. 
Ocean Grill has a capacity to seat 60 diners. This is a bistro style restaurant and the atmosphere is relatively casual unlike the Cedar Room which is meant for formal dining. Guests staying at the hotel and having Modified American Plan (MA) where breakfast and dinner are included in the room tariff, can dine in either of Ocean Grill or the Cedar Room. 
Ocean Grill at Pompano Bermuda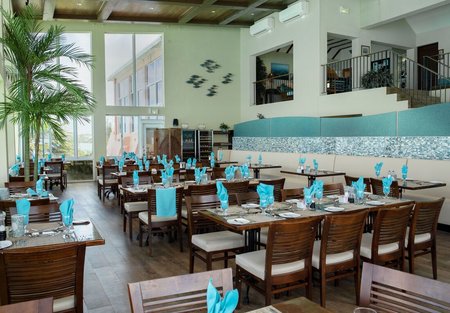 While the menu changes, there are quite a few options offered by the restaurant. In appetizers, you get nice choices like Panko Tuna, Lamb Skewers, Lobster Tempura Rolls, Smoked Pork Ribs, Tropical Fruit & Brie, Fried Calamari, Crab & Shrimp and such. For soups, Bermuda Fish Chowder is always the one to go for. You also get Watermelon & Lemongrass soups.There are a number of salads too that you can choose from. 
For the main courses, try out the Pompano Special which is beet & ginger seared Pompano fish fillet served over coconut creamed polenta, sautéed mustard greens and a loquat mango salsa with a tequila lime cream. Other great dishes include the Chicken Tikka, Rack of Lamb, Rib Eye Chop, Sea Scallops, grilled salmon and the Pork Tenderloin. 
My favorite here is the roasted garlic and manchego crusted New York Strip steak (10 oz) made from certified Angus beef served with fried potatoes, parsley sautéed cherry tomatoes and French beans. You also get Pizzas here. 
There are several dessert choices. Try out the Orange Grand Marnier Crème Brulee. 
Open Hours
Serves dinner daily from 6:30pm to 9:30pm 
There is also self-serve continental breakfast every morning from 7:00 - 10:00am.  
Location and Contact
Phone: 441/234-0222  
You can reach the restaurant by Bus #7 or 8. 
Raj Bhattacharya
Raj is an avid traveler and a full-time travel blogger. He has traveled to numerous countries across the world and loves to keep travelling. His mission here is to help viewers like you visiting Bermuda or seeking insights into related matters with the most comprehensive content compared to any other online resources. Since years now he has been helping countless viewers by posting quality articles on this website, answering questions and sharing experiences. Launched in 2008, this website is Bermuda's leading source of online information since many years. 
Related Articles
Visitors' Reviews & Comments
Review and share your experience.