Last Updated: January 9, 2017 
Fairmont Southampton Hotel Bermuda
Category: $$$$   Location: Southampton Parish 

 

Fairmont Southampton in Bermuda is one of the top luxury hotels setup on a large expanse of land and at the highest point of the island in Southampton Parish. The hotel offers stunning panoramic views of the south shore, the surrounding lush tropical gardens and its own private golf course. All rooms have wonderful views of either the Great Sound water area, the South Shore or the private golf course.  

Facilities at Fairmont Southampton include: 

 

1) A secluded private beach club with an adjoining bar and restaurant  

2) The Resort Pool - An outdoor heated pool open 24-hours. 

3) Indoor heated pool (Spa Pool) with waterfalls and gardens. Reserved for Spa Guests. But can be used by other guests with additional charge. 

 

4) Health club with state-of-the-art Cybex equipment 

5) A shopping arcade with a beauty salon 

6) Nine Restaurants and Bars 

7) Scuba diving, snorkeling, fishing and other water sports arrangements 

8) Par-3, 18-hole golf course and 6 tennis courts  

9) Moped rental 

 

The 31,000 square foot

Willow Stream Spa

facility has 15 treatment rooms. It's a great facility where you can have a simple massage or a pampering rejuvenating treatment from head to toe. Lush with the natural aroma-therapy of its tropical surroundings, this is a top class elegant spa. Fairmont Southampton Hotel Bermuda is decorated in 18th-century English style. Grand staircases connect the public rooms on the three floors. 

 

The plush luxurious rooms all have private balconies with a great view of the water. Rooms are generally spacious, with one king or two double beds. Bathrooms come with tub/shower combinations. If you can afford it, the choice rooms here are in the Fairmont Gold floor. 

 

Fairmont Southampton Hotel, Bermuda 
We had stayed once in this gold floor for 3 nights. This is like staying in a hotel within a hotel, pampering its guests to ultimate luxury. It offers an array of services from shoeshine to private check-in and check-out, complimentary continental breakfast, newspapers, and the use of a fax and VCR. 
UPDATE: The hotel has recently completed a renovation. All rooms now have upgraded facilities and features including flat screen TV, a balcony, new bedding, wall coverings and draperies. The bathrooms have also been redesigned and now have marble tiles, vanity, more fixtures and lighting. The Fairmont Southampton has also renovated its lower lobby. 
A Gold Floor Room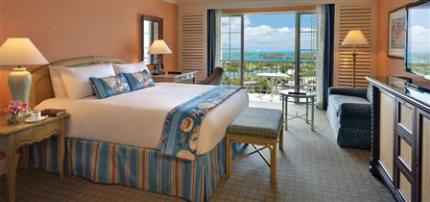 Photo: Fairmont Southampton 
There are nine restaurants in Fairmont Southampton, some of them are our great favorites. 
1)
Newport Gastropub
: British Style Pub & Restaurant. The earlier Newport Room restaurant that served French cuisine, has been recently revamped and re-invented. This has now become the first gastropub in the island that combines a traditional pub with a proper restaurant serving range of wine & beer selections with great food menu in a casual friendly ambience.  
2)
Ocean Club
: Great seafood with superb views of the ocean. The earlier
Whaler Inn
restaurant has been revamped and fully renovated to this new restaurant. It serves seafood and other dishes, nicely blending Asian and European flavors. 
3)
Waterlot Inn
: Great steaks and seafood in an old manor house. 
5)
Wickets
: A brasserie located at the lower level serving international food. You can choose to dine inside or by the poolside. The restaurant looks like a cricket club. 
6) Jasmine Lounge: Great place to relax, have a drink along with some snacks or light entries or salads, long flat pizzas, sandwiches etc, and enjoy the view of the ocean at a distance. The lounge also serves traditional British Afternoon tea. Open daily for lunch. Dress code is resort casual. 
7) Windows of the Sound: Located steps away from the main lobby, this is a breakfast room with wonderful views of the ocean. They serve full American breakfast in buffet style. On Sundays, they also serve Bermuda style Brunch. Open 7am to 11am, Sundays 11am to 2pm (for brunch). Dress - resort casual. 
8) The Dock at the Waterlot: A lovely lounge by the dockside with wonderful view of the water. A great place to view sunset as you have a cocktail and dine al fresco while the music plays on. Serves grilled fares from outdoor kitchen. Open Wednesday to Sunday from 5pm to 10pm. Dress code - resort casual. 
9) Cabana Bar & Grill: This is the private beach club and beach bar of Fairmont Southampton. You are right on the beach on a chaise or on the sand next to campfire as you have your cocktail. Open daily from 11am to 5pm. 
Fairmont Southampton offers host of amenities for families with children and special programs for kids to keep them happily engaged. Visit
Great hotels for families & kids
to get full information. 
Nightlife is a bit sedate here, and not every restaurant has a bar that's open to non-diners. Jasmine's Lounge has live music, usually a jazz combo, beginning at 8pm. 
If you enjoy a pub, try out The Cellar Club Lounge located next to the indoor swimming pool of the hotel and accessible through the mezzanine floor. This is a third party operated nightclub and gives an ambience of an old English pub with a small dance floor. 
As you enjoy a cocktail, you can dance to live music, or play pool on a custom made cherry wood table, or watch sports on plasma screens. There is a local band that performs here in the evenings. The night club is a favorite to locals on Sundays. 
Update 2013: The Cellar has closed down. There were several complaints from the hotel guests about loud late night noise. The hotel didn't want a nightclub any longer in its premises. 
Fairmont Southampton Hotel has it's own beautiful private beach, which is very close to the
Horseshoe Bay
. If you don't want to leave the premises of the hotel on a day, you can enjoy a self-contained complex within the hotel premises full of bars, restaurants, shops, and athletic facilities that are among the best in the island. 
Our favorite pool is Polynesian waterfall, with streams of heated water spilling from an artificial limestone cliff. We would swim here even during winter due to the greenhouse above.  
The hotel has trolley cars that carry the guests around the sprawling landscape of the hotel grounds. The hotel also has private buses that drop or pick up the guests at the nearest public bus stop. They also run a private ferryboat to take guests from the Waterlot Inn to their sister hotel Hamilton Princess which is also managed by Fairmont group. 
UPDATE October 2012: Fairmont Southampton Hotel has been rated the 10th top hotel in the Atlantic region by the Conde Naster Traveller Magazine readers. 
UPDATE January 2014: The hotel is on it's way for a $11.5 million renovation and upgrades of its rooms and suites. The first phase is targeted to be completed by May 2014. The renovated rooms will have new decor, fixtures and furniture including WiFi and technology enabled flat screen TVs fitted on the walls. The wifi is being extended even to the beach. 
How to get best rate & book this hotel? 
If you like to use world's no.1 online hotel booking service to book at an attractive low rate, then
Click here to Book
Location & Contact Info 
101 South Road, Southampton Parish.  
Bus stop (#8 operating between Hamilton and Dockyard) is at a short walking distance. The hotel provides a shuttle service to and from the bus stop. Hotel guests can also avail an exclusive ferry service that operate between the Waterlot Inn dock of Fairmont Southampton and the Hamilton Princess Hotel Dock at Hamilton City. 
Toll Free (US & Canada): 1 (800) 257-7544; Toll Free (International): 800 0441 1414 
Email: reservations@fairmont.com 
Road Map 
Related Articles 
Visitors' Reviews 
Share your experience.