Henry VIII Restaurant Sushi Bar and Pub
$$$, British Cuisine 
Located on the south shore in Southampton Parish, Henry VIII restaurant and bar has been in business since 1970. Henry VIII is a popular hotspot for the local community as well as for the island's visitors. It overlooks the beautiful south shore and the Boat Bay where the earlier Wyndham Resort was located. The interior offers a classic Tudor splendor. Heavy oak furniture, polished brass and light fixtures all combine to create a rustic yet elegant ambiance. 
Lunch time food essentially includes steak, kidney pie, fish-and-chips, burgers and sandwiches. You can try the Scottish Smoked Salmon and Shrimp Platter served with capers, onions and creamed horseradish with baby mixed greens and champagne vinaigrette. If you like spicy food, try out the Sri-Lankan Style Chicken Curry served with basmati rice. 
Henry VIII Restaurant and Pub, Bermuda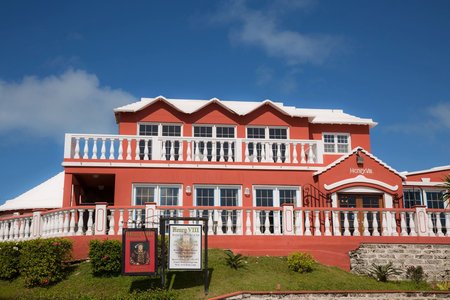 Photo: Henry VIII, Bermuda 
The dinner menu is more exhaustive and more like a traditional English mixed grill - fresh seafood, prime rib are all quite nice. Try Chateaubriand "The King's Choice" - It's a center cut fillet of beef broiled and carved tableside for two, complete with a variety of vegetables, potatoes and mushrooms, served with béarnaise sauce. 
Another favorite of ours is Red Snapper Fillet - fresh local snapper with potato crust, served on wilted spinach and cherry tomatoes, parsley butter, roasted lemon. For something lighter, try the curried vegetable strudel. Featuring local talents, Henry's offers live music, keyboard vocalists and humorists. 
Inside Dining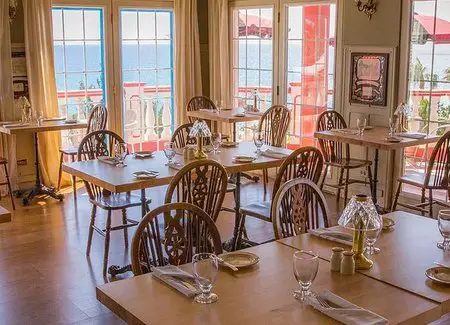 Photo: Henry VIII, Bermuda 
Current entertainment program features a line up of live jazz and live group performances throughout the month. So you can sit and enjoy great tunes by DJ Cavon, Max and Eugene or the Bermuda group- Hindsight. The entertainment takes place in Henry's Oakroom Pub. 
During the weekends, the bar can get quite crowded. Henry VIII is a popular meeting point for the expatriates working and living in Bermuda. This is where a new expat would usually come to make friends. During the summer months one can dine al fresco at the outdoor terrace and enjoy the great views of Bermuda's beautiful South Shore. Henry VIII also serves a range of Sushi dishes. The wine selections are nice. I have noted more than 100 varieties in the wine list. 
Reservations are not required, but are recommended especially for dinner during the high season and for large parties of more than 5 people. Dress code is smart casual. They accept credit cards. 
Open Hours
20 % Off on dine in Sushi on every Wednesday (dine in and take out) 
Lunch and Dinner: 12:00pm - 8.30pm (Tuesday - Sunday) 
Sushi Bar: 12:00pm - 8.30pm (Tuesday - Sunday) 
Sunday Brunch: 12:00pm - 3:00pm (Canceled until further notice) 
Entertainment Hours: 9:30pm - 1:00am (Canceled until further notice) 
Location and Contacts
Henry VIII Restaurant and Bar 
69 South Road, Southampton Parish, Bermuda 
It's quite close to Fairmont Southampton Hotel and The Reefs resorts. 
Related Articles
4) Check out
Southampton Parish
to know about the parish including all its attractions, activities, hotels and other information. 
Visitors' Reviews and Comments
Review and share your experience.