Turtle Hill Golf Course
At Fairmont Southampton
About the course
This 18-hole, 2684 yards, par 54 golf course in Southampton is owned by
Fairmont Southampton Hotel
and is located next to the hotel's compound. From the hotel, you can easily walk into the course. This is an all par-3 course (i.e. 18 par-3 holes) and one of the top five par-3 courses in the world as ranked by Golf Magazine. The course was designed by Ted Robinson and opened in 1964. 
Hole-1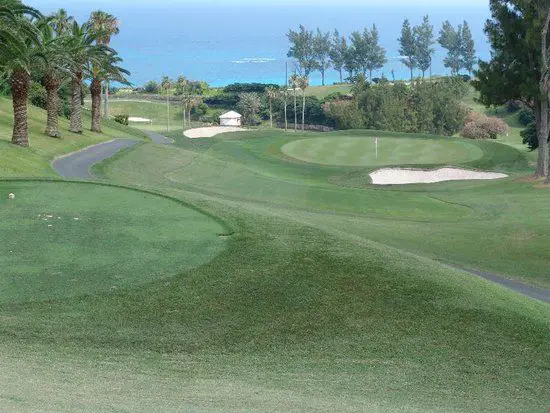 Source: Turtle Hill Golf Club, Bermuda 
Although Turtle Hill can serve as a great warm up course before you take on one of its big brothers in the island like the
Port Royal
or
Mid Ocean
championship courses, you can by no means under estimate this course because of its hilly terrain, wonderfully designed contours and great challenges in form of water hazards, bunkers and natural winds. It is known that even experienced golfers have had to use up all their clubs to negotiate this course. And an added bonus is the spectacular views of the ocean from several of its holes and greens. The fairways and greens use
Bermuda Grass
. 
Highlights
It is difficult to walk the entire course because of its drastic and frequent changes in elevations. You will need a cart for most parts. The first two holes will take you to a drop off of about 200ft and the next two holes will bring you back up to the same elevation level. Although a round of golf in Turtle Hill Course is a short game where you are expected to finish all 18 holes well within two and half hours, the changes in elevations make the course a unique one among all par-3 courses in the world. 
An important factor for consideration is the unpredictable Atlantic breeze. The course has many bunkers (sand traps) that are strategically positioned to guard the greens. There are two water hazards too. And each hole has three tee offerings so that golfers of all abilities can play. 
Hardest of all is the 4th hole which offers an elevated tee which is barely visible and has a large bunker in front. Requires a long shot, but for an inexperienced golfer, it is safer to lay up for a second shot. 
Hole-4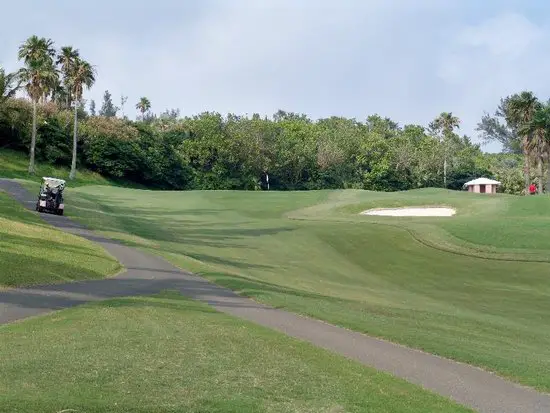 Source: Turtle Hill Golf Club, Bermuda 
Overall, the course and its fairways and greens are very well maintained. The staff including the pro Scott are very friendly and you can ask them for any assistance you need. If you feel that the course is not quite playable because of ongoing aeration or large number of groups already in the course, you can let them know and they are usually cooperative to offer you another tee time or even booking a tee time in another course such as Port Royal which too is located in Southampton. 
Tees - All Par 3 Holes
Hole-1 (152 yards): It's a downhill shot and the wind is a big factor. 
Hole-2 (185 yards): Another downhill terrain and the water body is to the left. Better play it short. 
Hole-3 (168 yards): You need to drive over the water body. It requires a longer shot than what it looks. Hit long and left rather than short or right. 
Hole-3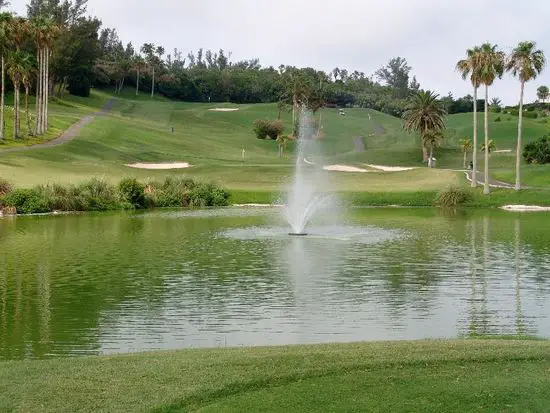 Source: Turtle Hill Golf Club, Bermuda 
Hole-4 (190 yards): Requires a long hit. The much elevated green is barely visible. This is the hardest hole in Turtle Hill Golf Course with a Stroke Index of 1 (or handicap 1). 
Hole-5 (185 yards): It's a downhill shot and there are bunkers guarding the green. Avoid the trees on the right. 
Hole-6 (115 yards): Be mindful of the strong breeze that often comes in from the left and the carry can well land into the water body on the right. 
Hole-7 (145 yards): Elevated green guarded by trees and there are bunkers on the left. 
Hole-8 (149 yards): This is a hard par 3 to a green that slopes downward and right. So accuracy of the first shot is the key, or else the second shot becomes more difficult. 
Hole-8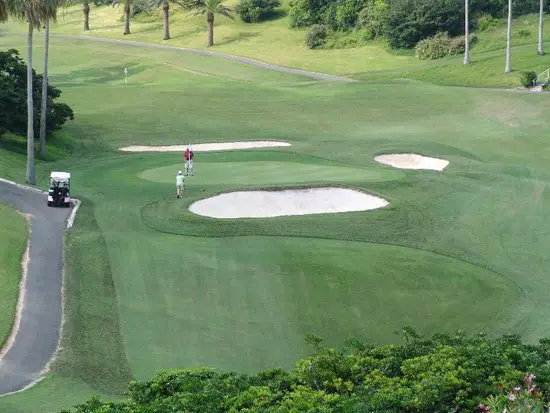 Source: Turtle Hill Golf Club, Bermuda 
Hole-9 (130 yards): An elevated green which is guarded long to the right by a bunker and trees as well as guarded short. Make a long shot to the left. 
Hole-10 (135 yards): An easy hole, but there are bunkers around the hole. 
Hole-11 (142 yards): The easiest hole, but the green is guarded by bunkers both left and right. There are trees at the back. You can see the hotel Fairmont Southampton building at a distance behind the hole. 
Hole-11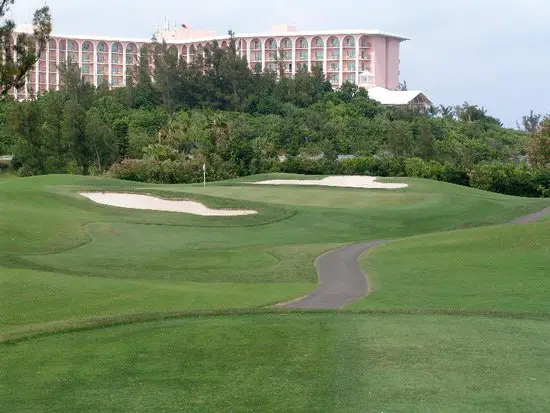 Source: Turtle Hill Golf Club, Bermuda 
Hole-12 (155 yards): A well bunkered green, but the reverse wind needs to be factored in. 
Hole-13 (130 yards): A downhill green and protected by bunkers left, back and right. Avoid long shot. 
Hole-14 (220 yards): This is the longest hole and the second hardest in the course. Looks like a par 4. The green is bunkered on left, right and back. A good long tee drive is required. 
Hole-14 
Source: Turtle Hill Golf Club, Bermuda 
Hole-15 (155 yards): Elevated green. There are bunkers in front and to the left and right. Left is not an option, if a right hit is errant, you could land into an uphill blind pitch. Also be careful about the wind speed and its direction. 
Hole-16 (175 yards): A small green guarded by bunkers on left and right and both are backed by trees. You can see the Gibbs Hill Lighthouse towering at the background. 
Hole-16 
Source: Turtle Hill Golf Club, Bermuda 
Hole-17 (152 yards): Your tee shot needs to be long and straight. There is water body left and short, and trees right and short. The green is guarded by a bunker on the left. 
Hole-18 (190 yards): Need to take a correct long shot or lay up for the next shot. There is a bunker to the left of the green and the cart road and trees to the right. 
Facilities
Rental clubs (Taylor Made and Adams). Carts are included as part of green fees. 
Although there is no driving range, there is a practice green for pitching/chipping.  
Club and shoe rentals are available. 
Pro Shop which has a range of resort and golf apparels on sale. If you so need, the pro shop would store your bag on arrival. 
For beginners, there are golf lessons and even mini golf schools offered. 
Golf Hut (a snack shop) at the 10th hole offers refreshments including sandwiches, salads, hot dogs, beer etc. 
After the round of golf, you can go to the bar and restaurant located just above the Pro Shop and have a drink. From here you can get a great view of the holes 1, 9 and 10 and beyond. 
Fees
18 Hole Greens Fees 
Adult: $99 / After 12:00pm: $69 
Junior: $49 / After 3:00pm: $45 
Sunset Walking (no cart): $45 (After 3pm) 
Rates above include half cart except Sunset Walking rate. 
Rental Rates 
Taylor Made/Adams Clubs: $45 
Pull Carts: $7.50 
Lesson Fees 
30 Minutes: $95 
60 Minutes: $175 
Includes slow motion video, flightscope launch monitor. 
Mini Golf Schools 
2 Hours: $299 
3 Hours: $399 
Resort Golf Packages
The hotel offers several golf packages which includes accommodation, discounted rentals and rounds of golf in various golf courses in the island including at Turtle Hill depending on number of nights of stay. Go through the
hotel's website
for details. 
Personal Comments
The golf club has introduced a new sport FootGolf on the same course which could be played by a group of any age. As a result and quite annoyingly, you might encounter a group of youth or kids coming on your way and kicking a soccer ball all around. Although the staff usually let the footgolf start usually at the back 9, there are chances that you will bump across a bunch of talkative kids who have no respect for traditional golf. 
The clubs that are rented out are often old, a mix and match ones and have lost proper grips. If you are renting clubs, you may initially have a hard time gauging the power in a shot. I hope they soon replace them with new ones as the rental rates do demand that. 
Open Hours
Open Daily. November - March: 7am - 4pm, April - October: 7am - 6pm. 
Proper golf attire is required to play in this golf course. 
Tee Time Booking and Inquiry
While this is a private club run on membership, they accept visitors. But you need to book well in advance. Call (441) 239-6952 or email
[email protected]
for booking tee time. 
Location
101 South Shore Road, Southampton, Bermuda. 
From Royal Naval Dockyard, Turtle Hill golf club is 9 miles away. Buses (#7 and #8) come within a range of about half a mile. But you can't carry your own clubs in a bus. Take a taxi otherwise. 
Road Map 
Related Articles
1)
Bermuda Golf
: Know about all other golf courses in Bermuda.