The Dining Room Bermuda
$$, Mediterranean 
UPDATE December 2020:
The owners Odilio and Natalie Angeli have closed down Dining Room and opened a new restaurant
Tamarind
at the same place serving Indian cuisine.
---
The Restaurant and Ambience
The Dining Room restaurant opened in 2011 and came up in place of the erstwhile
Lighthouse Tea Room
. It's located in Southampton Parish at the base of the
Gibbs Hill Lighthouse
on a hill top and occupies the same space as the earlier Tea Room. The new owners are Odilio and Natalie Angeli who are in hospitality industry for more than 25 years and own other restaurants in the island as well such as
Rustico
and
Gulfstream
(both serving Italian cuisine, Gulfstream also offers Sushi). 
They have really done up the interiors well and the restaurant now has a new look altogether. It looks contemporary and quite colorful inside. Contrary to the Tea Room, The Dining Room is now a full fledged restaurant that serves lunch and dinner. 
The Dining Room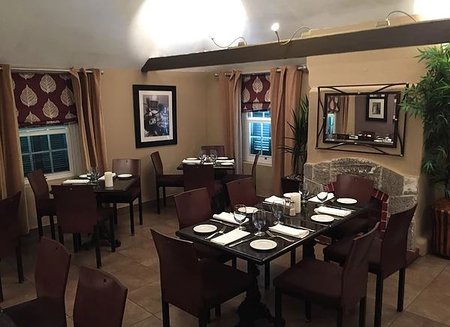 Source: The Dining Room 
So if you plan to visit the Gibbs Hill Lighthouse and climb the 185 spiraling stairs to the top, this is an excellent place to come down, relax and have your meal. The restaurant is air conditioned and the inside dining has a seating capacity of 50 and a bar. There is also an outside terrace area where up to 100 persons can be seated. The outside area has an excellent view of the
Great Sound water area
, the south shore and the surroundings. 
In 2013 The Dining Room was further revamped with new interior painting, kitchen re-tiling, new chef and new menu. The new chef Vincent Purcell from England who has diverse experience as a chef brings in a bistro or a gastropub like feel in the restaurant. The menu would change every week but would continue to offer dishes at reasonable prices. 
Food and Drinks
The restaurant calls the food Mediterranean but it certainly has a strong Italian feel to it. It offers nice dishes including imaginative salads, fresh fish, seafood and home made desserts. You also get traditional chicken dishes, curry and even black pudding. They make great pizzas as well. Prices are quite reasonable compared to some of the other restaurants in Bermuda. There is a bar at the corner serving good wines and Martini among other drinks. 
Some of the starters offered (rotationally) during dinner includes beef carpaccio, fresh mussels, Calamari, seared scallops, Grille jumbo shrimp etc. The escargot in its curry butter sauce is incredibly flavorful and a great appetizer. In salads there is the Caesar with freshly sliced parmesan cheese on top, the house salad or the salad with strawberries, arugula and goat cheese which is also quite refreshing. The spring rolls are delicious and beautifully presented and served over seaweed salad. 
Main courses includes dishes like coconut curry chicken with basmati rice, sesame crusted tuna, tenderloin of beef, veal limone, Spaghetti carbonara  etc. There is fresh fish such as tuna or rockfish served with a light citrus sauce and scallops and shrimp stir fried with veggies and sriracha. They also have perfectly cooked asparagus and carrots with the addition of a crispy potato fritter. 
Gourmet Fish on Risotto 
Source: The Dining Room 
The Lobster pasta is quite good, tender with a light tomato sauce. In pastas, there is also the veal with pasta topped with pesto which is exceptional. The pasta dishes are quite heavy with generous portions. You can also try their homemade lasagna or the scallops and risotto dish which is outstanding. The fish sandwiches we had were excellent too and came with a lot of fresh fish, made with much care. The fries are quite nice as well. The upgrade for garlic bread however got us just three small pieces with a rather average taste. We would however, recommend the Gnocchi which is very well made with a great sauce, cooked perfectly and very filling or even the succulent lamb cutlets with vegetables and roast potatoes. 
Other items (served mostly during lunch) include grilled chicken with feta, spinach and sun dried tomatoes, pumpkin ravioli, rice noodles and chicken bowl and more. You also have a choice of sandwiches and burgers on the lunch menu like the veggie, lamb and beef burgers, chicken and fish sandwiches etc. 
You can choose to have your drinks and desserts at the bar. Other than many different types of spirits, the bar offers wine by the glass and draft beer. In desserts, they have cakes, ice creams, tart, sorbet etc. You can try their apple crumble pie and gelato ice cream or the apple crisp with vanilla ice cream. British specialties like the Eton Mess and the sticky toffee bread pudding are also good choices in desserts. You can also give your meal a wonderful finish with a coffee with Frangelico. 
The Service
Service could have its bad days with some loopholes and get a tad laidback at times. You might find yourself asking for water refills several times during the course of your meal here. The atmosphere however is warm and friendly and the staff generally receptive and accommodating. Excellent view from this lovely hilltop location makes up for any inadequacies. 
Trivia
The Dining Room can be booked for special occasions like private parties or wedding. They also provide take away services. Dress code is smart casual though many can be seen in casual attire too.  
It is a short cab ride if you are staying in Southampton, however if you are staying somewhere else, arranging for transport from and to your hotel beforehand will save you much trouble getting back.  
Make a reservation before visiting as the dining room inside is rather small and the restaurant is quite popular to both tourists and locals. The open terrace dining can be a great experience. Reservations are preferred over phone or in person and not so much by email. Prices are mostly in line with other similar restaurants in Bermuda. They accept credit cards. 
Conclusion
Situated at a stellar location, The Dining Room sits at the base of the iconic
Gibbs Hill Lighthouse
. It has an encompassing menu to offer from fresh fish to poultry to Italian pastas. It offers a cozy and intimate setting to spend a delightful evening while savoring delicious cuisine. So stop by if you are visiting the lighthouse for a filling meal or simply make the trip to enjoy the venue, the panoramic view, the food and leave full and happy. 
Indicative Prices
Soups and Salads: $9-$18, Appetizers: $14-$22,  
Main Courses: $19 - $36  
Sandwiches (for lunch): $14-$24, Pastas (for lunch): $15-$20 
Wines by glass: $10-$13, by bottles: $55-$130, Beers: $8 
Open Hours
Lunch: 11:30 to 3pm (Friday, Saturday and Sunday) 
Dinner: 5.30pm to 10.00pm (Tuesday to Sunday) 
Location and Contact
68 St. Anne's Road 
You can reach by Bus #7 or 8 (both routes operate between Hamilton and Dockyard). 
Road Map 
Related Articles
Visitors' Reviews and Comments
Michael Rukavina (September 2014) 
Raj, My wife and I went for dinner to the Dining Room at the foot of Gibb's Hill Lighthouse. We were celebrating our 10th Anniversary. The views were breathtaking as we sat down for a 6:30 meal. The service was excellent and the food delicious. Too bad we missed out on the predecessor Tea House....but just wanted you to know that the successor is definitely worth a try. For anyone visiting by bus....the road up to the lighthouse is a bit of a hike (5 minutes uphill)....but worth it. 
Sara (March 2012) 
Whenever we visit the island we go to the Lighthouse Dining Room. Our whole family loves it - the interesting spices, the traditional curry, the pizza and the terrific fresh fish.  It s tiny, and can be a bit noisy, the staff is very friendly and helpful and we just love the food. The wine list is comfortable and can be very reasonable.  We take our well behaved children and they are welcomed. There is no 'kids' menu so if you are looking for chicken tenders, don't.  The neighbors (who have a loud, barking dog???) complained and we understand that there is no longer outside seating at dinner - but it is still a great spot.  
Andrew McLauchlan (February 2012) 
I never tried the little Tea Room but the new restaurant is fantastic and definitely worth a visit.. had a wonderful breakfast there with friends and will most certainly be returning.