Lighthouse Tea Room Bermuda
$, International Cuisine 
CLOSED
---
Located at the base of
Gibbs Hill Lighthouse
and in the old home of the former lighthouse keeper, Lighthouse Tea Room is one of our favorite restaurants in Bermuda for its classic British and Bermudian food. It used to be just a teahouse once.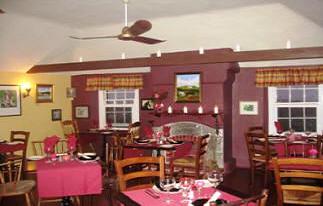 However, Lighthouse Tea Room has been converted into a full scale restaurant serving both lunch and dinner in order to make it profitable. The breakfast is also served daily. 
The Tea Room is owned and run by Heidi Cowen. She is the granddaughter of Rudolph Howard Cowen who was the last lighthouse keeper at Gibbs Hill in the 1960s. The Tea Room was the place where Rudolph used to live. It has a lot of history and nostalgia associated with it.  
The restaurant has a wonderful view of the Great Sound. It's a perfect place to relax particularly after a climb of 185 spiraling stairs to the top of the lighthouse tower. This is also a popular spot for enjoying a perfect romantic sunset. 
Our favorite here is the full English afternoon tea complete with Devonshire cream and homemade scones. The owner is Heidi Cowen. She does all the baking. We came to know form her that she grew up in Bermuda. Her grandfather was the last lighthouse keeper before electronic lights were introduced in 1969. 
You can get expertly blended black tea and unusual herbal tea, such as dandelion and juniper berry, served iced as well as hot. During lunch, you get homemade soups and sandwiches, smoked trout and pork pie with chutney, and a range of refreshing fruit smoothies. For dessert, our favorites at Lighthouse Tea Room Bermuda include fresh banana cake or gingerbread with lemon sauce.  
Breakfast and Lunch are served daily. Dinner is served on Wednesday through Sunday, which is by reservation only. The Lighthouse Tea Room Bermuda restaurant changes the menu every week. Lighthouse Tea Room Bermuda can be booked for a private party of 25 or more, and you can get an elaborate menu for such special dining. 
Location and Contact 
68 St. Anne's Rd, Gibb's Hill Lighthouse, Southampton, Bermuda.  
Bus #7 or 8. 
Phone: 441-238-8679. 
UPDATE: There has been a change in ownership and Lighthouse Tea Room has been replaced by a new restaurant
The Dining Room
. While our old favorite Tea Room is no longer there, the new restaurant is also a great place to dine. 
Related Articles

By Raj Bhattacharya 
Raj, a seasoned travel writer and Bermuda destination expert, has extensive global travel experience. This website reflects his profound insights, garnered over nearly two decades of dedicated findings and research on the island. Raj has assisted countless Bermuda-bound visitors by providing direct, personalized responses to their queries and imparting his wealth of knowledge through this platform. This site serves as an indispensable guide for those seeking informed and reliable insights into Bermuda's treasures. 
4) Check out
Southampton Parish
to know about the parish including all its attractions, activities, hotels and other information. 
Visitors' Reviews and Comments
Carol McCarthy 
We were so very disappointed coming for our annual visit to the Lighthouse Tea Room and finding it GONE! We vacation to Bermuda every year since the mid 1980's and always have had a special visit to the Tea Room for a pot of tea and most delicious Scones. We always enjoyed the quaintness and staff as well - this is really sad!