Tamarind Indian Restaurant
$$, Indian 
The Restaurant and Ambience
Tamarind opened in November 2020 and replaced the erstwhile restaurant
The Dining Room
which was running at the same place since 2011. However, the ownership hasn't changed... it's the same owners Odilio and his wife Natalie Angeli who earlier operated The Dining Room here, decided to open a new restaurant called Tamarind at the same space when The Dining Room remained closed for a prolonged period of time due to the Coronavirus pandemic. 
Tamarind at the base of Gibbs Hill Lighthouse 
The restaurant is located in Southampton at the base of the
Gibbs Hill Lighthouse
on a hill top. The owners Odilio and Natalie are in hospitality industry for over 3 decades and also own other popular restaurants in the island as well such as
Rustico
and
Gulfstream
(both serving Italian cuisine, Gulfstream also offers Sushi). All three restaurants operate under the group 'Bermuda Dining'. 
Odilio mentioned that they had many overseas staff in the earlier restaurant who went back to their home countries during the lock down period and did not return. Additionally he had more chefs than available positions. So he decided to do something different when the restaurant re-opened. 
A Table and a Wall Art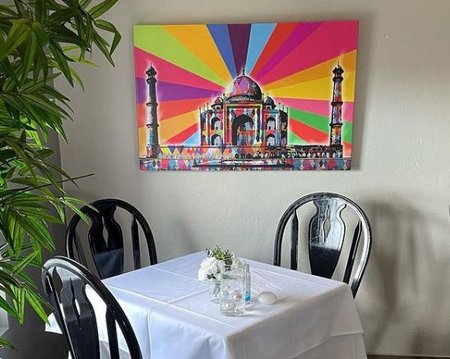 Photo: Tamarind Bermuda 
They chose the Indian theme because there are very few Indian or Asian restaurants in this part of the island while there is a significant demand for Indian food. Additionally, his wife Natalie is an expert chef in preparing Indian cuisine and he himself loves to eat Indian food. 
If you plan to visit the
Gibbs Hill Lighthouse
, this is an excellent place to relax and have your meal. The restaurant is air conditioned and the inside dining has a seating capacity of about 50. The interior is simple yet cozy. You will see a lot of wall arts depicting Indian figures, landmarks and objects. One of the striking wall art is of an Rupees (INR) 500 currency note with Gandhi's picture on it. The tables can seat 4 each and are covered with white table cloths. They are spaced out nicely. 
Wall art on Indian currency note with Gandhi's picture 
Photo: Tamarind Bermuda 
There is also an outside terrace area where up to 100 persons can be seated. The outside area has an excellent view of the
Great Sound water area
, the south shore and the surroundings. 
Food
As the name suggests, the cuisine is Indian. Although the menu items are mostly North Indian dishes, I was surprised to see couple of South Indian variations too such as the Masala Dosa and Hyderabad Spiced Lamb Biryani. North Indian and South Indian cuisine are completely different and unique in their culinary preparations, flavors and taste, and combining them is not an easy task. 
Chicken Biryani at Tamarind 
Photo: Tamarind Bermuda 
The menu is not very extensive but there are enough items to satisfy anybody who loves Indian food (particularly north Indian food). In Appetizers, there are Punjabi Samosa (fried triangular dumplings with vegetable fillings and comes with tamarind chutney), Poppadoms (bread wafers made with lentils and served with mango chutney), Stir Fried Kerala Shrimps (fried with spices and chili), Vegetable Pakodas (dumplings fried in gram flour batter and served with mint chutney), Chicken or Paneer (cottage cheese) Skewers, Spiced Beef Meet Balls, Papri Chaat (a traditional North Indian street food), etc. 
Note that some of the Indian appetizers can be quite heavy. For example, I see that Masala Dosa is included in the appetizers. Usually in India, one Masala Dosa would be almost like a full meal. Similarly, if you take a plate of Punjabi Samosa, you will probably feel full when you go for the main courses. 
Chicken Tikka Masala 
Photo: Tamarind Bermuda 
In main courses there are several choices.... Chicken/ Beef/ Shrimp/ Tofu/ Chickpeas Tikka Masala prepared with tomato cream sauce and spices (most popular is the chicken tikka masala though), Hyderabad Spiced Lamb Biryani or Chicken Biryani (prepared with rice, spices, ginger, onions, yogurt, lemon juice, saffron), Butter Chicken, Lamb Korma, Lamb Sheek Kabaab etc. 
There are some choices for vegetarians as well... Palak Paneer (made with spinach, cottage cheese and spices and served in a flavorful curry), Vegetable Biryani, Vegetable Korma (made with potatoes, tomatoes, carrots, peas, string beans, creamy sauce and spices), Vegetable Jalfarezi (made with potatoes, carrots, string beans in Jalfarezi sauce), Daal Palak (lentils with spinach), etc. 
In the sides you can go for Basmati rice or choose from several different types of naans (breads prepared in earthen oven)... Garlic Coriander Naan specially looks very yummy. There are also Raita Sauce (made of yogurt), Chickpea Masala, Dal Makhani (black curried lentils) etc. 
Garlic Coriander Naan 
Photo: Tamarind Bermuda 
In desserts the choices are White Chocolate and Cardamom Panna Cotta, Ginger and Tamarind Sticky Toffee Pudding, Eaton Mess, Cinnamon Spiced Apple Crumble with Ice Cream, Cardamom Coffee Chocolate Tart served with Vanilla Gelato. 
The Service
The service is friendly. The atmosphere is warm and relaxing and the staff generally receptive and accommodating. Excellent view from this lovely hilltop location makes up for any inadequacies. 
Trivia
Other than dine-in, Tamarind also provides take away service. You can personally come and collect the food or order online through the delivery company Sargasso (they have full menu). Dress code for dine-in is smart casual though many can be seen in casual attire too.  
It is a short cab ride if you are staying in Southampton, however if you are staying somewhere else, arranging for transport from and to your hotel beforehand will save you much trouble getting back.  
Make a reservation before visiting as Tamarind inside is rather small and the restaurant has fast become quite popular. The open terrace dining can be a great experience. Reservations are preferred over phone or in person and not so much by email. Prices are mostly in line with other similar restaurants in Bermuda. They accept credit cards. 
Indicative Prices
Appetizers: $10 - $14,  
Main Courses: $18 - $24  
Sides and Breads: $4 - $8 
Desserts: $11 
Open Hours
Tuesday to Friday: Open from 4pm till 9:30pm 
Saturday and Sunday: 12:30pm till 9pm 
Closed on Mondays. 
Location and Contact
68 St. Anne's Road 
You can reach by Bus #7 or 8 (both routes operate between Hamilton and Dockyard). 
Road Map 

By Raj Bhattacharya 
Raj, a seasoned travel writer and Bermuda destination expert, has extensive global travel experience. This website reflects his profound insights, garnered over nearly two decades of dedicated findings and research on the island. Raj has assisted countless Bermuda-bound visitors by providing direct, personalized responses to their queries and imparting his wealth of knowledge through this platform. This site serves as an indispensable guide for those seeking informed and reliable insights into Bermuda's treasures. 
Related Articles
Visitors' Reviews and Comments