Waterlot Inn Bermuda
$$$$, Steak, Seafood and Continental 
X Temporarily Closed 
The Restaurant and Ambience
Waterlot Inn is an elegant restaurant for a special night out in the island. It serves some of the finest steak, seafood and continental food. The restaurant is part of hotel
Fairmont Southampton
. The service is impeccable from the moment you are greeted at the door. It's a graceful, two-story manor house, which dates back to 1670. Merchant sailors used to unload cargo at the basement and used it as a warehouse in those days. 
Many local Bermudians approach this restaurant by water while mooring their boats at the sheltered cove. Over the years, the inn has attracted guests like Mark Twain, James Thurber, Eleanor Roosevelt, and Eugene O'Neill. Nestled in Jew's Bay, the Waterlot Inn offers breathtaking
sunset views
. There is an upstairs bar where you can have a drink. Try out the local cocktail Dark 'N' Stormy and listen to a pianist playing classical numbers... a wonderful experience you will remember for long. 
Waterlot Inn Bermuda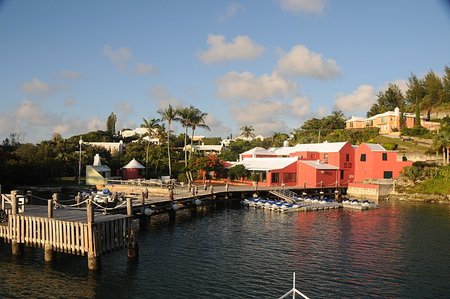 Photo: David Broad/ Wikimedia Commons 
There is an outdoor terrace and also an adjoining garden that are excellent places for taking a cocktail prior to the dinner. Then there is colonial staircase to bring you to one of the dining rooms. Each features Captain's or Windsor chairs, oil paintings of old clipper ships, ceilings with beams, and lots of exposed wood. 
Food and Drinks
All the food here, from Parmesan rolls to fish, sauces and sides are all prepared perfectly and the portions are very large. Steaks and grilled beef items are the real favorites here. Some of the other great menu items that you can try in appetizers are seared foie gras, mushroom thermidor and Bermuda fish chowder. Atlantic Oyster, the Lobster Claws or the chilled seafood platter could be the other great strater choices. 
The Oyster Rockfeller and the French Onion soup are packed with flavor. The salads are great too especially the baby beet salad that's mostly put together tableside. We ordered a Caesar salad and found a cart rolled to our table with all the ingredients needed to prepare it. They explain you the ingredients and then put together the perfect salad for you. They also give a bread muffin with parmesan which is delectable. 
Sunset view from Waterlot Inn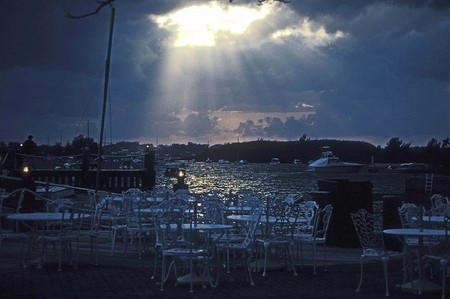 Photo: Wikimedia Commons 
In main course, try out dishes like pan seared grouper/tuna, grilled salmon, rib eye, the eggplant puffs, or roasted chicken. Some of the fish dishes are exceptional and as fresh as they come. You can try the Halibut special which is very moist and comes with a Morell mushroom sauce or the Baked salmon on Bermuda cedar or even the petit filet mignon which is cooked to perfection and comes with delicious mashed potatoes and Brussels sprouts with bacon. The addition of the caramelized Bermuda onions make it outstanding. The Truffle Mac and cheese with broccolini and mushrooms are an absolute must-have too. We always enjoy the mushroom medley and potatoes augratin or the buttermilk mashed potatoes with our meal. 
However, Waterlot is best known for its great steaks, and today probably serves the best steaks in the island with great selection of American and Australian meats. A good choice would be the Steak Trio which is a three sampler sized steak portions: a Rib-eye, a Wagyu filet and an Angus filet. They also have a "Create your own trio" option which is a selection on three 3 ounce portions of meats. The very knowledgeable staff can suggest some great red wines to pair nicely with your steaks. 
The restaurant also runs a special lobster festival through December 1st every year and they have a separate menu for lobster dishes. Finally desserts like sticky toffee pudding which is a traditional English date pudding topped with homemade vanilla ice cream and warm butterscotch sauce or the Banana Fosters that is flambeed tableside with gosling's dark rum and comes with caramel and vanilla ice cream, round off an extremely satisfying meal. 
Waterlot Inn is also well known for its fine wine list and its cigar selection. You can also sit at the wine cellar where all the tables are for 2. It is actually a very romantic and pleasant experience. 
The Service
Service here is extremely friendly and courteous without being intrusive. You can also enjoy pleasant conversation with the waiters and learn a lot about the restaurant and even the island. With their expertise on the menu, they make awesome recommendations and also take your orders and specifications with great care so that you get exactly what you ordered and enjoy the perfect meal. If you make them cognizant of any food allergies, dietary restrictions etc that you might have, they accommodate you as well. 
If you are here to celebrate a special day the staff likes to recognize the occasion with a special dessert served with a candle. This adds a very nice touch to your special moment. It might be apt to mention however, that service could be a tad bit slow here and you would probably have to wait awhile before you get your first course on the table. However, from then on, the excellent quality of the dishes just makes your evening take off to pleasant heights. 
Trivia
It is important to note that dress code is resort elegant and jackets and closed toe shoes are required for men. You can wear Bermuda shorts and a collared shirt too which is considered a formal dress. They accept credit cards. Reservations required. They have children's menu as well. Moreover, kids aged 12 and under who dine from the adult menu get a 50% off. This restaurant is however not a great place to take toddlers or small kids who are difficult to be kept on their best behavior at all times. 
Update: Waterlot Inn has introduced iPad based menu for their extensive wine list. They have over 550 different types of wine and more than 2,250 bottles stocked in the wine cellar. You can now use the touch pad menu and select your wine quickly by searching with name, region, variety and price. 
Conclusion
The restaurant exudes the atmosphere of Old School dining at its finest with a good measure of class thrown in and food that will satisfy the most discerning guests. From the moment you walk in through the doors past the excellent Bar to your rendezvous with the cordial wait staff, you will experience world class service here. So sit back and enjoy some fine wine or delicious cocktails on the patio overlooking the beautiful view of the water (and even the setting sun if you are in time for it) along with live music, and then enjoy a great meal while wallowing in the old world charm of the very upscale and elegant restaurant. 
Having said all this, I would like to put in a word of caution here. This is an expensive place and is excellent for a special occasion as I mentioned earlier. On a usual day, we would try out another restaurant because similar food and wine would cost significantly lower in other places. I have heard strong reactions from some visitors who could not anticipate the high cost here and therefore could not appreciate the overall value the restaurant offers for the price it charges. 
Waterlot Inn is an upscale and expensive restaurant. To give you an idea, a meal for a family of three persons that may include seared sea scallops wrapped in proscuitto; an 8 oz petit filet mignon; an apple pie/tart with sour cream, some appetizers to start with; a local cocktail Dark 'N' Stormy each, a bottle of wine, three vegetable side dishes, dessert and coffee... the total cost could be around $400, this is assuming you order a bottle of regular wine (and not a high-end one). 
Indicative Prices
Soups and Salads range between $14-$18 and appetizers between $22-$32. They have a selection of chilled seafood and shellfish that are priced around $30-$64 
For Main Courses they have a section of "choose your own Trio's" for $47-$64 
Meats, steaks, seafood mains range between $35-$68 
Sides, additions, sauces come for anything between $11-$30 
Desserts come for $13-$18.  
Kid's meals have starter, entree and dessert options and range between $6-$14 
They have a separate Dock Menu too where a one tier seafood tower of lobster claws, tiger shrimp, fresh oysters, tuna sashimi, cured salmon etc costs around $68 and two tier $120, while other bites come for $14-$19 
Cocktails are for around $16, Wines by the glass between $14-$25, craft gins $19,Sangria (white/red) $13 and (pitcher) $45. 
Open Hours
Daily 6pm - 9pm, 7 days a week 
Closed on Mondays during winter season. 
The restaurant is closed from January to Mid March. Lunch is not served at Waterlot Inn. 
Location and Contact
101 South Shore Road, The Fairmont Southampton Hotel, Southampton Parish.  
Phone: 441/238-8000 
Bus route: #7 (operating between Hamilton and Dockyard) 
Road Map 
Related Articles
4) Check out
Southampton Parish
to know about the parish including all its attractions, activities, hotels and other information. 
Visitors' Reviews and Comments
Michael Newburger (June 2013) 
We would like to make a brunch reservation at the Waterlot Inn for July 7, but I can't find an email to them to book this. Can you send me their email address or the Southampton Princess email to book this. Many thanks 
Raj (bermuda-attractions.com) June 2013 
Hi, The restaurants at Fairmont Southampton do not have email addresses of their own. Reservations are usually accepted over phone (441/238-8000). However you can write to the hotel's email address (
[email protected]
) or call up the toll free no. 866 540 4497. Regards,