Waterlot Inn Bermuda
$$$$, Steak, Seafood &  Continental 
Waterlot Inn is an elegant restaurant for a special night out in the island. It serves some of the finest steak, seafood and continental food. The restaurant is part of hotel
Fairmont Southampton
. The service is impeccable from the moment you are greeted at the door. It's a graceful, two-story manor house, which dates back to 1670. Merchant sailors used to unload cargo at the basement and used it as a warehouse in those days. 
Many local Bermudians approach this restaurant by water while mooring their boats at the sheltered cove. Over the years, the inn has attracted guests like Mark Twain, James Thurber, Eleanor Roosevelt, and Eugene O'Neill. Nestled in Jew's Bay, the Waterlot Inn offers breathtaking
sunset views
. There is an upstairs bar where you can have a drink. Try out the local cocktail Dark 'N' Stormy and listen to a pianist playing classical numbers... a wonderful experience you will remember for long. 
Waterlot Inn Bermuda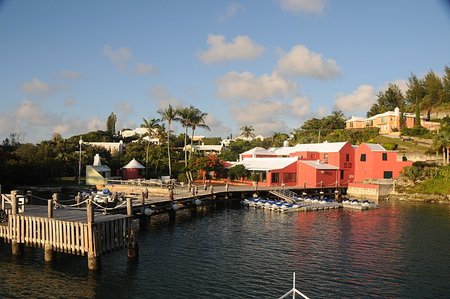 There is an outdoor terrace and also an adjoining garden that are excellent places for taking a cocktail prior to the dinner. Then there is colonial staircase to bring you to one of the dining rooms. Each features Captain's or Windsor chairs, oil paintings of old clipper ships, ceilings with beams, and lots of exposed wood. Steaks and grilled beef items are the real favorites here. Some of the other great menu items that you can try in appetizers are seared foie gras and Bermuda fish chowder. Atlantic Oyster or the chilled seafood platter could be the other great strater choices. 
Sunset view from Waterlot Inn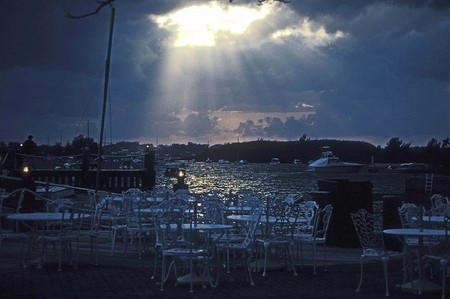 Wikimedia Commons 
In main course, try out dishes like pan seared grouper/tuna, grilled salmon, rib eye or roasted chicken. However, Waterlot is best known for its great steaks, and today probably serves the best steaks in the island. The restaurant also runs a special lobster festival through December 1 and they have a separate menu for lobster dishes. 
Finally desserts like sticky toffee pudding or profiteroles in sweet vanilla cream round off an extremely satisfying meal. Waterlot Inn is also well known for its fine wine list and its cigar selection. 
Having said all this, I would like to put in a word of caution here. This is an expensive place and is excellent for a special occasion as I mentioned earlier. On a usual day, we would try out another restaurant because similar food and wine would cost significantly lower in other places. I have heard strong reactions from some of the visitors who could not anticipate the high cost here and therefore could not appreciate the overall value the restaurant offers for the price it charges. 
Waterlot Inn is an upscale and expensive restaurant. To give you an idea, a meal for a family of three persons that may include seared sea scallops wrapped in proscuitto; an 8 oz petit filet mignon; an apple pie/tart with sour cream, some appetizers to start with; a local cocktail Dark 'N' Stormy each, a bottle of wine, three vegetable side dishes, dessert and coffee... the total cost would be nearly $400. 
Dress code is elegant and jackets are required for men. They accept credit cards. Reservations required. They have children's menu as well. 
Update May 2013: Waterlot Inn has introduced iPad based menu for their extensive wine list. They have over 550 different types of wine and more than 2,250 bottles stocked in the wine cellar. You can now use the touch pad menu and select your wine quickly by searching with name, region, variety and price. 
Indicative Prices 
Soups & Salads: $13-$18, Starters: $16-$18, Main Courses: $35 - $70. 
Open Hours 
Daily 6pm - 10pm. Closed on Mondays. 
The restaurant is closed from January to Mid March. Lunch is not served in Waterlot Inn. 
Location and Contact 
101 South Shore Road, The Fairmont Southampton Hotel, Southampton Parish.  
Phone: 441/238-8000 
Bus route: #7 (operating between Hamilton and Dockyard) 
Road Map 
Raj Bhattacharya
Raj is an avid traveler and a full-time travel blogger. He has traveled to numerous countries across the world and loves to keep travelling. His mission here is to help viewers like you visiting Bermuda or seeking insights into related matters with the most comprehensive content compared to any other online resources. Since years now he has been helping countless viewers by posting quality articles on this website, answering questions and sharing experiences. Launched in 2008, this website is Bermuda's leading source of online information since many years. 
Related Articles
4) Check out
Southampton Parish
to know about the parish including all its attractions, activities, hotels and other information. 
Visitors' Reviews & Comments
Michael Newburger (June 2013) 
We would like to make a brunch reservation at the Waterlot Inn for July 7, but I can't find an email to them to book this. Can you send me their email address or the Southampton Princess email to book this. Many thanks 
Raj (bermuda-attractions.com) June 2013 
Hi, The restaurants at Fairmont Southampton do not have email addresses of their own. Reservations are usually accepted over phone (441/238-8000). However you can write to the hotel's email address (
[email protected]
) or call up the toll free no. 866 540 4497. Regards,