Ocean Club Restaurant, Bermuda
$$$, Seafood/Asian 
Located in Bermuda's Southampton parish and perched on a low hill top, Ocean Club is one of our favorites when it comes to seafood with some Asian flavors. The restaurant is part of the
Fairmont Southampton Hotel
and has a superb view of the ocean through its large windows. 
The Fairmont hotel has renovated its earlier restaurant
Whaler Inn
and has now named it as
Ocean Club
. It now has a new decor altogether with new menu items. If you are seated on one of the window side tables, you can often sea fishermen boats on the sea, some of who are actually catching fish for the restaurant. The setting of the restaurant is simply fantastic with Norfolk Island Pines surrounding it. 
The Ocean Club specializes in blending Asian flavors with European cooking style. Some of the great appetizers here include Thai crab cakes served with Asian tartar and lemon sauce, grilled fish tacos, steamed mussels, pork & chicken dumplings, oysters on the half shell with tomato & pickles, scallion encrusted prawn tempura and Bermuda tuna tartar.  
Ocean Club Restaurant Bermuda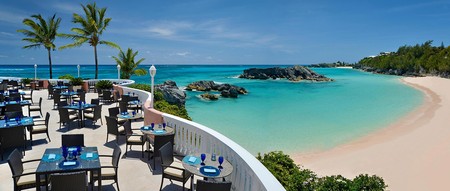 Well there are so much to choose from, it would be difficult to ignore many others like lobster rolls, seared Bermuda Tuna tataki, or the salt & pepper calamari with spicy orange dressing. There are sushi selections as well for starters. If you prefer soup & salads, there are some great preparations like the Peking duck style salad with mango and plum sauce or the chicken & lemongrass broth, Caesar salad etc. 
For entrees, we would generally choose from pan seared rockfish, roasted red snapper, miso marinated salmon, pan seared halibut or the grilled beef tenderloin. Here is another favorite: Beef short rib braised on potato cream with smoked paprika onion rings. 
If you like Indian dishes, try out chef's award winning Chicken Curry served with coconut rice. There are dishes for vegetarians as well. They have a separate dessert menu. Coconut & chocolate brownie sundae is really special. They have a short selection of wine as well. 
The restaurant also serves Lifestyle Cuisine which are nutritious meals that are prepared for specific dietary requirements including for the diabetics. 
The restaurant accepts credit cards. Reservation is required. Dress code is smart casual. 
Indicative Prices
Soups & Salads: $14-$16, Appetizers: $14-$19, Main Courses: $30 - $42. 
Open Hours
Dinner between 6pm to 10pm. Lunch between 12noon to 3pm. 
Continental beach breakfast is served between 7am to 10am. 
They are usually closed during the winter time for maintenance (between October - March). 
Location and Contact
101 South Road, Fairmont Southampton Hotel, Southampton Parish. 
Phone: (441) 238-8000 
Bus to reach the restaurant: #7 (operating between dockyard and Hamilton) 
Road Map 
Raj Bhattacharya
Raj is an avid traveler and a full-time travel blogger. He has traveled to numerous countries across the world and loves to keep travelling. His mission here is to help viewers like you visiting Bermuda or seeking insights into related matters with the most comprehensive content compared to any other online resources. Since years now he has been helping countless viewers by posting quality articles on this website, answering questions and sharing experiences. Launched in 2008, this website is Bermuda's leading source of online information since many years. 
Related Articles
Visitors' Reviews & Comments
Review and share your experience.