Ocean Club Restaurant, Bermuda
$$$, Seafood/Asian 
X Temporarily Closed 
About The Restaurant
Located in Bermuda's Southampton parish and perched on a low hill top, Ocean Club is one of our favorites when it comes to seafood with some Asian flavors. The restaurant is part of the
Fairmont Southampton Hotel
and has a superb view of the ocean through its large windows. 
The Fairmont hotel has renovated its earlier restaurant
Whaler Inn
and has now named it as
Ocean Club
. It now has a new decor altogether with new menu items. If you are seated on one of the window side tables, you can often sea fishermen boats on the sea, some of who are actually catching fish for the restaurant. The setting of the restaurant is simply fantastic with Norfolk Island Pines surrounding it. 
You can also sit on the patio along the rail overlooking the ocean waves rolling up on to the beach. It is one of the loveliest outdoor dining settings in Bermuda. 
Ocean Club Restaurant Bermuda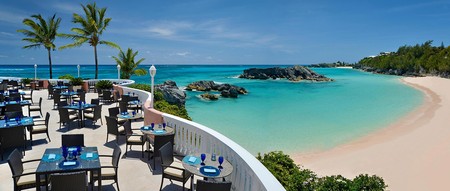 Photo: Fairmont Southampton 
The Service
The hosts are extremely gracious and although busy seating the guests at their respective tables, they always find time to mingle with you, engage in a nice conversation and see that all guests are happy. The wait staff too is very professional, attentive, engage in friendly conversations and do an excellent job of taking orders, serving the meals exactly as ordered and attending to your wines. 
The service staff is also quite knowledgeable and well equipped to handle any food allergies/ dietary restrictions, even if it is a fish allergy, and offer suggestions from the menu accordingly. A little example of the impeccable service here can be seen if you are caught in a sudden downpour while having your meal outdoors. Within the blink of an eye, your entire table gets replicated indoors without being hassled or rushed by anyone! 
The Food andáSpecialties
The Ocean Club specializes in blending Asian flavors with European cooking style. Seafood meals are the specialty here and Prince Edward Island Mussels is one of the favorites. The Strawberry and Crab Gazpacho is also a good one for a start. It is served fresh with mint, cucumber and olive oil. Some of the other great appetizers here include Thai crab cakes served with Asian tartar and lemon sauce, grilled fish tacos, steamed mussels, pork andáchicken dumplings, oysters on the half shell with tomato andápickles, scallion encrusted prawn tempura and Bermuda tuna tartar.  
Well there are so much to choose from, it would be difficult to ignore many others like lobster rolls, seared Bermuda Tuna tataki, or the salt andápepper calamari with spicy orange dressing. There are sushi selections as well for starters. If you prefer soup andásalads, there are some great preparations like the Peking duck style salad with mango and plum sauce or the chicken andálemongrass broth, Caesar salad etc. 
For entrees, we would generally choose from the Bermuda style árockfish, or a flaky white snapper prepared with olive oil whipped potatoes, garlic emulsion, torched bananas and toasted almond Gremolata, Lobster Fettuccini which is whole Maine lobster with roasted vine tomatoes and fresh basil, the Atlantic Salmon, Prawn curry (another favorite, which comes in a coconut red curry sauce, Kaffir lime and Jasmine rice), roasted red snapper, miso marinated salmon, pan seared halibut or the grilled beef tenderloin. 
Tuna at Ocean Club 
Here is another favorite: Beef short rib braised on potato cream with smoked paprika onion rings. It is also a good idea to go for whatever is the catch of the day. They are expertly seasoned and perfectly cooked. Accompany that with some local vegetables and carrot puree. You have a range of sides too to pick from like Grilled asparagus in lemon oil and lava salt, sautÚed spinach with toasted pine nuts, creamed corn and sage or the chef's special aged cheddar fries which comes with his very own home-made hot sauce Aioli. 
If you like Indian dishes, try out chef's award winning Chicken Curry served with coconut rice. There are dishes for vegetarians as well. The restaurant also serves Lifestyle Cuisine which are nutritious meals that are prepared for specific dietary requirements including for the diabetics. 
They have a separate dessert menu. The Key Lime Pie is really special. It comes with vanilla macerated strawberries and toasted Macademia tuile. You can also take your pick from the Guava cheesecake, dark chocolate mousse, tart or simply settle with a hot Bermuda coffee with fresh whipped cream. 
You will also find a comprehensive Kid's menu here with its selection of appetizers, main course and desserts. Appetizers include a vegetable sushi with mango, avocado and cucumber, a melon salad with feta cheese and mint-lime dressing and fish fingers that come with tartar sauce and ketchup. For the main course you can choose from chicken, salmon or pasta. They come with delicious sides like French fries, cheese sauce, mashed potatoes or Jasmine rice and vegetables. For dessert you have a pick of a fresh fruit bowl with frozen yogurt, strawberry jello or an ice cream sandwich which is chocolate chip cookies with a vanilla ice cream center. 
Wine andáBeverages
The restaurant offers a nice selection of wines, cocktails, non-alcoholic cocktails, lagers and ales, cider and stout. The wine list is actually quite extensive a host of Reds, Whites, Sauvignon Blanc, Rose, Pinot Noir and Champagne and Sparkling to chose from. Cocktails like the Strawberry Champagne Mojito are especial favorites. You can even try the Blueberry Mule which comes with local Ginger Beer, lime and blueberries. You can give the alcohol a miss if you so wish and go for one of the non alcoholic cocktails like the strawberry kiwi fizz or the Blackberry Sensation.  
Trivia
Ensure you get a reservation especially for an outdoor seating as the restaurant tends to fill up very quickly. The restaurant accepts credit cards. Dress code is smart casual. The food here is pricey though the experience would be well worth it. 
Conclusion
So if you are looking at having a delightful evening under the stars with the lighthouse flashing in the distance while enjoying a great outdoor (or indoor) fine dining, The Ocean Club Restaurant is your go-to place. You can also time your meal so that you can have it watching the breathtaking view of the sun going down on the ocean. The setting makes for your perfect family holiday card picture. The service is top notch and you are made to feel extremely welcome here making your meal an experience that you will always remember. 
Indicative Prices
Soups andáSalads: $14 - $17, 
Appetizers: $18 - $20, 
Main Courses: $32 - $51, 
Desserts: $12 - $19 
Cocktails are mostly priced around $19 while the non-alcoholic ones come for $9. Red and white wines range between $60-$175, while Sauvignon Blanc and Rose can cost anything between $70-$120. Champagnes come for $75-$175 while a Krug Grand Cuvee Champagne can go up to $400. 
Kids meal: appetizer: $8-$11, main course- $11-$16, dessert- $7-$9 ( Kids below 5 eat free) 
Open Hours
Dinner between 6pm to 10pm. Lunch between 12noon to 3pm. 
Continental beach breakfast is served between 7am to 10am. 
They are usually closed during the winter time for maintenance (between October - March). 
Location and Contact
Phone: (441) 238-8000 
Bus to reach the restaurant: #7 (operating between dockyard and Hamilton) 
Road Map 

By Raj Bhattacharya 
Raj, a seasoned travel writer and Bermuda destination expert, has extensive global travel experience. This website reflects his profound insights, garnered over nearly two decades of dedicated findings and research on the island. Raj has assisted countless Bermuda-bound visitors by providing direct, personalized responses to their queries and imparting his wealth of knowledge through this platform. This site serves as an indispensable guide for those seeking informed and reliable insights into Bermuda's treasures. 
Related Articles
Visitors' Reviews andáComments
Review and share your experience.