Rosedon Hotel
Hamilton Bermuda
Category: $$$   Location: City of Hamilton, Pembroke Parish 
Rosedon Hotel located in Hamilton City was once a private house of a British family that was constructed in 1906. The owner E.J. Thompson named the house after his son Robert Rosedon Thompson. If you are looking for a small hotel with elegance and tranquility in Pembroke while being close to the main center of the island, this is the one for you. This hotel is like a lovely old colonial house yet classically Bermudian. 
The hotel is ideally located for shopping, restaurants and nightclubs. The main city center is less than 10 minutes walk from the hotel and the ferry terminal is only two blocks away. 
The main building is used mostly for reception and office purpose. The bedrooms are all very nicely appointed and have attached bathroom, hairdryer, TV, fridge, coffee maker, telephone, wireless internet, iron and board, safe and air-conditioning. There are only 6 guest rooms in the main building.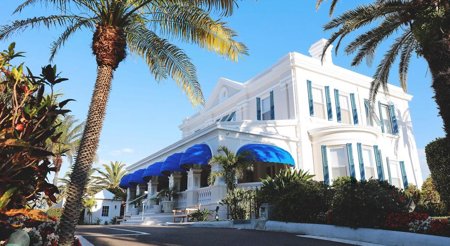 The other rooms are mostly in the garden wing each having an open balcony or a terrace with tables and chairs. Sit on the balcony at night, sip a wine and look at the pool and the garden below... you can spend hours enjoying the ambience as you listen to the tree frogs. 
The Royal rooms are particularly very elegant and appealing. They have bamboo wooden floors, balcony and sleeper couch for additional guest. These are ideal for honeymooners and couples. You get a complimentary bottle of wine in the rooms on arrival. 
We found the Rosedon staff quite warm, friendly and helpful. It's like home away from home. You even help yourself to drinks in the bar or snack in the pantry and can write your own bill. 
If you enjoy an informal and intimate hotel, Rosedon with its lush tropical gardens and attractive lounge can be very appealing. Here you can find loquat tree - a small evergreen tree which is a Bermuda trademark. The plum like fruits ripen in the winter. 
Other plantations include hibiscus, banana plants, and bird of paradise.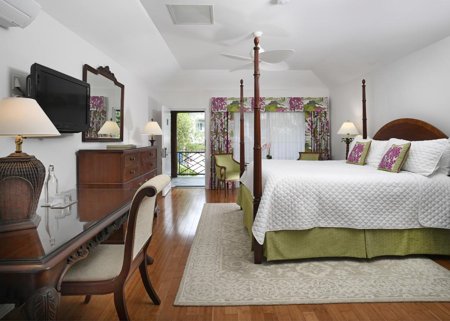 The full breakfast included in the rates is quite good and has plenty of varieties including cereals, toast, butter, ham, eggs to your choice, fruits etc. You can either have it at the front porch of the main building, or served in your room or even by the pool side. 
Complimentary traditional British Afternoon tea is served at 4pm and usually at the front terrace. Other than fresh tea, it includes sandwiches and baked goodies.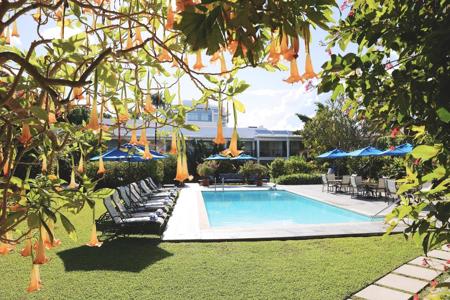 There is no restaurant in Rosedon Hotel. But they do serve lunch box and light dinner with items like salad, sandwiches etc. You can also easily walk down to a wide range of nearby restaurants or pubs within minutes. The manager also holds a weekly swizzle party (usually on Tuesday nights) when you can enjoy complimentary cocktails and live music on the front porch. 
The hotels also offers a complimentary transport for a south shore beach drop and pickup. It would usually start at 11am for Elbow Beach in Paget and pick you up at 3pm. You can carry lunch boxes. 
Facilities at Rosedon Hotel in Hamilton Bermuda include
Heated outdoor pool 
Honor Bar  
Access to tennis courts, South Shore beaches 
Same-day laundry service 
Update September 2015: Rosedon has been recognized by TripAdvisor for following green practices and meeting a set of standards that are environment friendly. The hotel has wonderful garden setting with rich plantations. 
Update February 2019: Rosedon has received the prestigious Relais & Châteaux membership. It's now one of the 560 odd hotel properties across some 60 countries that have been certified by the organization for their exceptional quality in service and food. 
Rates provided by booking.com 
Location
The hotel is located only 10 minutes walk from the heart of Hamilton. The bus terminal is about 15 minutes walk while the ferry terminal is only two blocks away. 
Address: 61 Pitts Bay Road, City of Hamilton, Pembroke Parish. 
Contact Info
Call 800/742-5008 in the U.S. and Canada, or call 441/295-1640 in Bermuda to get further information. 
Road Map 
Related Articles
2) Check out
Hamilton Bermuda Hotels
to know about all the great luxury hotels and resorts in and around Hamilton City. 
Visitors' Reviews and Comments
Kate Rayson (July 2015) 
Hi, my husband and I are coming to Bermuda in October for our honeymoon ...which also happens to be our first wedding anniversary so I have been in touch with the administrator at the Holy Trinity Church Hamilton Parish to look into the possibility of a blessing/vow renewal. We will be staying at the Rosedon Guest House in Hamilton which I understand is about 8 miles away but I'm wondering what is the best form of transport to use to get to the church and roughly how long the journey would take? 
Raj (bermuda-attractions.com) July 2015 
Hi, you will get ample taxis near the hotel at Pitts Bay Road and that would be easiest. Otherwise walk up to the bus terminal (about 15 minutes) and then take bus #3, 10 or 11. Once you get off at the bus stop nearest to Holi Trinity church (ask the driver to help), it's 7-8 minutes walk to the church.