Ocean Echo Restaurant Bermuda
$$$, Seafood 
Located at
The Reefs resort
in Bermuda, Ocean Echo provides a 180 degree view of the ocean from its huge windows along a curved wall. The restaurant has been recently renovated and expanded. With its sweeping view of the south shore waters, greenish blue furnishing, cedar trusses on the ceilings and lots of Bermuda arts on the walls,
Ocean echo
has a perfect setting for a serene and romantic dinner. There is also a terrace where you can dine al fresco in a relatively less formal ambience. The water view from the terrace is also fantastic. 
The restaurant serves breakfast, dinner and Sunday Brunch. It has been awarded by The Bermudian magazine for the best Sunday brunch and al fresco dining for several years. While the restaurant specializes on seafood, there are great dishes for meat lovers as well. 
There are plenty of hot and cold starters. Here are some of the favorites: For soup, try the Bermuda Fish Chowder which is prepared with a flavor of Bermuda's Gosling's rum and is a little spicy as well. The seafood platter is also great having fresh shrimp, tender mussels and smoked scallops in a sesame lime dressing. 
Ocean Echo Bermuda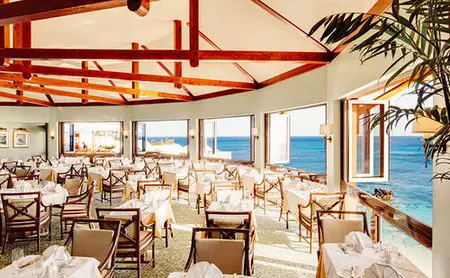 Smoked salmon and avocado rolls are also prepared very well. If you like to go for salad, try out the Caesar salad which comes topped with a creamy garlic dressing. 
For main courses, the pan fired rockfish would be a great selection, which is served with wilted spinach and apple beurre blanc. Other great dishes include the grilled beef tenderloin with bacon sauce, rack of lamb with fresh herb, chicken fricassee supreme. There are good choices for vegetarians as well like Ocean Echo vegetarian delight that includes crisp spring rolls, polenta, stuffed potato with beans & goat cheese. 
There is an extensive wine selection available at Ocean Echo. The service here is excellent. You will see many returning visitors who come here for the lovely ambience and the quality of service. 
They accept credit cards. Dress code is smart casual. Reservation is required. 
Open Hours 
Breakfast daily from 7 — 10:30 a.m.  
Sunday brunch is served from 12 noon — 3 p.m.  
Dinner from 6 — 10 p.m.  
During the winter months, Ocean Echo is generally the main restaurant in the resort.  
Location & Contacts 
56 South Shore Road , Southampton 
Phone: 441/ 238-0222 
Bus to reach: #7 (operating between Hamilton and Dockyard) 
Related Articles 
Visitors' Reviews & Comments 
Review and share your experience...