Air Travel to Bermuda
A Complete Guide
So you are planning to fly to Bermuda? Here is all our experience and findings about air travel to Bermuda: 
Things like, What works best & what doesn't when you choose to fly to Bermuda, what airline choices you get, how to plan for your arrival and departure at the airport, what are the travel documents required to enter Bermuda, and so on. 
I shall also talk about facilities at the Bermuda airport so that you can plan your time effectively at the airport during arrival & departure. 
This is particularly useful on your return as you will need to reach the airport well before your flight's departure. And then you will get plenty of free time here. And unless you had planned it out, much of your time will go wondering what to do other than doing some duty free shopping.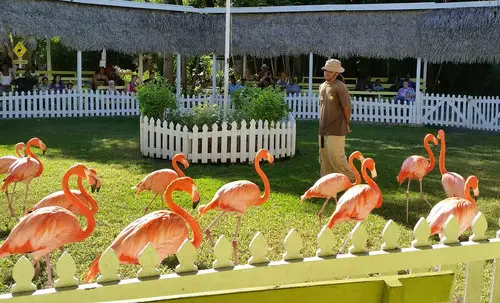 We have traveled to Bermuda by air many times. After we moved out of the United States, our travel to Bermuda has been mainly by air. In fact, our very first trip to Bermuda was by air. We flew in from London by British Airways. It was a long 7 hours flight. I won't ever forget those moments as I sat awestruck on my window seat and watching the unbelievable sight of the aircraft landing on a narrow runway strip in the Atlantic. Wow, what a sight! As you look below, it's a blanket of turquoise blue water all across. The narrow runway is barely visible. And until you touch the ground, you get an eerie feeling that you are landing right on the Atlantic. I wish I could take a photo. I was in love with Bermuda on that very moment. 
Bermuda Airport Exit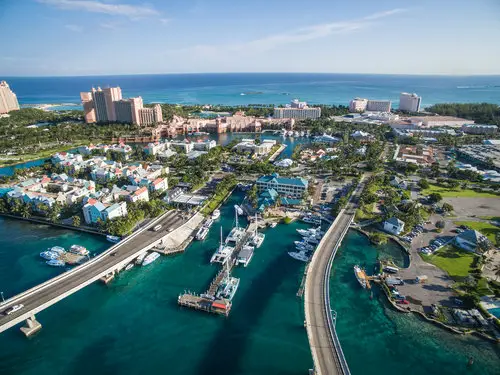 Let's first take a look at how long it takes to reach Bermuda by air from some of the main cities worldwide: 
Flying time to Bermuda from different cities 
From New York City and Boston (USA): 2 hours 
From Washington, Atlanta and Orlando (USA): 2.5 hours 
From Toronto (Canada): Little less than 3 hours. 
From London (UK): Under 7 hours 
From Munich (Germany): 8.5 hours 
From Milan: 10.5 hours 
Bermuda Distances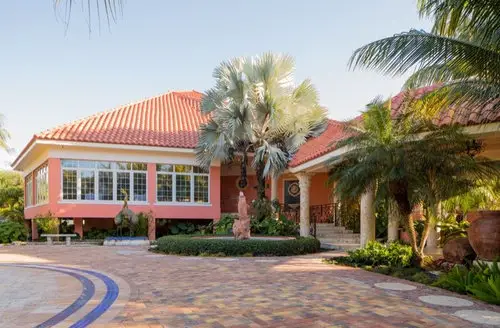 Why should you travel to Bermuda by air? 
As you can see, if you happen to live in the U.S. east coast, you reach Bermuda in just about two hours. In contrary a typical 7-day Bermuda cruise from New York barely gives you two and half days in the island. So you can imagine how much time you can save travelling to Bermuda by air, and therefore enjoy the time on the island instead. 
Also, there is one more reason for which I would prefer a flight over a cruise at times. And that is the difficulty in staying fit and healthy on a long cruise... you know what I mean. 
Flights to Bermuda - Airlines and Schedules 
Well Let's now take a look at all the airlines flying to and out of Bermuda. Unfortunately, Bermuda itself doesn't have an airline of its own. I initially wondered why. 
The airport handles over one million passengers every year. Government of Bermuda must be satisfied charging the airlines and passengers with pretty heavy taxes and duties, and thereby making hefty earnings. Then why do they need to run their own airlines? 
Actually There are many international airlines operating to Bermuda from countries like U.K, U.S and Canada. 
And several of them are low cost airlines offering attractive fares. Some of these airlines also join hands with the Bermuda Government in offering very attractive promotional packages during the low season. Check out
Flights to Bermuda
for all the airlines flying to Bermuda and the flight schedules. 
Once you arrive in Bermuda ... 
.. You need to know what's waiting for you at the airport, what are the formalities that you must pass through before you can start proceeding to your hotel, what are the transfer options available, etc etc. Check out
Bermuda Airport Arrival
to know about all these. 
Bermuda Customs can be a very painful experience unless you are well prepared and aware of what to bring and what not to. Check out
Bermuda Customs
to know about the duties applicable on the goods that you bring in and limits to the duty free allowances. 
As I said, I was in love with the island the first time we arrived in Bermuda by air. That was further complimented by the nice ambience and facilities that this lovely little airport offers you. Check out
Bermuda Airport
to know about Bermuda's International Airport (now renamed as L.F Wade International Airport) located at St. George's Parish. 
Leaving Bermuda - Airport Departure 
Well, finally it will be time to say good bye to Bermuda. Although we know that we will be back again soon, using our time effectively during departure is also a key part of our planning the entire trip. 
If you like to know how best to plan your departure as you fly out of Bermuda, visit this link:
Departing Bermuda by air
Boarding aircraft at Bermuda airport 
Bermuda Duty Free shopping & allowances 
Bermuda Duty Free
: Check out this link to know where can you get duty free items in Bermuda and how much of duty free shopping allowance you get. 
Bermuda Visa and Passport requirements 
Depending on your nationality, the travel documents required to enter Bermuda may vary. For some countries like U.S, UK and Canada just a passport will do, whereas for many others visas may be required. There are also some subtle points that you need to keep in mind to make your entry and exit smooth. Check out
Bermuda Passport, Visas & Travel Documents
to find out what documentation you need while traveling to Bermuda by air. 
While Bermuda is generally quite safe, like any other place on the earth there do exist some health and safety risks in this island as well. However some of these risks are quite unique to Bermuda. I recommend that you check out
Bermuda Health & Safety
to know all about it and the safety measures. 
While your stay in Bermuda may be a short one, in my view it's extremely important for you to get covered under health and medical insurance while traveling to Bermuda. Medical expenses in Bermuda can be very high. And there are virtually no free medical service available in the island. Find out the details here:
Bermuda Travel and Health Insurance
Have information or Tips on Bermuda Air Travel?