Bermuda Local Food & Drinks
Unlike the Caribbean islands, Bermuda has not developed a range of dishes or preparations that could be considered a distinctive cuisine by itself without an influence. But there are a number of items that you will find in the island that won't appear on your menu at home. 
Bermuda Breakfast 
If you are staying in a hotel, you may get a chance to eat a full Bermuda Codfish breakfast. This once used to be the typical way to start a day for an islander. But for many, it's now a Sunday treat. The meal is a nutritionally balanced plate of boiled codfish with tomato and onion sauce, boiled potatoes, hard-boiled egg, and a banana on the side. Visit
Bermuda Codfish Breakfast
to find out how to make it and the best restaurants in the island where you can get them. 
Bermuda Rum Cake
is very special. If you relish a little rum flavor in a cake, this is the one for you to try. I find them just fabulous! I tried several different flavors, which were all very nice, but my favorite remains the traditional one with vanilla & lemon. An English Breakfast with a slice of rum cake is what I love when I am in Bermuda. 
Here are the two great producers of Bermuda Rum Cake: 
Bermuda Rum Cake Bakery: The cakes are baked in something called The Cakery. This is actually a micro-bakery custom-designed for the Bermuda Rum Cakes. The rum cakes are made exclusively with Gosling's Black Seal rum. Here are the flavors: The Traditional Black Rum, Rum and Ginger, Rum Swizzle, Banana Rum, Coffee, Coconut Rum and rich or dark chocolate rum. The cake is duty free. The bakery is open daily 9a.m. to 5p.m. If ships are in Dockyard, the bakery remains open till 9 p.m. Address & Contacts: 1 Maritime Lane, Royal Naval Dockyard, Sandys. Phone: 441/234-4216 
Horton's Bermuda Black Rum Cake: The recipes remain secret, locked in the minds of Linda Horton and her bakers. Linda only reveals that the dessert includes more than a generous splash of Black Rum. Address: Horton's Ltd., P.O Box CR 192, Hamilton Parish. Email: orders2@hortons.bm; Phone: 441/293-8805. 
Bermuda Soups 
Bermuda fish chowder is a highly spiced, thick broth usually served with a dash of sherry pepper sauce and rum. Other than the main ingredient which is ground fish heads, fresh fish, onions, salt pork, tomatoes and herbs are also added. 
Bermuda fish chowder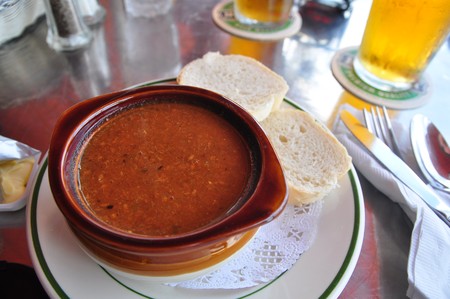 Conch chowder is another Bermuda favorite. Aside from the mollusks, it contains celery, onion, tomatoes, potato, salt pork, herbs, and perhaps a dash of cream. 
Portuguese red bean soup, a local standby, sometimes comes as thick and spicy as Texas chili. It's certainly a hearty soup, with kidney beans, potato, tomato, onion, garlic, kale, and chunks of ham and sausage. 
Bermuda Fish and Seafood 
Surrounded by miles of ocean with both deep-sea and shallow waters, Bermuda is a fish lover's paradise. In many restaurants the catch of the day will be the tastiest and freshest option. 
Bermuda Fishcakes & Fish Sandwiches
: In my quest to find the best places serving fish sandwiches and codfish cakes in Bermuda, I ended up eating so much fish that I gave up on it for weeks thereafter. 
Snapper is a very frequent choice but, depending on the season, you might also find tuna, wahoo, or rockfish. Served with butter or wine sauces, the fillets will always be superb. 
Much of the other fish and seafood on the island is delicious but will often be imported: giant shrimps, scallops, Dover sole, and crab, among others. 
Another great option in Bermuda is the spiny lobster, similar to cold-water lobster except that it doesn't have biting claws, but a longer & meatier tail. The local lobster season runs from September through March. It is served boiled with melted butter, baked in a cheese sauce, or sautéed in chunks with brandy and covered with a cream sauce. Mussel pie is a favorite Bermuda seafood dish - a slightly curried, thick clam stew in a pastry shell.  
Another island specialty which might sound barbarous but tastes rich is Bermuda shark. It reaches the table after several transformations, arriving in tiny pieces cooked with onions, peppers, parsley, thyme, and mustard greens. 
Bermuda Meat and Vegetables 
If you are meat eater, you will find familiar cuts and items like steaks and chops, French-style baby lamb, veal scaloppine, and chicken cacciatore. 
In vegetarian dishes, there are some Bermuda specialties. You're likely to encounter a great down-home entry known locally as peas 'n' rice. In some Bermuda circles this is called Hop 'n' John or Hoppin John, and it's so good it can be treated as a main dish. Apart from peas and rice, it contains Bermuda onion, bacon or chicken, and a sliced Portuguese sausage. Those famous onions are featured in many dishes, including onions in cream and onion pie. Less familiar perhaps is the Bermuda pawpaw, known elsewhere as papaya and used on the island in a double capacity as both fruit and vegetable. Baked pawpaw comes out as a creamy, cheesy casserole. Pumpkin, plantain, and christophene (a kind of squash) are also dressed up for dinner. 
Bermuda Desserts 
Locally grown fruits are used in abundance in Bermuda. Fruit salads might contain a selection of strawberries, loquats, jumbo grapefruit, watermelon, and Suriname cherries. Bananas are also a popular choice, fried as fritters or flamed in rum for a great finale to a meal. 
However, the British influence is probably most visible in Bermuda in restaurants dessert menu items. You will find such traditional puddings as jelly-roll or sponge cake drowned in sherry and laden with peaches or strawberries, bananas, chopped nuts, custard, and whipped cream. You will also get the lighter Bermudian syllabub: guava jelly, port or sherry, and whipped cream. 
Christmas brings out Bermuda's national dish, cassava pie. Cassava (also known as manioc) was imported from the West Indies in the earliest days of the colony. Here it is combined with chicken, pork, eggs, and perhaps brandy in a sweetish but meaty layered pie. 
Sweet potato pudding - with cinnamon, cloves, and lemon or orange juice - is a favorite for Guy Fawkes Day (5th November). 
Bermuda Honey is unique to the island and very special. The bees in Bermuda have access to a variety of plants, that cannot be found anywhere else. Therefore Bermudian honey has a very different and sought after taste. You can get it in all supermarkets in the island. If you are a honey lover, don't miss it.  
Bermuda Afternoon Tea 
An old British custom of having tea, sandwiches & cakes in the afternoon has remained an island tradition. Visit
Bermuda Afternoon Tea
to know about the best places to go for having afternoon tea in Bermuda. 
Bermuda Coffee 
Being a coffee addict I didn't want to settle with the usual pre-mix liquid coffee from the dispensing machines that you so often get in Bermuda restaurants and coffee shops. I needed coffee made from fresh roasted beans. So I decided to tour the island in search of the best coffee shops in Bermuda. Check out
Best Coffee in Bermuda
to know about my findings. 
Bermudian Restaurants & Eateries 
If you are looking for Bermudian dishes for your lunch or dinner like Bermuda Fish Chowder, grilled Rock fish etc, there are plenty of restaurants serving excellent Bermudian food as well as other dishes. Check out
Top Bermuda restaurants
and scan through the ones that show Bermudian cuisine next to them. 
You will also get inexpensive food prepared and sold out of food trucks, vans, carts and lunch wagons. Although these are mostly fast food, most make them with Bermudian touch using local ingredients and herbs. Check out
Bermuda Mobile Food
to know what you get and where. 
Bermuda Grocery & Food Stores 
There are several great grocery chains in Bermuda spread across different parishes. They offer fresh food and grocery products at very reasonable prices. If you are planning to stock up your fridge in your apartment, they will be the right choice to buy stuffs from. Most of these stores also offer pre-cooked food like roasted meat, chicken, sandwiches, salad etc that can serve as nice lunch or dinner. Check out
Bermuda Grocery & Food Stores
for details. 
Bermuda's Farm Products 
If you are staying in an apartment having cooking facilities, and want nothing but fresh organic farm produce for your meals, then check out
Wadson's Farm
. This 30 acre farm is located in Southampton parish. It combines animal, poultry and vegetable farming and uses organic agriculture. There is an on-site retail shop,
Wadson's Home Farm Market
, that sells all kinds of fresh vegetables, fruits, poultry and meat items. 
Bermuda Wine and Spirits 
If you like rum, a great choice would be a bottle of Gosling's Black Seal rum. Add it to Barritts Ginger Beer and garnish with lemon wedge, and you get the traditional Dark 'n' Stormy cocktail! Bermuda Black Seal Rum is a high proof spirit. As I picked up my first ever bottle, it read 151% proof and 75.5% Alcohol/volume - Phew! You can pick up Gosling's rum from any of the liquor stores, or if you are returning by flight, from the duty free shop at the airport. 
Check out
Bermuda Wine & Liquor
to know about all the special drinks in Bermuda including its own unique blends of rum, cocktails and other spirits and wine plus the best retail stores and pubs to get them. 
Bermuda Cigars & Tobacco 
I am not a smoker. But I understand that for Cigar aficionados, Bermuda is the place to smoke Cuban hand-rolled cigars without censure. Cuban cigar is illegal in United States and few other places. But not so in Bermuda. Some great brands include Montecristo, Romeo Julieta, Trinidad, Cohiba, Partagas and Hoyo de Monterrey. Punch English Briar and Turkish Meerschaum pipes are very special in Bermuda. 
Chatham House is an authorized distributor for cigars and located on Front Street, Hamilton, across the flagpole.  
Humidor
: This is a store for smokers and located in
Clocktower Mall
at the dockyard. They too sell Cuban cigars. 
The Smoke Shop: A new shop has opened at the Washington Mall in Hamilton City that sells almost everything related to tobacco smoking including the relatively inexpensive 'roll your own cigarettes'. They also offer hookah and other tobacco pipes as well. They also have about 25 types of Cuban and Dominican cigars. The store is open from Monday through Saturday. 
Related Articles 
1)
Bermuda Restaurant Weeks
- Many restaurants participate during this period and offer Bermuda inspired food and using ingredients that are mostly sourced from the local farmers. 
Visitors' Reviews & Comments 
Jessie Oger (December 2013) 
Hi there, I am looking for cooking classes for adults. Do you know if any restaurant, hotel or school offer cooking classes? Many thanks for your help. 
Raj (bermuda-attractions.com) December 2013 
Hi, the store International Imports (also known as the The Chef shop) located in Hamilton City offers cooking classes. Top chefs of the island take the classes. So it can be quite pricey. The store itself sells cookware items and often visited by the rich. Contact info: International Imports, 44 Par-La-Ville Road, Hamilton.  
Phone: 441/292-1661; Email: interimp@northrock.bm 
Jane Leuchtner (August 2012) 
Hello, I bought some Bermuda Onion Marmalade at the Bermuda Shop in the Dockyards Clocktower Mall. Bringing it home they took if from me at the airport. I had put it into my carryon, and they considered it a gel. So sad! But I would like to order some by mail if it is possible. 
Bermuda Local Food
Reviewed by
Raj Bhattacharya
Rating:
5.0